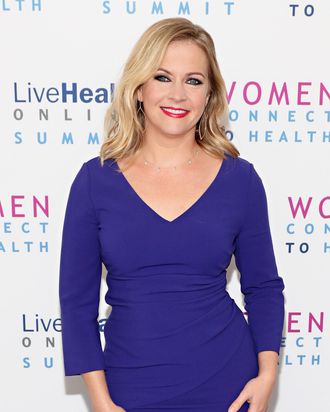 Melissa Joan Hart.
Photo: Cindy Ord/Getty Images
Melissa Joan Hart rose to fame on the beloved TV shows Clarissa Explains It All and Sabrina, the Teenage Witch. The actress, producer, and director, who turned 40 in April, has three sons (ages 10, 8, and 3) with husband Mark Wilkerson. She talked to the Cut on behalf of telemedicine provider LiveHealth Online about sleep, snowboarding, and the merits of smelly soap.
How I start my day: I either have a chocolate Nutrisystem shake with coconut milk and maybe half a banana if I want to put it in a blender, but if I don't have time, I use a shaker [Hart is a Nutrisystem spokesperson]. That or poached eggs. My husband taught me how to do it — so I'm into poached eggs on an English muffin.
How I like to sweat: I like to wake up and do something active, whether I go for a jog with a friend or go to a spin class that I love. I like snowboarding on a vacation, too.
On self-care: Mom always comes last. We're so focused on the family and our kids and co-workers — we take care of everybody else, but we never bother to take care of ourselves. And it's so important because as soon as you go down, if you're in bed for a day or two, everything shuts down. It's so frustrating and you feel so guilty. Make sure that you take care of yourself so that you can be there for your family.
On laughter for sanity: Mental-health-wise, I make sure that I plan things like girls'-nights out. Just have a blast, go do something that makes you laugh. There's always one friend in the group that makes the plans and that's me. I'm always the one starting a group text like, "All right, on this night we're going out, who can go?" But really, scheduling in friends, my husband, one-on-one time with the kids is really crucial.
Why I buy fragrant soap: There's lot of hand-washing in our house. My husband doesn't let the kids do anything before they wash their hands: when they come home from school, when they come home from sports, before they have meals. Buy smelly soap, that's key. Then you can definitely tell if your kids washed their hands. We do the smell test. I'll ask, "Did you wash your hands?" and, of course, they always lie. So I'll say, "Lemme smell 'em," and they're like, "All right fine, I'll go back and wash them."
On so much bleach: A nice little Clorox wipe always goes a long way. If I suspect one of us has strep, while I'm taking one to the doctor to get the test, my husband is Cloroxing the house. It's good to take those little precautions and sterilize remotes, doorknobs, and light switches once in a while.
On sleep: I always say "work hard, play hard, sleep hard." Sleep is No. 1 for everything, for weight loss, for stress levels. I don't have a set bedtime, but I put that little sleepy thing on my phone. The night-shift mode — it changes the screen to a different color. If I'm watching TV, I will eventually turn it off and go to bed, but if I'm on my phone, I will be on it for like three hours. So if it changes color it's like, "Oh, it's time. Gotta turn this thing off. Gotta go to bed."
How wellness has changed for me: It's so much more about what I eat now and how I feel. If I go out on a date night with my husband and we have too much guacamole like last night and I wake up feeling a little heavy, then I don't have the energy that I want to have. I think it's about eating to make you feel good, which then helps to keep you active and keep the weight down and in so many different ways helps your body feel better so that you can take care of it better.
This interview has been condensed and edited.