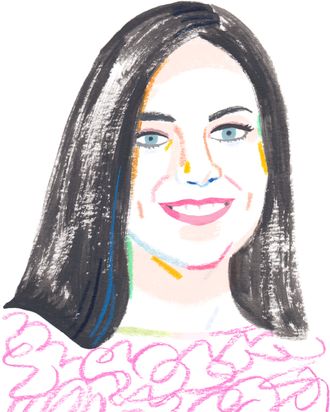 Illustration: Rebecca Clarke
Cindy Whitehead is the founder of the much-critiqued "female Viagra," Addyi. After selling her company for $1 billion last year, she started her own investment fund called the Pink Ceiling. Whitehead is the CEO of the company, and she works with ten other women to decide which female-founded companies they should invest in. She travels about 60 percent of the week and has a Jack Russell terrier named Mouse. She has no desire to reach Inbox Zero and is fond of wearing the color pink. Here's how she gets it all done.
On the average day in the life of the founder of an investment fund:
I wake up around seven. If I get on the phone or get on Twitter, I'm doomed to not get into the office until like 9:30. I sit in a lot of meetings with great female founders. We think that we're going to spend an hour together, but it always goes at least an hour and a half. We get wrapped up in why they're doing this and really getting to know them. I'll go back-to-back between those meetings. Usually, I'll jump on a flight and fly to New York, sometimes other places. For example, I was in Birmingham, Alabama, seeing a bunch of companies last week.
On having lunch together with her staff every day:
The one segment of time that is sacred — and this has been a long-standing company tradition — is we have lunch together every day. We did it on purpose to try to avoid death by meeting. We sat together as a whole group every day at lunch to eat, and that was our unstructured time of complete transparency. What's going on? What's everybody working on? I would say we probably solved business problems 60 percent of the time, and 40 percent of the time we solved what we had watched on television the night before. We still do that today. We have a glass table that we all sit around and have lunch together. It varies depending on who we have in the office. We're noon eaters.
On different kinds of meetings with entrepreneurs:
We don't want it to be so formulaic. The interest is in how somebody comes in and presents it. How they structure time is often pretty telling to us in terms of what they prioritize, what they're most excited about. We let it be a little Wild, Wild West and go with it. Look, I'm totally driven by the energy field that an entrepreneur puts off. It's hard to get out of it. You get into those meetings, you're excited. You're following them along and even if you thought you were going to take an hour you definitely end up staying in there a lot longer depending on the opportunity. We have learned that we need to schedule more time in between them. When we started the Pink Ceiling, we were perpetually late.
In fairness, not all of them are exciting. We're fortunate that the types of opportunities that find their way to us usually fit our particular style. We care a lot about those things that are going to break through for women, and if it's something that would propel either an important social conversation or potentially open up a game-changing category where more dollars come in to more research and development, we get excited.
On how she handles criticism:
It depends on the criticism. If it's fair, I own it and fix it. When it's baseless, I've used it to fuel me and my mission. The root of baseless criticism is most often ignorance. Let it be a reminder that you must work hard to educate since facts trump fiction in the end. Truth is the ultimate bounceback.

On accepting that even the boss can be overruled:
I can honestly say that my team can overrule me if I become totally smitten with something and they go, "Yeah, but practically we can't get it there." We're very collaborative. I think that we have different skill sets that are pretty complementary. I feel like the breed of opportunities that we're looking at are either teams of engineers or scientists and we are sort of their commercial arm. So depending on which of my team members is involved, it's a very different kind of point of view on whether or not the opportunity will work. It helps make well-rounded decisions.
On the travel tips she's learned from being on the road more than half the week:
It is all about the number of shoes. I refuse to have anything but a carry-on. I roll all of my clothes. Thank God my big brother taught me to do that to maximize how many things can get in. It's really about shoes. I used to tease, "Oh, I couldn't fit the running shoes in, so that's why I'm not working out." That's probably not such a good idea — so Pure Barre socks will fit into anything. I can still be working out on the road. One pink suitcase and I'm off.
I'm pretty resilient at this point with travel. I don't ever sleep. At some point it catches up to me and I think, Why am I so tired? Oh yeah, because I flew from L.A. to Raleigh to New York. I often find that I'm in conversations with people on planes. The most fascinating people you meet are on airplanes.
Sadly, I find myself changing in airport bathrooms more often than I would like to.
On why she always wears pink:
I always have loved pink, but a lot of that started with the little pink pill. I think there was a connotation that was not positive. There was a lot of curiosity and I would say a lot of confusion. With gender conversations I think we sometimes have a tendency to go the other direction of opposing anything that would be stereotypical, like pink. I would rather show up in all pink and have the conversation that needs to be happening. It became something to really force the conversation and get to genuine evidence-based, fact-based dialogue as opposed to all of the stereotypical misconceptions that we can bring to the table.
On seeing stress as a positive:
I think that you sort of harness stress to get stuff done. I feel the pace and I feel the personal pressure to get it done, but I think that's really what fuels me. I don't see it necessarily as a complete negative.
Sometimes I just completely unplug. I'm devastated that Silicon Valley isn't on every Sunday night, because that would be my school-night pleasure before I went back into the workweek. You just find an hour here or there to completely let it all go and have fun.
On no longer aspiring to Inbox Zero:
I can remember once upon a time together with my head of sales we did a comparison on how many emails we got, and I was daunted. I don't think I get quite that many anymore, but it's hundreds a day. Sometimes I'm a little bit behind in that follow-up. My friend screenshotted my phone because they were so horrified by how many emails I had. It's not that I wouldn't aspire to get to Inbox Zero, but it's never going to happen. I've learned to surrender to those things that are never going to happen.
On choosing to define what "having it all" looks like:
I think women can have whatever they want, defined on their own terms. The challenge inherent in that question is we think of "having it all" as having a definition. I think you get to define it. By my own definition of the things that really make me happy, fuel my passion, get me out of bed in the morning, I'm very fortunate where I am. I feel lucky every day that I'm going to meet somebody new, they're going to teach me something new. That's how I'm happiest going through life.