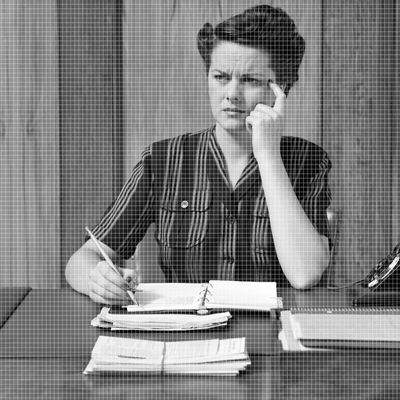 Taking Care of Business: A week devoted to taking our professional lives up a notch.
So you have an idea. Biodegradable hair ties! A bar slash magazine! Soylent, but for dogs! The next step, it turns out, is googling "how to write a business plan" while debating whether you'll be CEO/founder or founder/CEO. In lieu of reading 18 about.com articles and those unhelpful Forbes Quotes of the Day, we've asked real women (experts and business owners) to talk you through the process.
You might want to read this before ordering 500 business cards.
Step 1: Maybe Don't?
Kathryn Finney wrote her first business plan in fourth grade. "With my friendship-bracelet business, I actually wrote out how many spools of thread I'd need, who would sell the bracelets, and how my older (cooler) brother would act as the celeb spokesperson," she said. In addition to about five other extremely impressive things, Finney is the founder and managing director of digitalundivided, a social enterprise that empowers and supports black and Latina women entrepreneurs. Her day job involves developing diverse women-led start-ups. Because of this, Finney has read many a business plan.
Her advice? You probably don't need one. "I usually advise people to focus on a pitch deck and a one-to-two-page executive summary," she said. "Investors want to see real traction, not data that's already irrelevant." She cited the lean start-up method of "build, measure, learn" as more useful than endlessly projecting by way of a bulky business plan.
Step 2: Okay, But Maybe Do
Erica Cerulo and Claire Mazur, co-founders of Of a Kind, spent "forever" on their 23-page business plan, then never looked at it again. Investors, it turned out, were as uninterested in reading it as Cerulo and Mazur were in writing it. But their idea — that something like the slow-food movement would also hit fashion — was spot-on.
Six years later, after introducing the world to 350 independent American designers and being acquired by Bed Bath & Beyond, friends often turn to the pair for business advice. Surprisingly, Cerulo and Mazur still recommend starting with a business plan. "No one wants to read your business plan," Mazur says, "but going through the process of writing it helped us get on the same page and also come up with answers to any questions potential investors would throw at us."
While starting a business with your best friend sounds like the ultimate dream, it could be a disaster, and that's why a business plan can help. "Writing a business plan is also a nice way to see how you work together and if you have the same goals for the company before going all-in," Cerulo says.
Step 3: Keep It Short and Simple
Having a great business idea won't make it any easier to use words like synergy and gamification without sounding like an extra in The Social Network. But that's actually fine. Your business plan should be simple; remember, business jargon does not a business plan make.
"It doesn't have to be perfect," Cerulo said. "It just has to exist." That means you don't need ten pages on your target customer or some extremely lame graphs just for the sake of having graphs. As Finney explained, "When you start a business, you want to know what the problem is, who you're solving it for, and whether they're going to pay for that solution."
Step 4: Have a "Come to Jesus Moment"
Paco Nicole de Leon worked in wealth management then spent six months writing business plans at a marijuana consulting firm before starting the Hell Yeah Group, which provides financial education and business advice for creative freelancers. She thinks business plans are "kinda stupid" and "not always necessary," but "a great exercise if you want to go into business and you've never done it before."
It's the financial projections that de Leon finds most useful. "When people do that they often have a very hard 'come to Jesus' moment. You may have a million-dollar idea, but to see on paper that you'll spend the first four years of operations eating ramen every night is hard." A lot of people, she suggested, really want to wear hoodies, but aren't inclined to the entrepreneurial lifestyle. "As you're writing a business plan, ask yourself, 'Am I really a disrupter or do I just want to be able to introduce myself as a founder?'"
Step 5: Lay It Out
Start with the executive summary, which is a breakdown of your business. Conventional wisdom is that if you can't explain your business idea in a sentence, you don't have one yet. The iPod launched as "a thousand songs in your pocket," Facebook offers "a way to keep track of your high school nemesis." Next, the company description explains what you do, whom you do it for, and why you're different.
Then move on to the market analysis, where you give the lay of the land, explain what your competitors are doing wrong, and elaborate on what niche your company or product will fill. For organization and structure, offer a rundown of how your company will operate. Is it you in your basement printing T-shirts with photos of celebrities eating or will you need a minimum of six employees and a storefront?
Next, get into service and/or product. What are you selling or offering? Who is going to pay for it, and how much? Will your customer need a new one every three weeks (toothbrush, sense of purpose) or does it have a much longer lifespan (mattress, sneakers with replaceable soles)? After you sort that out, move on to marketing and sales, where you answer how everyone who is not related to you will find out about your winning product. Financial projections and funding requests are where things can get a little depressing.
Step 6: Don't Spread It Around Wildly
Vana Koutsomitis is the co-founder of dating app DatePlay (and also the runner-up on last season's The Apprentice UK). She lost to a plumber, but went on to break her start-up fundraising goal in less than three days. "Consider the business plan an internal document that outlines the company's initial vision and plan," Koutsomitis said. "Things always shift when you actually start the business, so avoid circulating your business plan extensively because it can pigeonhole you."
If your business plan is floating around with projections of a million sales in the first six months and you don't even hit half that, you'll scare off future investors. You want to be able to shape the reception of your business as much as possible; widely disseminated preliminary documents can make that hard.
Step 7: Come Up With Your Origin Story
Once you've got the business plan taken care of, you'll probably move on to creating a perfect investors deck. Soon you'll start talking to other people about your business! That means pretending you came up with your idea in the vicinity of absolutely no paper but plenty of napkins.
Some origin stories are true (like J.Lo's iconic Grammy Awards dress inspiring the creation of Google image search), others are absolutely not (like eBay's founder suggesting he created the site so his fiancé could grow her Pez-dispenser collection), but every company needs one. Good starting points include the garage (like Google and Apple), but don't worry if you don't have car storage. The back of a taxi has a nice ring to it; so does being stuck somewhere on a rainy day.