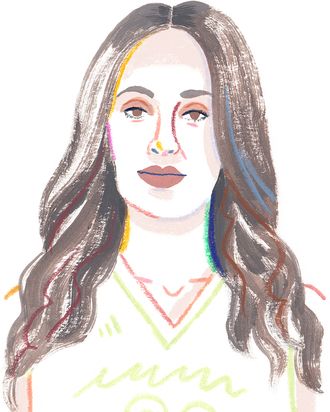 Illustration: Rebecca Clarke
Swin Cash is a recently retired (as of one month ago!) WNBA forward who finished her career with the New York Liberty. Cash spent fifteen years in the league, and has won a WNBA championship three times in her career: twice with the Detroit Shock, and once with the Seattle Storm. She is in charge of the Cash for Kids Foundation, and partners with other nonprofits in her charitable work. Right now she taking a month off, and deciding what the next frontier will be in her career — whether that's TV, or taking on a new role with the league. Here's how she gets it all done.
What game day in the life of a three-time WNBA champion looks like:
When I wake up in the morning, I'll pray first. I'll do a quick devotional and get myself together and grab a light snack. I'll make sure to call my mom beforehand or when I'm heading to the gym from the car. I get to the gym, and I usually grab a bit of breakfast — two eggs and some grits — and I make sure I have a protein drink. I'm usually at the gym for shootarounds (which start around 10 o'clock) by 9 a.m. to do pre-practice stuff: making sure I'm stretching, getting my body right, and if I need any treatment, making sure I'm taking care of that. At 11, I'll head back home and check in with my assistant. She knows that she can have anything on the calendar until 1 o'clock — that's when I shut it down. I could have phone calls about the foundation, Cash For Kids; I could be in an interview. I could be speaking to my agent about off-season stuff. We're currently in the middle of negotiations for fall and what my schedule in retirement is going to look like.
Then, at 1 o'clock, I try to sleep for an hour and a half. That's my nap-time. I've been doing this routine pretty much forever — since college, or maybe even high school. As an athlete, you want to nap, get energy, and hit the reset button for your game later. I take a nap to rest my body, rest my mind. That way I'm able to get up and start my routine for game day. After my nap, I take a shower, and I have something to eat, like pasta, chicken, or seafood. I always have a protein shake. Because I don't eat a lot of red meat, I always have to supplement my diet with protein shakes and vitamins. While I'm getting ready, I listen to the same music in the same order. I start with more relaxed mellow tones, like gospel; by the time I get into the car, it's more upbeat music.
The other girls catch the train into the Garden, but I drive in, so I have to leave a little earlier to make sure I don't get caught in any traffic. I'm listening to music and thinking about the game as I head there. If I need to make any calls, I usually try to talk to mom and talk to my family. I talk to my husband a little bit. I have about a 30 to 40 minute drive. Once I'm at the Garden, I shoot around from 5:15 until about 5:45. I'll make sure I get a towel, get my drink, and then go to chapel at 6 p.m. That way I can do some devotionals and get in some motivational and spiritual time before the game starts.
On what it's like to wind down after a game:
If my husband is there, or my family and friends, I'll usually grab something to eat with them after the game. I'm always really hungry — I have a high metabolism. Right after the game, I have to have a protein shake because that's a part of my recovery. By the time I get out of the Garden itself —you're not out of there until 10 o'clock — I try to find somewhere where I can get some quick food, or if I have something at the house already, we'll head there. Then I catch up on some sports and head to bed. It's hard sometimes for me to wind down, so I won't fall asleep until around 12:30 or 1 o'clock. But I'm up bright and early again the next morning.
On the importance of work-life balance, even for a professional athlete:
My schedule is very consistent. I believe that work-life balance is very important, and I've always found my life to be easier when I compartmentalize things — especially when you have so many things going on and so many people are expecting things from you. When I was younger, I wouldn't do anything on game days, but as I've gotten a little bit older, I'd say the biggest thing for me is just making sure that I shut it down and get some rest at the right time. My husband used to play basketball at Fordham, so he understands my life and my schedule.
On what it's like to have downtime from basketball and why retirement can be hard:
It's been a little weird. I'm not touching the basketball. Usually, during my off-season month, I'm thinking about what I'm eating and in my mind I'm preparing to start training again. But now, if I wake up and I'm like, "I don't wanna work out," or "I wanna have this cupcake," then I can have this cupcake. It's like I'm a fish out of water — I'm learning myself again. I do think that more than other athletes, I've really prepared well for my transition to retirement. But I still have to go through the process of retiring and know what that's like for a professional athlete.
I'm sure in a month or so, once I get that itch, I'll pick up the basketball again. I'm not going to completely cut it off. It would be like going cold turkey on something you've known your whole life.

On what she's most looking forward to doing now that she has a little more time:
I'm excited to be at events that I've missed throughout my life. Having the ability to go to a friend's wedding, having the ability to be at my niece's birthday or her basketball game. Being able to go on vacation with my husband and to not have to make it around my schedule. It's the small things that you have to sacrifice to be at that elite level and do something you love.
On why TV seems like a natural transition for her post-retirement:
I used to watch Oprah with my grandma when I was little. I've always loved interacting with people and telling their stories, and being able to speak about my knowledge. I have a lot of knowledge about basketball, so to be able to talk about sports — that's just a way for me to stay around the game. I do see myself not working solely in the sports entertainment side. I want to see how I can grow as a person working in TV. But I'm also looking at opportunities to see if I would like to be a part of a team in some capacity. Or working at the league level. I'm just glad to have options, I can tell you that much.
On why it's so important that she continues to promote women's basketball:
I want to continue to be a mentor to the women of the WNBA, helping them understand that in growing their individual brands pursuing things beyond the court, that they have avenues and opportunities available to them. I hope over the next twenty years, we see awareness growing. Not only in making the salaries higher, but in growing the league and having the mainstream media and our society accept these amazing women for who they are: not only amazing basketball players but amazing role models. I tried to do my part for the fifteen years that I was playing and I had the opportunity to do amazing things. I'm hoping that by the time my niece takes over the WNBA, she won't have the same hurdles to jump over in getting there.