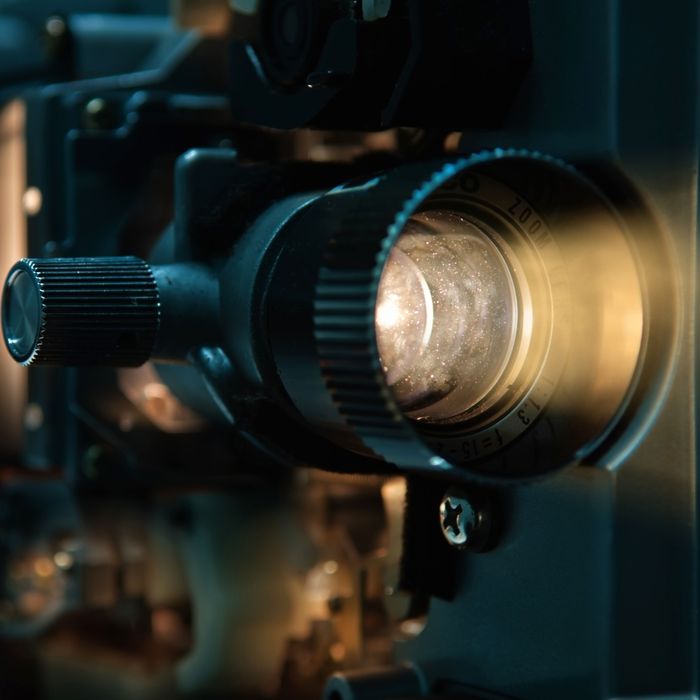 Katie Holmes, Jenni Konner, and more on the women who helped them.
Photo: Getty Images
Last week Chanel, Tribeca Enterprises, and the Tribeca Film Institute launched the second annual Through Her Lens Women's Filmmaker Program, dedicated to raising the profiles of women behind the camera. As part of the program, five emerging filmmakers were offered project support, master classes, one-on-one mentorship, and peer-to-peer sessions.
At a lunch celebrating the program, the Cut spoke with the five young selected filmmakers — Ani Simon-Kennedy, Joey Ally, Catherine Eaton, Sonejuhi Sinha, and winner A.V. Rockwell, who was chosen to receive full production funding for her short film, Feathers. Then we asked guests like Katie Holmes, Jenni Konner, and Emily Mortimer about their own career breakthroughs. Inevitably, their answers were all about the people who helped them.

They named women who are known to champion others in Hollywood, like producer Jane Rosenthal, men like Mike Nichols, grandmothers, producers, and directors. Read on for their stories.

Katie Holmes, actress
"Jane [Rosenthal] has been such a champion of artists, and women, and she definitely has been such a dear friend of mine and supporter. She says, Never let anyone in this business say you didn't call them back. I try to remember that. She is a risk taker. I feel empowered taking risks with her by my side."
Jenni Konner, writer, producer
"I interned for [producer] Anne Carey, and she was just smart and savvy but also really, really kind. And I worked for Jane Rosenthal. She is just brilliant, she is gracious, she is ambitious in a really exciting way. I watched her build the Tribeca Film Festival, saw her produce incredible movies. I just watched the way she handled talent — she gave so much respect to writers, directors, and actors. When I left to write, she was so gracious with me about it. I think she even tried to hire me to write something instantly. She is a real Renaissance woman, and I think that she has really contributed to the fact I do so many different things as well."

Emily Mortimer, actress
"I did a film called Lovely and Amazing, directed by Nicole Holofcener, and she was a woman. It was a real gift, and she put her faith in me. I was an English girl who had just arrived in L.A .and this was to play an L.A. actress. It was a bit of a leap of faith for her, and it was a big opportunity for me. It was a very important movie for me, and one I'm still almost proudest of, because it was a bit of an awakening. I loved playing the character that she wrote."

Naomi Foner, writer, director, producer
"For me, my mother was a doctor, my aunt was a lawyer, and I had a head start because they gave me the idea that I was supposed to do something, and it was expected of me. It was a time when that was fairly unusual. What [my daughter Maggie Gyllenhaal] did for me was break through the ideas of what that was supposed to be. She had all sorts of new ideas of what feminism was and several times, especially when she did Secretary, she taught me a lot of very interesting lessons — like anything you choose is okay if you are choosing it. That was a big breakthrough for me."

A.V. Rockwell, filmmaker, Through Her Lens winner
"The most recent project I did was called The Gospel, a short film that I was commissioned to do by Alicia Keys. We showed an early cut of it at Tribeca, and we are currently in post [production] finishing it up to be released with her album. If that is what you want to call a breakthrough, and somebody championing me, I really feel like it was her. Prior to that, I had done some shorts, some music videos. She really could have gone to anyone to take on what she asked of me, which was to create a short that spoke to six different pieces of music that she made. It was a very huge, challenging project and I also understood the risk that she took by going with someone like me who was young, and who was fresh, and didn't have as much experience, but I think she understood the heart and the vision that I had and it has been a great ride."

Mary Stuart Masterson, actress
"It was a real guys' club when I came up and it didn't feel like there were a lot of women there to support each other at that time, but there were people like my own mother. I really admire how she balanced her acting career, and having kids, and having the family meal every night. But things have changed dramatically since then. When I was trying to direct my first feature in the early '90s, there were a lot of men that were very supportive, but there weren't enough women in positions of power that felt permission to support another female director. Because if you were a woman in power, in the '80s and '90s, and a decision maker, you sort of weren't allowed to do chick flicks. Supporting a woman director might look like gender bias, as opposed to just another human being making a movie."
Sonejuhi Sinha, Through Her Lens selected filmmaker
"Before I started writing and directing, I had been an editor for ten years. The president of my company, Stephanie Apt — who owns Final Cut, an editorial company in New York, London, and L.A. — has been a huge champion of my work as an editor, and then the transition to being a writer-director. I was editing two documentaries and she came on with full support of Final Cut, and that really helped us finish the documentary. Ever since then, with short films that I have directed, she has come on board to help finish them as well."

Rashida Jones, actress, writer, producer
"There are always women there. For me, a huge breakthrough moment was just starting to write. I had men and women in my life who encouraged me to do that. But I think the idea of being a woman, and being able to write, and not having any feelings around that — because it is a pretty male-dominated business — weirdly, having men who care, male friends, was also incredibly helpful for me. Older male friends saying it doesn't matter, just write. Mike Nichols was a mentor of mine and a lot of people. He was incredibly encouraging and specific in his ability to help bring out the best in me — such a lover of women and somebody who understood that in order to be great you have to be associated with women, so I miss him, a lot."
Mamie Gummer, actress
"Gosh, it is a funny one for me. Laura Linney. I did this John Adams series with her for HBO. Based on that she recommended me for my first Broadway show [Dangerous Liaisons] and has been a great support since then. She just sort of led by example: She did everything with such kindness and a real generosity of spirit, and that has compelled me to do the same for people. It is nice to have that camaraderie and that loyalty and to prop someone else up."

Ani Simon-Kennedy, Through Her Lens selected filmmaker
"My script The Short History of the Long Road, which is the next feature I am directing, won best screenplay at the Bentonville Film Festival last year — it was a festival started by Geena Davis, who I have always looked up to. It was this incredible moment of getting to meet her. She has been a huge inspiration to me and she has been such a champion to women both on screen and behind the camera and [in] starting a film festival specifically for women directors. Having her validation has opened a lot of doors for me. There is something about growing up and seeing someone on screen and then getting to meet them in real life — [it] really felt like Wow, I have arrived, this is where big decisions get made."

Catherine Eaton, Through Her Lens selected filmmaker
"I haven't had the benefit of a female mentor in any shape or form. I have had men, and I am really grateful for that, because I think in some ways it is almost riskier for them to do that — step outside of the boys' club, take in otherness, and help raise people up so they have voices. I was an actor, and I was performing a one-woman show that I had written. I performed it everywhere — at Carnegie Hall, Lincoln Center, in Europe in little churches where there only three people watching and a dog. Then I finally did it on 42nd and Lexington, a performance space in the Roger Smith Hotel. It is glassed-in and the sound is piped out onto the street. It became this little cult hit — every time this man stood front and center and never laughed, never seemed to enjoy it, but watched every single night. At the end of the run he said, 'I'd like to turn your play into a feature film.' I had never conceived of writing for film or directing for film, but that launched me into the process of first writing the script, and then meeting with and having a ton of directors talk to me."

Ry Russo-Young, writer, director
"When I got into Sundance in 2009, I remember Shari Frilot, who was a programmer there, called me and told me the movie was in. Feeling the acceptance into Sundance — the first time, with a movie, when I was very young, that I had made for like $30,000 — was huge for me, psychologically, in a career way, but also just the confidence to keep making things. Shari was a supporter of the film early on and helped facilitate that. You get to that place in your life where you are like, Should I keep doing stuff, or should I get a real job, because I'm not making any money, and if I don't start seeing rewards, then I'm going to be a total loser. Having the encouragement from another woman to help recognize your work is everything."
Lucy Alibar, writer
"I would absolutely say the Sundance film lab and Michelle Satter, Alicia Weston, Elise McKinney, and Anne Lai being such incredible advocates for just finding your own voice and finding the story you really want to tell, getting your baby out into the world. I had never even thought about writing a film before. It was my first time really thinking about how writing a film differs than putting a play out there."


Hailey Gates, journalist, host of Viceland's States of Undress
"For me it was my grandmother, Joan Tewkesbury, who was a screenwriter and wrote Nashville and Thieves Like Us and was part of this very '70s, Altman, male-dominated world. When I started making this show for Vice, I sort of mandated that we had a female-only production team, which in some places (Pakistan or even China) is difficult. Even male fixers won't look you in the eye. To be honest, getting through that year, and having women surrounding me was a really good feeling. Coming into Vice as a woman was a very male-oriented environment, and to maintain and insist on femininity in the midst of that was very important to me."

Joey Alley, Through Her Lens selected filmmaker
"I went to Sundance as a volunteer in 2011 and at the time I was trying to figure out what I wanted to do next. I saw this film called The Off Hours by Megan Griffiths, and I really related to the lead character and the film. I loved it. She got up and spoke and honestly I had never really been exposed to a female director. Then, weirdly, I ended up meeting her and asked her if I could assist her on her next film, and she said yes. Megan introduced me to Lynn Shelton, and I worked for Lynn on Laggies, and then right after that I went out and made my first short, Minimum Wage, which they both executive-produced. Their support in that measure was tremendous. They were like, You are ready to do this."