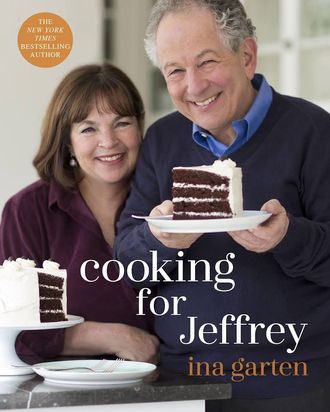 Lifestyle writing is all about aspiration, which is code for making people envy you. In our series I Like This Bitch's Life, the Cut admits that it's working.
I first started regularly watching the Barefoot Contessa back in high school. I may have been a surly teenager who had no desire to pursue anything remotely domestic, but I was transfixed by Ina Garten, the convivial, then-fifty-something host who had catapulted from selling pre-made foods to rich ladies in the Hamptons to celebrity chefdom. In the pre-ASMR and Tasty video world, watching her swan around her kitchen was a profoundly soothing experience. I salivated over her cooking, admired her cozy Hamptons home, and took note of her marriage arrangement.
It was hard not to: She constantly referenced Jeffrey, her perpetually-absent husband who returned from business trips in the nick of time to meet Ina's warm embrace and a kitchen full of fresh, delicious food. (Jeffrey was the former Undersecretary of Commerce for International Trade in Bill Clinton's administration, worked on Wall Street, and is dean emeritus of the Yale School of Management, hence all the business trips and limited Food Network screen time.) Ina may have been the show's main aspirational figure, but I wanted to be Jeffrey, minus the boring jobs: cared for and well fed, without having to do any of the actual work. I have liked that bitch's life for going on a decade now.

I was reminded of how much I envy Jeffrey when I received Ina's tenth cookbook, Cooking for Jeffrey, in which she focuses on, well, cooking for Jeffrey. More broadly, it's a celebration of the idea, as she puts it, that "cooking is one of the great gifts you can give to those you love." Ina is no fool — she knew that putting out a book devoted to the antiquated notion cooking for your husband in the year 2016 would likely raise a few eyebrows, so she takes care to mention, "I often say that [Jeffrey] was the first feminist I ever knew; he believed that I could do anything I wanted to do." This is probably because her publisher did not want her to write "I'm a multi-millionaire with an ever-expanding home-entertainment empire who can do what she wants, sit down haters!!!"

Recipe-wise, Cooking for Jeffrey consists of several of Ina's trademark unfussy gourmet comfort-food dishes. There are Moroccan Grilled Lamb Chops. ("Jeffrey adores lamb so I like to find new ways to cook it.") There is Parmesan Roasted Zucchini. ("Jeffrey adores zucchini with garlic and Parmesan.") There is a Chocolate Crème Brûlée. ("Jeffrey loved it.") There are also anecdotes about lovely trips to France and Ireland, asides about dinner parties past, and the occasional delightful picture of Jeffrey. He is usually found clutching some sort of food — a plate of chocolate cake, a slice of cheese — with his face is stretched into a genuine, almost bashful, smile, the deeply content look of a man who absolutely knows that he has it made.
Because along with the privilege of getting to live with America's most beloved celebrity chef (my apologies to Bobby Flay) and getting to eat her cooking whenever he wants, Jeffery also appears to be in a truly loving marriage with Ina. As celebrity couples crumble all around us, Jeffrey and Ina quietly endure. They have been married for nearly 50 years, and Ina still speaks swooningly of Jeffrey; take her recent interview with Vanity Fair in which she mentioned him near-constantly. (Most darkly, when asked how she would like to die, she responded, "I don't care as long as Jeffrey and I go together and we end up in a big suite with a view of the ocean.") In a profile of Ina published in Eater last year, Choire Sicha described them as "quite obviously one of those couples who cannot stop sneaking off to have sex," an observation backed up by pretty much every photo of them in existence.
There is, of course, only one Jeffrey. For the rest of us, there's the second-best option: eating an entire Ina's Coconut Cake in one sitting while watching eight hours of Barefoot Contessa reruns on the Food Network.