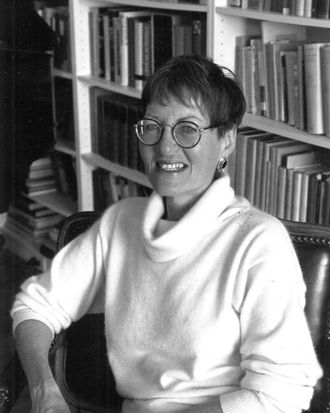 Photo: Roberta Dupuis-Devlin
Last Tuesday, Sandra Lee Bartky — a feminist philosopher and retired professor emerita at the University of Illinois at Chicago — died, at age 81, of complications from intestinal surgery, a colleague at the university told the New York Times. She was one of the founding members of the Society of Women in Philosophy, as well as a founder of the UIC Gender and Women's Studies program, and one of her goals was to bring feminist thought to new audiences. "Most of my writing is meant to offer occasions for consciousness-raising," she wrote in her book Femininity and Domination. "I hoped that 'Toward a Phenomenology of Feminist Consciousness' would explain to non-feminists, or not-yet-feminists, what we were about; indeed, I was trying to seduce them."
What's remarkable in reading her work today is how prescient she was: While Bartky may not have the name recognition of Judith Butler or bell hooks, her ideas are echoed throughout today's pop-feminist treatment of topics like body-positivity and beauty. Bartky frequently wrote about the female body and how the patriarchal system encourages women to remain small and thin, so that physically and emotionally they do not take up very much space (essentially: the opposite of manspreading). She explored that idea in her most popular paper, "Foucault, Femininity, and the Modernization of Patriarchal Power," published in 1988 in a collection called Feminism and Foucault: Reflections on Resistance.
"Styles of the female figure vary over time and across cultures: they reflect cultural obsessions and preoccupations in ways that are still poorly understood. Today, massiveness, power, or abundance in a woman's body is met with distaste," she wrote. "The current body of fashion is taut, small-breasted, narrow-hipped and of a slimness boarding on emaciation; it is a silhouette that seems more appropriate to an adolescent boy or a newly pubescent girl than to an adult woman. Since ordinary women have normally quite different dimensions, they must of course diet."
She goes on to list women's magazines of the time that espoused this ideal – Ladies' Home Journal, Mademoiselle — and to criticize the imperative to diet, by which "the body becomes one's enemy" and we become subject to the "tyranny of slenderness." That tyranny, Bartky suggests, extends to the many ways in which women make themselves hairless, supple, cleansed, adorned, and beautiful, in keeping with a standard they don't control. It's territory that will sound familiar to anyone who has ever read a comment-section debate about bikini waxing — or, for that matter, Alicia Keys's recent no-makeup manifesto. In 2016, as conversations around body-positivity enter the mainstream, many of Bartky's earlier theories echo behind them.

"The disciplinary project of femininity is a 'setup,'" Bartky writes. "It requires such radical and extensive measures of bodily transformation that virtually every woman who gives herself to it is destined in some degree to fail." Later in her life, she conceded that there are women who take pleasure in the feminine pursuits she questioned, and allowed that her own viewpoint would naturally be limited. But the growth of voices that echo Bartky's skepticism about the ideals (and products) that women are sold suggests that the culture has, more than 30 years later, begun to absorb her ideas about what she calls women's "internal oppression."