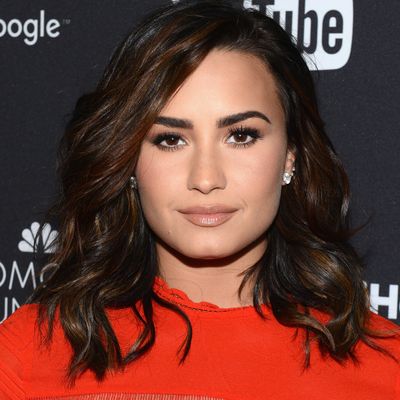 Demi Lovato.
Photo: Noam Galai/Getty Images for Global Citizen
In the realm of celebrity dating, no two people — so long as they're celebs — are too far-fetched a match. And while some celeb pairings are simply bizarre, that's not the case if we take a minute to consider the possibility of Demi Lovato and John Mayer as a couple. Think about it.

The two are pop singers with stellar vocals and a fondness for being overly honest with the public about their dating life/friendships and they know a little something about giving a controversial quote (or, in Lovato's case, tweeting their feelings). And if anyone's ever shipped the two together, there's finally some evidence that the pair is at least hanging out together and chatting it up, according to Us Weekly. "Multiple sources," confirmed to the tabloid that they were cozy and chatting for an hour at a celeb hot spot in Los Angeles.

"John had his arm around Demi and was whispering sweet nothings into her ear," a source told Us Weekly. "She was into it. They weren't making out or anything, but she was giggling the whole time." No word on exactly what those sweet nothings were, but given that him and Lovato have collaborated musically before, maybe we can expect some future music from the two? If so, there's nothing like a little romance to fuel the inspiration.