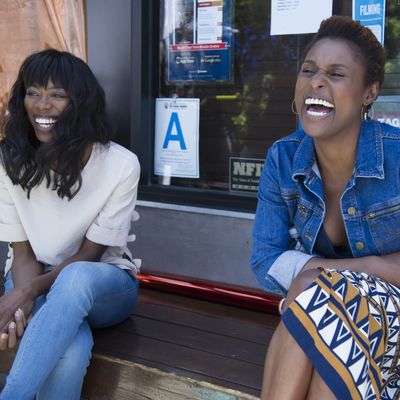 Photo: Anne Marie Fox/HBO
In the third episode of Issa Rae's new HBO sitcom Insecure (which has yet to air, so light spoilers ahead), Issa's best friend Molly (Yvonne Orji) calls Issa up to share her good news; she has finally been accepted to the League, the exclusive dating app for "high-achieving" singles. Issa points out that Molly is finally seeing a guy she really likes — plus, didn't she say she was done with dating apps? Molly shrugs her off. "I said I was done with shitty-ass dating apps," she retorts, pointing out that the guy she's seeing doesn't even have a college degree. "I've been waiting like three months to get approved for this. Now I can finally date dudes on my level."
Insecure, co-created by Rae and Larry Wilmore, is HBO's long-awaited follow-up to Issa Rae's successful web series The Misadventures of Awkward Black Girl. In the new show, Rae is the titular "awkward" black girl navigating a mediocre job at a nonprofit and an unsatisfying long-term relationship; Orji is her BFF Molly, a successful lawyer still searching for the right guy. Based on the six episodes HBO sent press, it's also one of the best shows about friendship and romance since Sex and the City (without the whimsical, over-the-top quality that so often permeated Carrie's Manolo-clad gallop through the New York dating scene). And while other series have addressed the digital rewiring of our romantic lives, Insecure is one of the rare shows to have the all-consuming culture of app-based dating baked into its narrative DNA.

Molly, in particular, demonstrates the weird emotional balancing act that accompanies dating in the digital age, a simultaneous feeling of scarcity and plenty: that the reserves of eligible men are quickly depleting (she is crushed when she finds out her Asian co-worker is engaged to an eligible black man), while at the same time, it would be foolish to settle when Mr. Perfect could be just one click or swipe away ("You gotta fuck a lot of frogs to get a good frog," she muses at one point. "It's a numbers game").
Insecure explores what happens when a modern, self-actualized career woman knocks up against rigid ideas about love and dating (even when those rigid ideas are her own). Molly is successful, beautiful, and smart — as Issa points out in the pilot, she can charm both black and white people with equal ease — and is frustrated with dating the guys who aren't in her league. "Just because we have standards does not mean we're difficult," Molly proclaims at one point. Yet at the same time, we watch her cut off a promising relationship because her partner doesn't meet her narrow set of specifications, while other prospective partners are warded off by her tendency to move too fast, her inability to play the capricious games of modern romance. (Although, indeed, why should she?)
The show's writers are clearly well-acquainted with the romantic landscape the show portrays, making for some great throwaway jokes. In one scene, we get flashbacks to Molly's various dates from different dating services, all of which have their distinct personalities, from OKCupid ("free, but it's like bottom-of-the-barrel dudes) to Tinder ("used to be cool but it's basically a fuck app"). But the show also captures the soul-destroying, round-robin quality of dating in L.A., as time and time again we watch Molly meet someone new only to have her hope dashed. "He could be different, you never know," Molly says at one point, showing Issa a photo of her latest match, a hopeful sadness in her eyes.

The heart of Insecure is the relationship between Molly and Issa, both their intense affection for one another and the complex ways that they are both envious and critical of one another's lives. When Issa — ensconced in a long-term relationship with the underachieving Lawrence (Jay Ellis) —contemplates joining Tinder herself, Molly chides her, "You ain't about that app life." At another point, Lawrence implies Molly is single because her standards are too high; in turn, Issa shuts Lawrence down by suggesting that her own might have been too low. While Molly constantly comes on too strong, Issa evades, avoids, and dissembles, choosing to hide rather than confront her relationship head on. Unlike Samantha, Carrie, Miranda, and Charlotte, Issa and Molly feel like real women rather than archetypes. And yet, in their way, they capture the two sides of the coin that is the modern-dating predicament — the idea that no matter what you do, you're doing it wrong, settling or selling yourself short in some way. The show offers no solutions, but it does suggest a potent antidote: a friend solid enough to stick with you through it all.