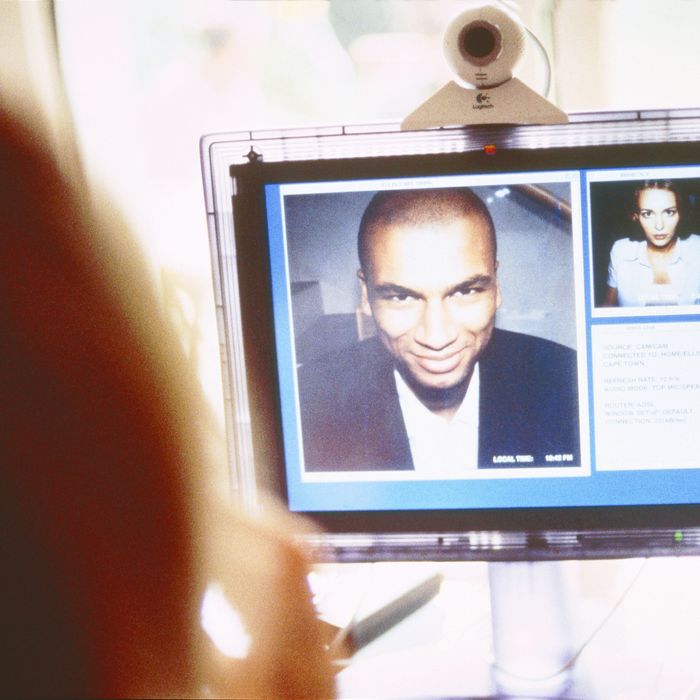 Photo: Tommy Kay/Getty Images
On a recent Wednesday night, not wanting to get around to anything on my to-do list, I stare at my laptop, ignoring a lonely Word document with a halfhearted shopping list on it and decide to Google "college girls gone wild."
A million tabs featuring gaggles of naked women take over my screen.
"Whatcha lookin' at?" my husband asks, slipping into bed next to me.
I take in what he's observing: a buxom California blonde dressed in sheer black lingerie, taking user requests to get into various states of undress. She's a model on Megacams, one of the hundreds of cam-girl sites popular online, which, bizarrely enough, just began using facial-recognition software to allow the truly invested to seek out porn doppelgängers from their 180,000 different participants.
I'm not embarrassed to admit that I look at porn occasionally. What is embarrassing is the fairly basic Baywatch-on-a-bender brand that I like. The cheesier the video, the more it reminds me of my wilder, younger party-girl self. You know those memories you have of some past seedy encounter that play like a porn loop in your brain? A cam girl reminds me of that time in my life when every night Truth or Dare was on the table, and while I wasn't taking money, I was eager to show off like the girls on my screen.
"It's not like I'm chatting with her or asking her to do stuff," I say, defensively. "I'm just watching her. She can't see me."
"So, wait, am I allowed to do that?" my husband asks.
"No way," I respond without giving it a second thought.
With so many temptations out there, I want to make sure I'm covering all my bases on what, exactly, my husband is looking at online.
Thus began a friendly debate about the many forms virtual infidelity could take nowadays. For example, some of our married friends still keep Tinder on their phones (which seems more stupid than ever given that there are apps now to catch the unfaithful in the act). There's also a ton of potential for emotional cheating out there on the social and chat side: Consider Meerkat's new live group video chat Houseparty, which seems like it's just asking for trouble, Facebook's upcoming integration of Oculus Rift to allow "virtual lounges," or Snapchat's fleeting-by-design interface that practically begs the user to take a risqué photo or video.
What online mediums could be considered cheating, we determined, would be ferreted out according to our own highly personal rules (go ahead, set your own!): (1) No live porn interaction, unless together and agreed upon. (2) No secret video, swiping, or chatting flirtations that would constitute emotional infidelity. (3) And no following a particular performer where interaction (financial or otherwise) is possible.
When setting forth such ground rules, it's a good idea to know your partner's likes and dislikes. This helps set boundaries, while also allowing them to still get their kicks. When we first started dating, in an attempt to delve into our sexual desires together, I bought a lightning-to-HDMI cable so we could project naughty videos up on the big screen together. It was an enlightening experience: I learned that my husband preferred the no-frills amateur stuff, while I'm a sucker for high production quality and a complicated narrative arc.
After our initial "what kind of porn constitutes cheating?" debate, I found myself wanting to investigate the limits of the rules we had set forth. A week later, my husband came home to find me naked with a $25 Google Cardboard strapped to my face. (For those who think virtual reality is only for the rich, think again. This VR platform uses a foldout cardboard viewer to provide an affordable way to check out virtual reality. It's pretty fun!)
"I feel like you're sending me a message that we need to spice up our sex life," he said. "Maybe we could do something together that will give you an illicit thrill. Didn't you used to call in to phone sex lines? We could try that."
It was hard not to see the situation as a loaded morality honey trap.
"Oh, my God, yes," I said. "But how would you not see that as cheating?"
"Because I'm in on it," he said. "We're both experiencing the same thing so it just ups the stakes."
So we did exactly that, and I called up one of the party lines I kept on speed dial during my single days, where you leave dirty messages for guys. My husband went down on me while I pretended to be Sandy, Candy, and many other innovative one-letter variations on my actual name. He couldn't hear what the guys were saying (his preference), just what I said. While I was nervous at first, the more turned on I got, the more turned on he got, too. I felt like Alice in Dirty Talk Land, which I'm sure, according to Rule 34 (there is a porn version of absolutely everything) is probably an actual fetish.
"Man, that was fun," I said. "Do you want to try it?"
"Not really my thing, but I did enjoy watching you get excited," he said. "I think you're more mental, and I'm more visual. Like with you, there's an entire hero's journey into what turns you on, with prequels, supporting characters, and a chance at winning an Independent Spirit Award."
I laughed. "I just like to fantasize I'm some alternate-reality version of myself," I said. "Like a more extreme version of an even more extreme version of my actual memory."
"I get that," he said. "It's not like when people look at porn they're googling 'sex like I'm already having.'"
Our cheating conversation wasn't over entirely, but the next time the issue came up, our dialogue was far more PG: My husband discovered I was farther along in the new Netflix series Easy, and was surprised that I had already moved on to the episode where the married couple is having a three-way with their babysitter.
"Oh, you went ahead and watched without me," he said. "Whatever, I don't care."
I told him that if it secretly did bother him, we could always get the "commitment rings" that were announced to be in development earlier this year and use near-field communication to sync a couple's favorite shows to prevent so-called "binge-cheating."
I love that every time we have one of our "modern fidelity" conversations, I find myself increasingly grateful for how candid we can be with each other. Honestly, I think it's when we don't talk about my cam-girl creeping or other quirky turn-ons that I ever feel cheated.