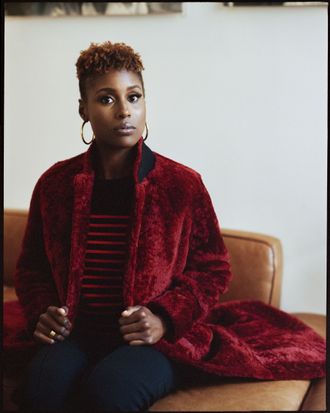 "I still feel regular. I'm not going to lie," Issa Rae tells me when I ask her how it feels to be the first black woman to helm her own TV show on HBO. Regular is a word she returned to a few times when describing her artistic approach, but by the end of our conversation, I felt as if Issa Rae were the definition of the popular term black girl magic, and not at all Insecure, as her new show is titled.

"When I first saw my face on a billboard I pulled over and took pictures and did dances, but really, I'm always working on what's next. I'm 31 now so I kind of know myself and have a group of friends that I love that are outside of the industry, and I just feel like this is still a job at the end of the day. It doesn't define me." Ironic, considering her show centers on a young black woman struggling to find her identity.

She describes her upbringing in Potomac, Maryland, as a time of rich exposure to different kinds of people that helped develop her worldview. "I wasn't really aware of my blackness even though I was around people who were Indian and Jewish, et cetera. They were just my friends. It wasn't until I moved back to Los Angeles and reflected on those times that I was like, 'Oh!' I really wasn't aware of my blackness as much because nobody else would have talked about it. In terms of trying to figure out what was the definition of blackness, and if I didn't fit that definition — that stuck with me for years."
Her way of connecting to black culture was through movies — classics like Love & Basketball, for which she would later do a tribute episode on her first award-winning web series, The Misadventures of Awkward Black Girl. "At 16, I just remember looking at [Love & Basketball] wide-eyed, wanting to watch it again immediately afterward and feeling like, 'Okay, I could do this,' because it was in my neighborhood and it was just super black but not about being black, which I love — it was just regular."
In high school, Rae started taking acting seriously. "I had a really great drama teacher who was super encouraging. Then I stopped taking it seriously in college. But when I finally got behind the scenes in terms of directing, producing, and writing I realized what it could be for me," she recalls.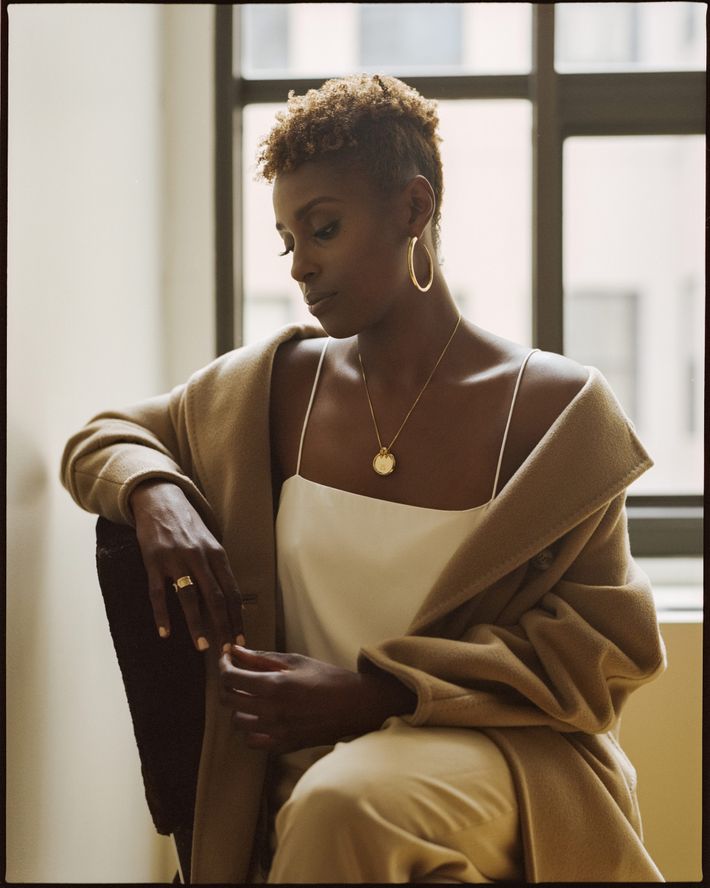 Max Mara Coat, $3,490 at Max Mara, AYR Cami, $165 at AYR, Chloé Pants, $507 at the Outnet, Khiry Earrings, $295 at Khiry, Third Crown Pendant Necklace, $300 at Third Crown, Cartier Ring pre-owned, $1,995 at Vestiaire Collective.
During her freshman year of college at Stanford, her dad pressured her to study political science. She also took African-American studies and began examining black works of art, slowly building up the confidence to do her own thing. Inspiration struck when a classmate recognized there were no plays at Stanford with characters of color, and proceeded to write a hip-hop opera on her own. "I remember watching it and thinking, That's dope. The next year I said to myself, If she can do it, I can do it too."
Dorm Diaries, a show she put together with friends, was what she has called her "lightbulb" moment, showing black people in everyday situations while not focusing inherently on their blackness. "I was trying to break into the industry traditionally by writing and entering contests, and quickly figured it is really a 'who you know' industry. And so I put out this web series for fun and people from other colleges watched it. It probably had a couple thousand views but it was a huge deal to me just in terms of realizing I had direct access to an audience to make stuff and put it online."
After college she founded Color Creative, an organization to help other writers of color get the tools to succeed in Hollywood. While working at the Public Theater, she tried making independent films, but in a terrible turn of events, was robbed of all her equipment and scripts. "I laugh now, but it was devastating at the time because, coupled with all my writing projects, I had original tapes of film that were gone." She made it one more year in New York but eventually moved home to live with her parents in Los Angeles.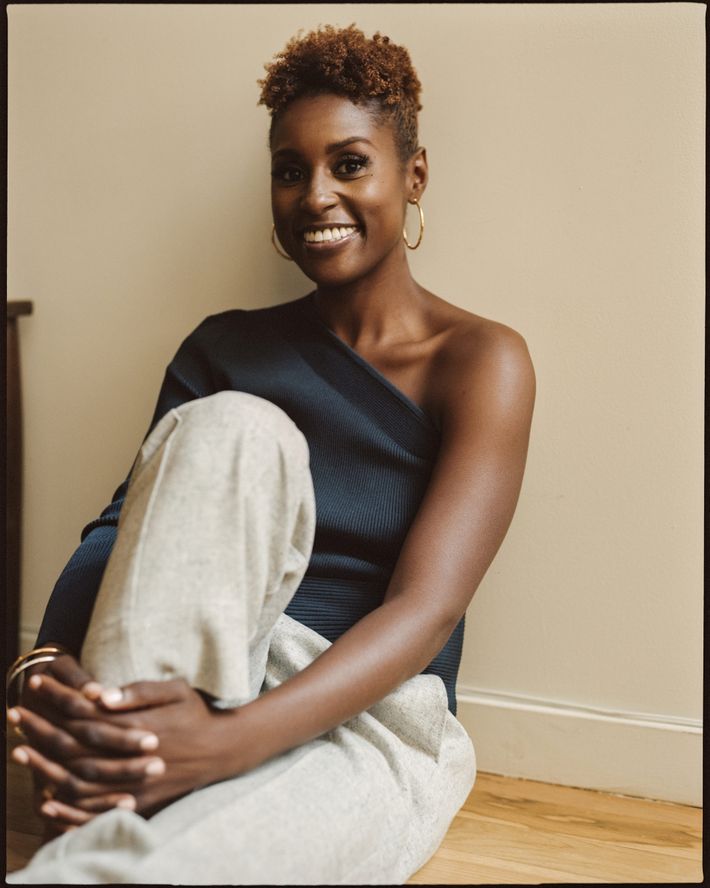 Cushnie et Ochs Top, $695 at Shopbop, AYR Pants, $195 at AYR, Tiffany & Co. Earrings, price upon request at Tiffany & Co, Khiry Bracelets, $425 each at Khiry.
"At the time I was watching a lot of Curb Your Enthusiasm and The Office and kept thinking, Where are the black people? I love that kind of humor and there's such a separation between what is considered black humor and what's considered white humor. I knew I had a smaller camera [than before], it wasn't as good, but I knew how to edit and I thought, Let me just see what other projects I can do and keep writing. That was when I came up with the idea for Awkward Black Girl and proposed it to my friend to play the lead."
In her 2015 book of essays, also titled The Misadventures of Awkward Black Girl, she bemoans, "How hard is it to portray a three-dimensional woman of color on television or film? I'm surrounded by them, they're my friends, I talk to them every day. How come Hollywood won't acknowledge us? Are we a joke to them?" As far as seeing more diversity on the small screen now, Rae says she is more optimistic. "I'm seeing how the tides are changing and how people like Shonda Rhimes and Mara Brock Akil are changing things. In addition to my peers, Justin Simien (Dear White People) and Lena Waithe (Master of None) are trying to put black people and black stories at the forefront. I feel like I'm always getting closer to a position where I can really try to make a change."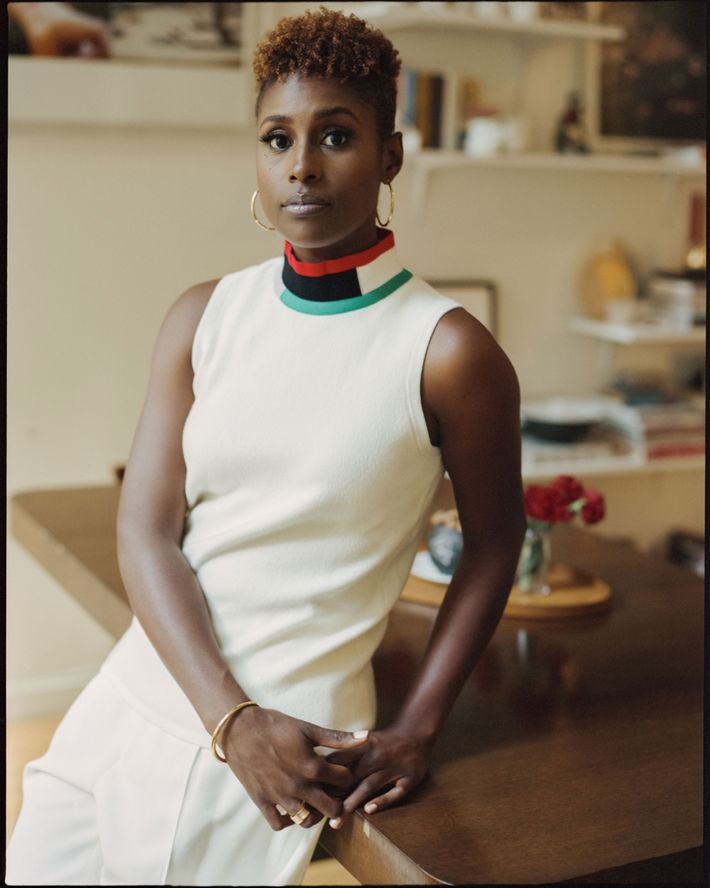 Derek Lam Top, $338 at the Outnet, Joseph Pants, $520 at Joseph, Khiry Earrings, $295 at Khiry, Khiry Bracelet, $425 at Khiry, Cartier Ring pre-owned, $1,995 at Vestiaire Collective.
When I ask her about the prevalence of bits like Jimmy Kimmel's skit about diversity at the Emmys that have become a recurring joke at award shows, she gets more serious. "You've got these old executives that need to die off, or be replaced. And little by little that's happening." Shows like The Fresh Prince of Bel-Air, Family Matters, and A Different World are coming back in new forms with Black-ish, Empire, Atlanta, and Power, but there's no denying that television has a long way to go to get back to how pro-black it used to be. "I look back on Living Single and how I took that for granted because there are no more shows like that. That was the original Friends and it was just black people. And Girlfriends paved the way for what we're doing now with Insecure."
Insecure follows Rae's character, also named Issa and loosely based on her, on her journey through young adulthood. "It's me if I didn't know what I wanted to do and if I made different decisions. A lot of the characters are based off of friends or people I know." Along with juggling Insecure, her passion project Color Creative is what she says will contribute to changing the scope of Hollywood. "For me it's just to give other writers and creatives the opportunity to have experience, which is the No. 1 reason that stupid, racist Hollywood executives give for not hiring people of color."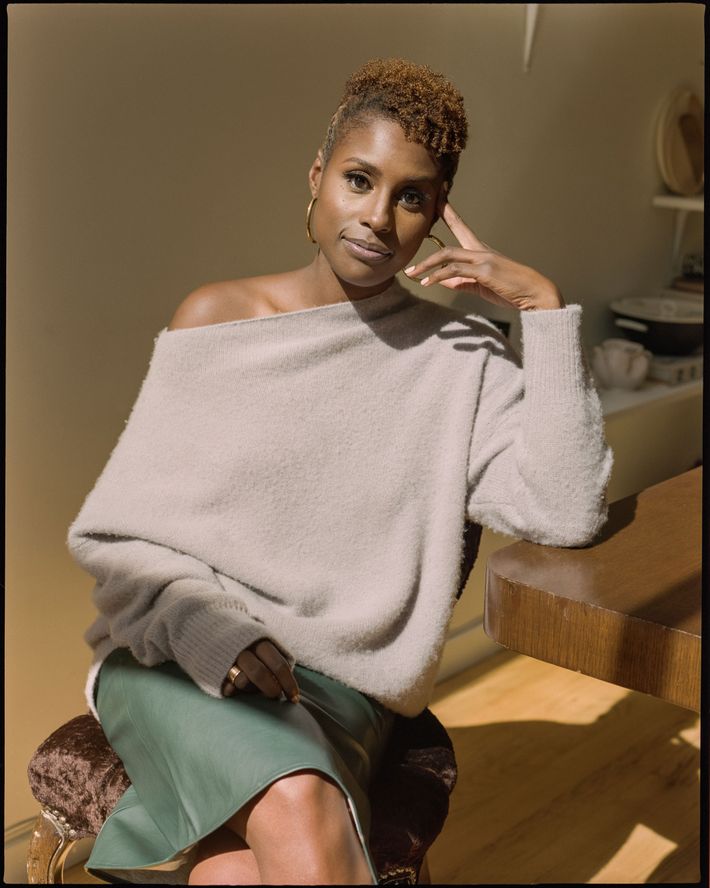 M. Martin Sweater, price upon request at M. Martin, Ann Taylor Skirt, $109 at Ann Taylor, Khiry Earrings, $295 at Khiry, Khiry Bracelet, $425 at Khiry, Cartier Ring pre-owned, $1,995 at Vestiaire Collective.
In hindsight, she says, a young Issa Rae had unrealistic goals. "In my mind I wanted to win an Oscar by the time Matt Damon and Ben Affleck did (Damon was 27, Affleck was 25), but with no script. I thought that by 25 you have to be a millionaire, and for what? I wasn't doing enough work to get there, but I was setting myself up for disappointment. I've learned to work at my own pace and stop comparing myself to others, that's the biggest advice I'd give."
Is she nervous for the premiere? "On a scale of one to ten … I'm a seven. And the other three is because I have other television projects, film ideas — just the opportunity to work with HBO and other content creators, I don't feel like I have this one idea and it's the end all, be all."
When I ask her about her definition of what blackness is now, she quickly says, "I don't have one. I just feel like it could be anything. There's no limit to what blackness can be. It's like I'm black and if you try to tell me any different, like, fuck you, what do you know? You know? There are no issues or questions on my end at all. What I do is for the culture, and I'm so proud of the culture."
Lead image photo: Joseph Coat $2,940 at Joseph, Saint Laurent Sweater, $396 at the Outnet, Agnona Pants, $475 at the Outnet, Khiry Earrings, $295 at Khiry, Cartier Ring pre-owned, $1,995 at Vestiaire Collective.
Photos by Andre Wagner, makeup by Joanna Simkin, hair by Felicia Leatherwood, styling by Lindsay Peoples.