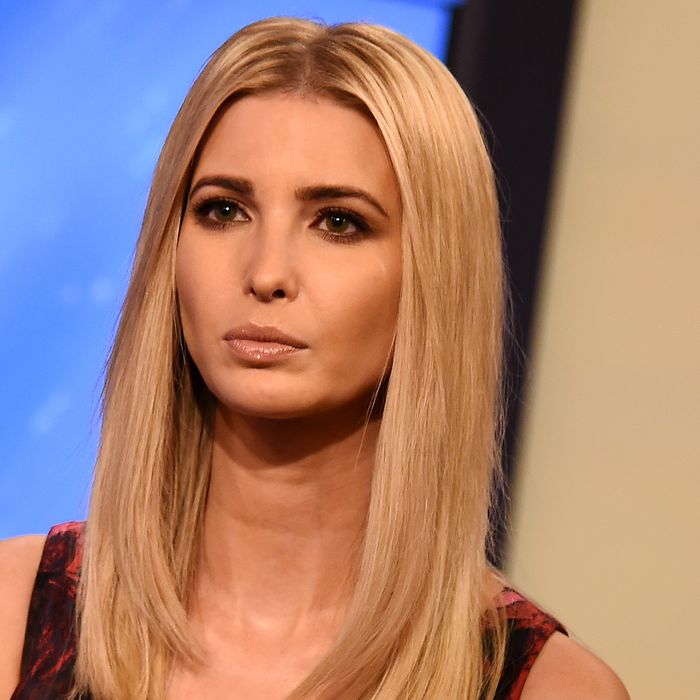 Ivanka Trump.
Photo: Ilya S. Savenok/Getty Images
Donald Trump's platform includes six weeks of paid maternity leave for working mothers, an issue his daughter Ivanka Trump has been instrumental in promoting. It's already been reported that G-iii, the company that manufactures Ivanka's eponymous clothing line, doesn't offer paid leave — but now one executive who worked directly for Ivanka Trump said it didn't exist there, either, when she first came onboard.

Marissa Velez Kraxberger — who, according to LinkedIn, worked as the creative director for Ivanka Trump from 2013 to 2015 and chief marketing and creative officer for part of 2015 — came forward about the company's abysmal record in a Facebook post on Monday.

She shared that she initially interviewed for the job at two months pregnant and asked about the maternity-leave policy when she was offered the role. "When I asked about maternity leave she said she would have to think about it, that at Trump they don't offer maternity leave and that she went back to work just a week after having her first child," Kraxberger writes. "Our team–the ones who created#WomenWhoWork and the ones who the hashtag really stood for–fought long and hard to get her to finally agree to 8 weeks paid maternity leave."

"I'm not writing this because I think Ivanka is a bad person," she continues. "I can see how it might be possible to go back to work after having a baby when you have a lot of help at home."

Kraxberger ends with a call for women to "rise and have a voice against [Trump] and all that he stands for." Read her full post, below:
Update (5:35 PM): A brand spokesperson for Ivanka Trump sent the following statement to the Cut:

The team at Ivanka Trump is saddened by this mischaracterization of how our company developed its industry leading culture and benefits package. In addition to paid leave, we also offer all employees flexible work schedules and unlimited vacation and sick days.
As a company for women, run by women, we spent a considerable amount of time in the early days of building our business developing a unique corporate culture and engaged in meaningful dialogue about the benefits that would be most impactful to the people working at Ivanka Trump.
While we respect differing political views from employees, past and present, we are steadfast in our belief that we have built a culture and a brand to be proud of and are deeply committed to supporting and empowering women.