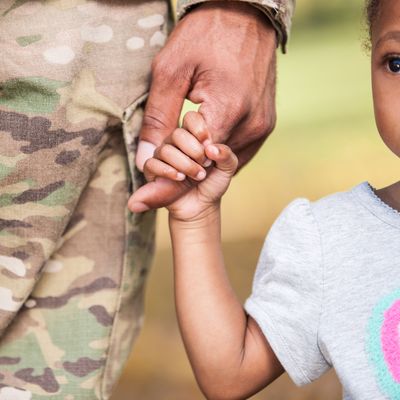 Wounded veterans are getting a shot at starting a family.
Photo: Jacom Stephens/Getty Images
Thousands of veterans in the U.S. who became infertile because of injuries in combat will now get a chance at starting a family, since the Department of Veterans Affairs is set to start covering IVF and adoption costs, the Washington Post reports.
There has been "widespread" use of improvised explosive devices in Afghanistan and Iraq, and veterans who served in those regions have had more spinal and genital injuries than in past conflicts. Many veterans with such injuries have been unable to conceive a child naturally as a result. Yet, according to the Post, for the past 24 years, the VA has been banned from covering adoption or IVF.
The bill that calls for the VA to cover those costs for the next two years was signed by President Obama last week, with a provision authorized by Senator Patty Murray, a Washington State Democrat. IVF can be quite costly (around $30,000 for several tries), and the VA is using existing funds to cover the costs for now. Murray hopes to get the procedure covered permanently, while the VA supports legislation that would add IVF to the list of services it offers.
Walinda West, a spokesperson for the VA, told the Post in a statement, "Our goal is to restore, to the greatest extent possible, the physical and mental capabilities of veterans with service-connected injuries. The provision of assisted reproductive technologies would do that."