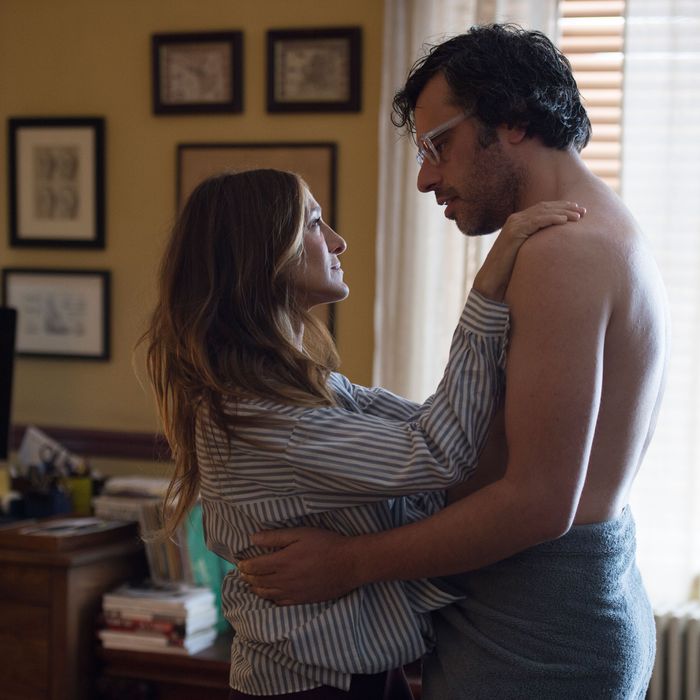 Sarah Jessica Parker and Jemaine Clement in Divorce.
Photo: Macall B. Polay/HBO
Spoilers for the first episode of Divorce below.

In HBO's new series Divorce, Sarah Jessica Parker ditches the martinis and the Manolos for a life of school drop-offs and marital malaise in a Westchester suburb. She plays bougie mom Frances, who finds herself consciously uncoupling from her husband Robert (Thomas Haden Church) when — in an 11th-hour twist! — he discovers she is having an affair. As far as I can tell from the first episode, the show gets some stuff right (divorce is unpleasant!) and some stuff less so (even in character, SJP looks out of place in an entirely designer-free wardrobe). But, for me, the most resonant part of the pilot came when Parker's character opened the door and revealed the man who prompted her to torpedo her marriage … and it was Jemaine Clement from Flight of the Conchords. At which point, I was like: Frances, girl, I feel you.
Am I alone? I suspect I am not alone. I went to the Flight of the Conchords reunion show in Queens recently, and I can confirm that I was far from the only female audience member who appreciated the sight of two middle-aged men in tennis whites performing a Medieval-style recorder duet. (Bret, there is a place in my heart for you, too.) For this, I really have to applaud the Divorce team on their casting. We totally get why Frances may once have been attracted to Robert, a manly contractor with a manly man's moustache. And we totally get why she's attracted to Jemaine (whose name on the show is Julian, but who I'm just going to call Jemaine). He's the ideal romantic foil, the exact thing you want when you've got the other thing — a soft-spoken, glasses-wearing Columbia professor who makes his own granola — the quintessential hipster fantasy object.
Look, what red-blooded woman would not consider straying for the man who gave us "Business Time" and "Foux Du Fafa"? Who among us does not go for an uncanny David Bowie impression delivered in a subtle Kiwi lilt? Is there anything more arousing than a sweet, goofy funnyman with a nostalgia quotient evolving into a full-fledged salt-and-pepper Brooklyn DILF?
Once again: I really don't think I'm alone here. And I recommend his 2015 indie comedy People Places Things as valuable supplemental viewing.