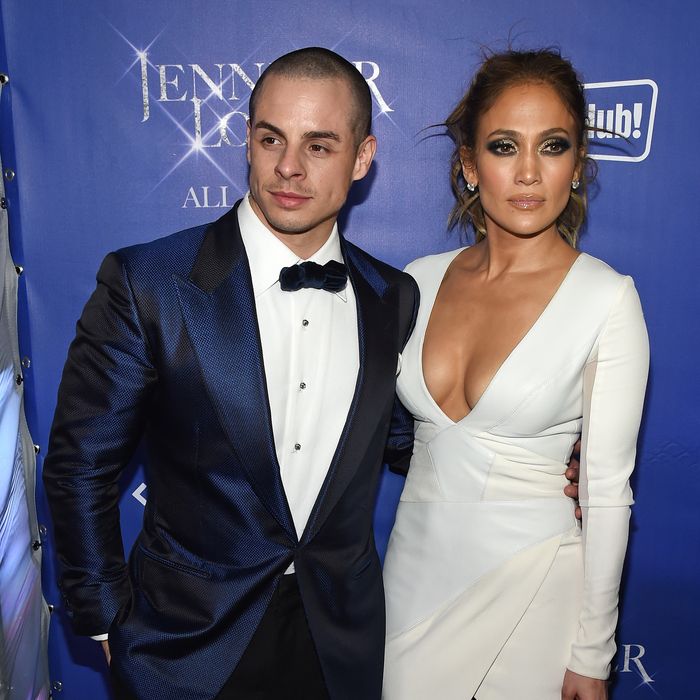 Jennifer Lopez reportedly kicked ex-boyfriend Casper Smart to the curb after cheating.
Photo: Ethan Miller/Getty Images
It's been more than two months since Jennifer Lopez was last seen with her on-again, off-again boyfriend Beau "Casper" Smart. Rumors surfaced back in August that the couple had split once and for all after J.Lo showed up solo to a party in the Hamptons while Smart was photographed at a boxing match elsewhere. But refusing to go party with J.Lo wasn't the real reason for the breakup. Smart was caught cheating — for a second time — and J.Lo kicked him to the curb, a source told People.
"It happened two years ago, and he promised he would never do it again and once he did, she was done," the source told People. "The truth is, he was cheating and now that it's over he's been begging to come back." By the looks of it, Smart hasn't been subtle with the hints. A week ago he shared a photo of his latest tattoo on Instagram, which reads: "You must embrace the darkness to see the light." But that public persona apparently is at odds with the party nature of the choreographer, who has also been photographed with other "bikini-clad dancers," the source added.
J.Lo, though, seems to be getting along quite well, by the looks of her smiling photos on social media. She's had plenty of reason to smile lately, after all. Her single, "Ain't Your Mamma," did well on the charts, she recorded another song with Lin-Manuel Miranda, she did a stint in Las Vegas, and she's been busy working on music with her ex-husband Marc Anthony, whom she has two children with. Smart, meanwhile, seems to be at work reminding people he does, indeed, work as a choreographer. Two months ago, roughly around the reported time of the breakup, he let his followers know he updated his choreography reel.