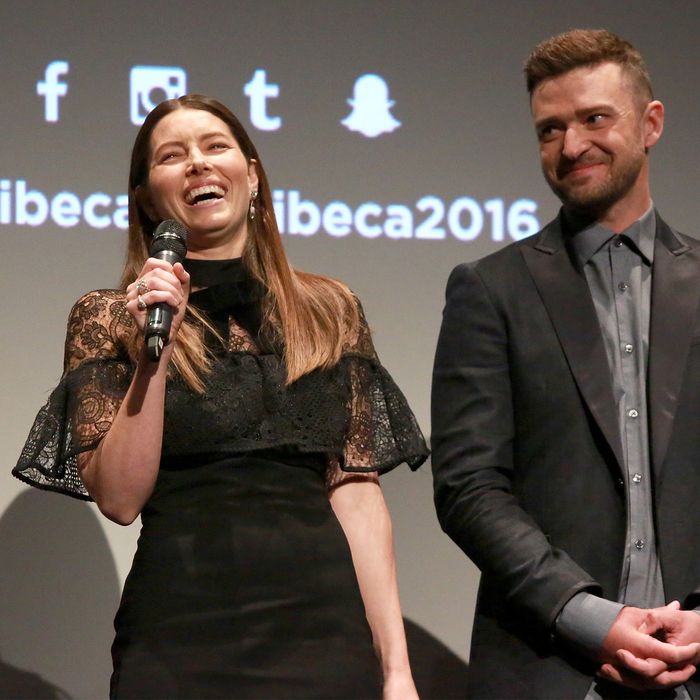 Jessica Biel and Justin Timberlake.
Photo: Rob Kim/Getty Images for Tribeca Film Fe
Jessica Biel and Justin Timberlake are pretty darn excited about this year's election. They're squarely on team Hillary Clinton and already made sure earlier this year to do a photo booth session with the candidate. So it's no surprise that Biel and Timberlake have also voted early. The only difference between the two, though, is Biel made sure not to break the law when voting — a point she couldn't help but tease Timberlake about.

Timberlake, in his eagerness to show the world he was casting a ballot, snapped a selfie of himself in the voting booth last week. Which, to many a person's — and Timberlake's — surprise, is actually a Class C misdemeanor in the state of Tennessee (who knew?). When casting her vote, Biel made sure to to avoid her husband's voting faux paus while also teasing him about the mishap. In an Instagram post on Monday, she wrote: "When you're so turnt up about voting that you do a photo shoot with your sticker … but at least you waited to get home before snapping so you won't almost go to jail, shout out to @justintimberlake." Timberlake re-posted the photo collage with his own reply: "Well played, Wifey. Well played… @jessicabiel #getoutandvote #rockthevote #votelikeyoumeanit #everyvotehashtagever Ps. No selfies in the booth."

Everyone got that? Leave the selfies for later. J.T. will thank you.