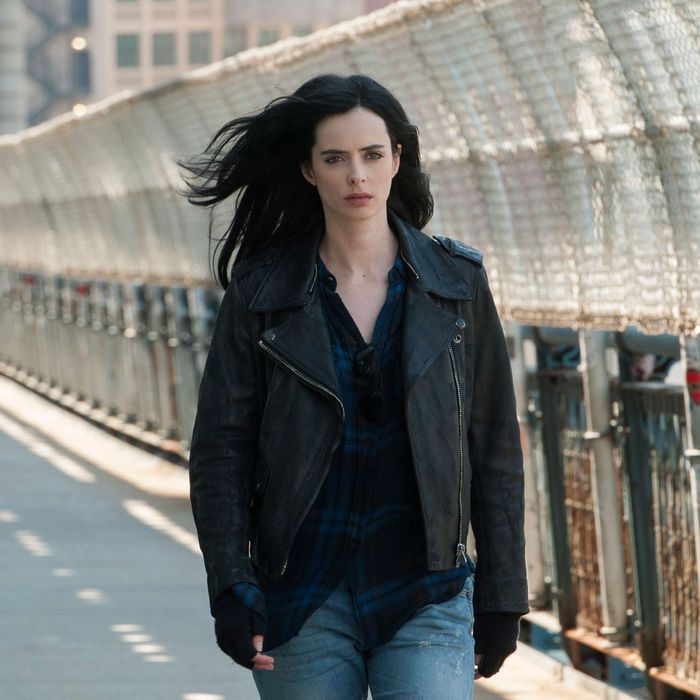 Photo: Myles Aronowitz/Netflix
Female fans of the superhero genre found a lot to love with the first season of Netflix's Jessica Jones, starting with Krysten Ritter's endlessly watchable performance as the show's prickly, tormented protagonist. It's a groundbreaking show that's delved into topics most mainstream shows — never mind Marvel properties — eschew, such as post-traumatic-stress disorder, sexual assault, and the complexity of female friendship.
The second season has a lot to live up to in terms of narrative and performance, but showrunner Melissa Rosenberg and her team are doubling down on Jessica Jones' message of female empowerment by hiring female directors for every episode of the second season.
Ava DuVernay's Queen Sugar was the first TV show to exclusively hire female directors for every episode of its season. The director of 13th, Selma, and the upcoming adaptation of A Wrinkle in Time, made sure to include a handful of newcomers, along with an emphatically diverse writers' room and cast.
The most recent diversity report from the DGA showed an increase in female directors and directors of color during the 2015–2016 TV season compared to the year before, but the numbers are still fairly dismal. 2017 might not be much better, especially when stalwarts like Game of Thrones aren't budging.
As DuVernay told the Cut in September, "Our crew on Queen Sugar was like the United Nations, and it's the same thing I'm doing on A Wrinkle in Time. It's like, 'All department heads, please, do not bring me the same people you've been using the last 20 years.' So I'm constantly pushing — even if the industry is thinking that maybe me or Ryan [Coogler] or the handful of us that are doing it are enough. You know it's not all about getting in that door and reading in that room. Now there are other rooms, and we can create new spaces."