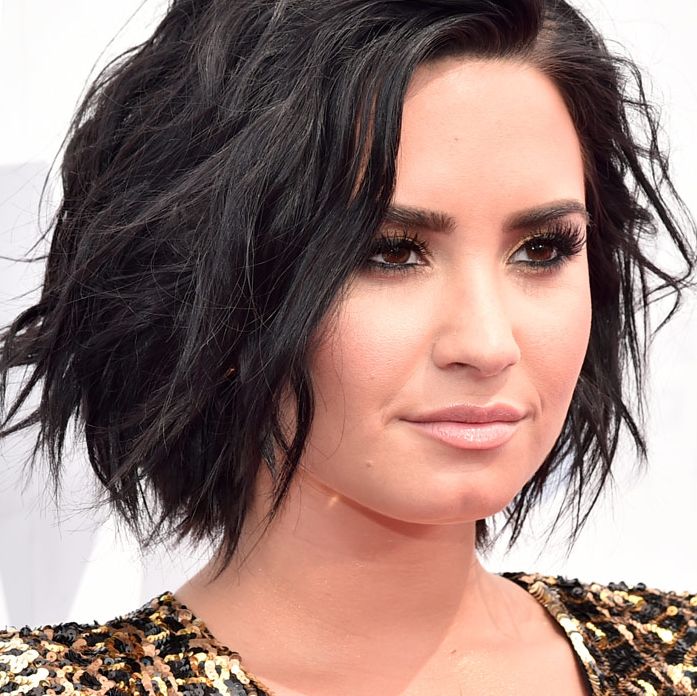 John Mayer and Demi Lovato.
Photo: Getty Images
Us Weekly reports that singer-songwriter John Mayer, 39, and singer-social-media-user Demi Lovato, 24, hung out at a club this weekend. Mayer "had his arm around Demi and was whispering sweet nothings into her ear," according to a source who spotted the pair at Catch in Los Angeles. This is the best gossip news I have heard in months.
Regardless of whether or not Mayer and Lovato are actually dating or even interested in each other, the potential for drama with this pairing is too good to ignore. Picture it for a moment: John Mayer, the guy who tells Playboy about sex with his exes, and Demi Lovato, the gal who tweets, apologizes, denounces social media, and then tweets again. In terms of relations both public and romantic, they are messy. And they could each use a high-profile relationship right now. As Celebitchy noted this morning, "Lovato is single after a 10-year back and forth relationship with Wilmer Valderrama, and Mayer is single, waiting for the next woman who will make him a paparazzi target."
Lovato is more famous than Mayer right now, but she's been floundering a bit since her breakup with Valderrama. Earlier this month, she tried to criticize Taylor Swift in a Glamour profile and ended up playing herself. Mayer, meanwhile, hasn't publicly dated anyone since he broke up with Katy Perry, and he's going to have a new (pop?) album to promote soon. He told Andy Cohen on Watch What Happens Live this summer that he wants a girlfriend and is "ready to roll."
They're perfect for each other: Lovato likes older men, Mayer likes famous women, and they both have unfinished business with Taylor Swift. (Lovato: the Glamour thing; Mayer: "Dear John.") Together, they could be a force for gossip good. For example: Last night, Mayer and Swift separately attended Drake's birthday party in Los Angeles, and TMZ published a story this morning noting that Swift was with her "squad" and Mayer was all alone. Imagine if Mayer had brought Lovato to the event — Swift would have had to contend with both of them, and the story would have gotten a lot more interesting.
At the very least, Mayer and Lovato could sell a single together. Mayer already helped Lovato write a song for her album Here We Go Again in 2009. (At the time, Mayer was dating Jennifer Aniston, and Lovato was dating Miley Cyrus's brother.) They know each other, they like each other, and, according to Us Weekly, they "chatted it up for over an hour" at the club this weekend and Lovato was "giggling the whole time."
In conclusion, John Mayer and Demi Lovato should get married. (In Vegas, with an annulment after 36 hours.) Just think about it.