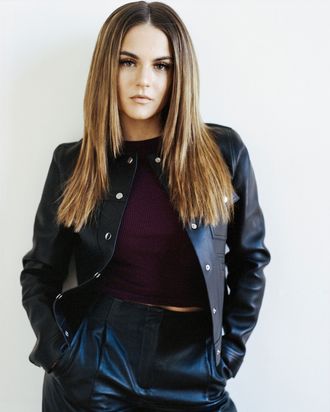 "I have a bit of anxiety, as you would if you haven't put out an album in ten years," JoJo admits to me. "I think if I was totally carefree and had no emotion about this, I might be a bit of a sociopath."
JoJo's album Mad Love comes out today after a frustrating decade in which the former teen star was prevented from releasing any new music due to problems with her label. Even though she's technically been off the grid for ten years, though, she's stayed part of the music world, releasing mixtapes and collaborations that have ensured her fans haven't forgotten her. Today's release is a major milestone for her, but it's not a comeback — more like a reintroduction, she says.
Born Joanna Levesque, JoJo signed her first record deal at the age of 12. When she released "Leave (Get Out)" at 13, the song made her the youngest solo artist ever to have a number-one single in the United States.
Music was such an integral part of her childhood that she can't pinpoint one defining moment that led to her career. "I really loved listening to Aretha Franklin and Etta James and Sly & the Family Stone, the Jackson 5, Chaka Khan, and all the greats," she says. "I wasn't as much into the boy bands of the '90s that my friends were into."
Out of all those influences, she developed an R&B-infused sound that led to two well-received albums. She was signed to a seven-album deal with Blackground Records, but the label lost its distribution deal with Interscope, and since then, she told Buzzfeed, she's had no communication with them, effectively leaving her unable to legally continue her career. Finally, about two years ago, she signed with Atlantic Records, and now she's picking up where she left off.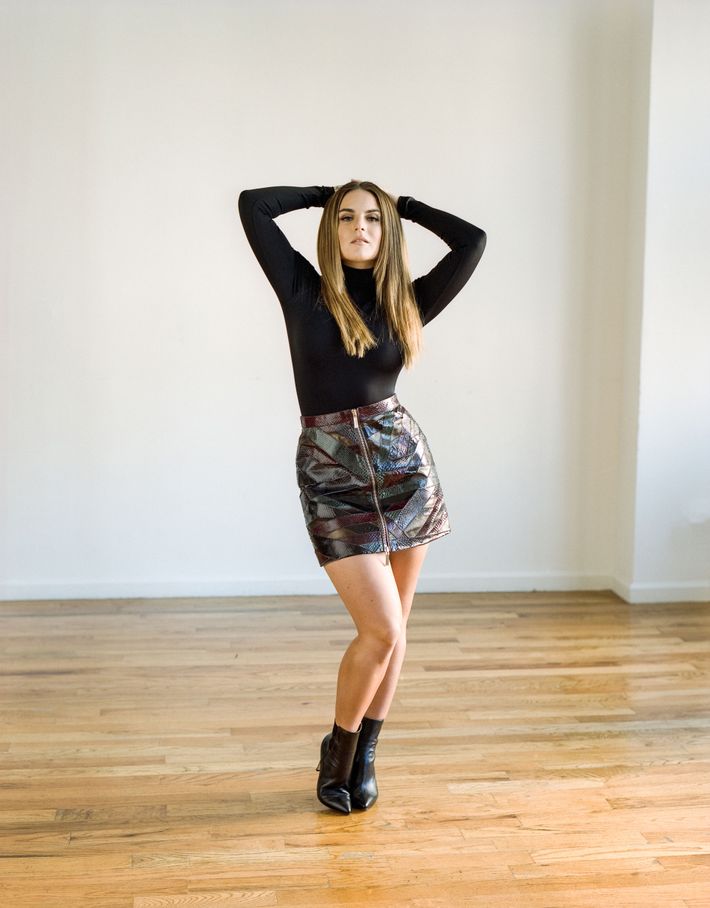 Wolford Bodysuit, $260 at Wolford; Emilio Pucci Skirt, $2,737 at The Outnet; Dear Frances Boots, $660 at Dear Frances.
The biggest difference between being an artist in the '90s and in 2016 is the reality of social media, with fans able to comment instantaneously about a celebrity's every move. JoJo's strategy is radical honesty. Over the past few years, when fans on Twitter have asked her when she'll release new music or what happened during a performance, she's always responded with straightforward answers.
"I'm not trying to make excuses, but I do like to let people behind the scenes so they can have some perspective as to what it's like. Because even while you're living your dream, that doesn't mean that you don't get sick. Not every moments gonna be like your shining moment. I just feel a lot more comfortable being transparent than hiding things."
That transparency has extended to her relationship with her former label. "Looking back on it, I was so young. Contractually, I didn't know what I was getting into because I didn't realize that I wouldn't be able to put out seven albums. I figured that I could kind of put an album out every year or every other year and keep moving and seven albums would go by quickly. But then I realized that isn't what was happening."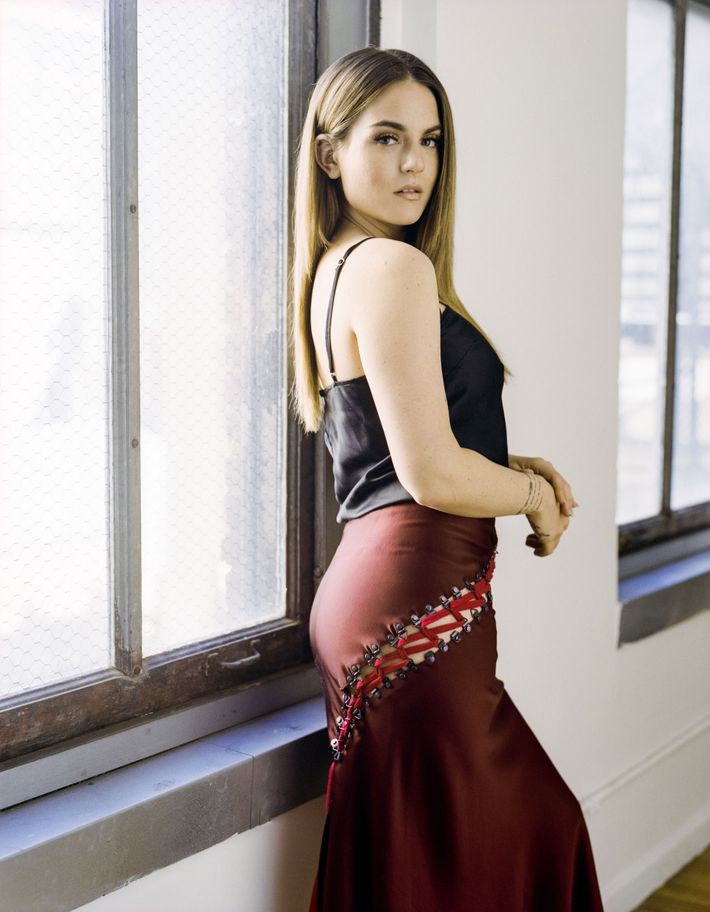 Fleur du Mal Cami, $87 at Fleur du Mal; DKNY Skirt, Price Upon Request at DKNY.
Despite the craziness surrounding the logistics of her career, she's been able to maintain one of the most loyal fan bases out there. "It's really special because someone who's been through the things that I've been through might not be so fortunate to have such a dedicated fan base. They've really been a constant in my life, and given me hope and inspiration, and let me know that I'm not alone. During that time, I just tried to remember who I thought I was, and who I know I am and that's a musician. I want to do this for the rest of my life."
Music has always been her outlet, she says. When she used to perform as a kid, "the self-consciousness was there. I knew that other people might be judging — I just didn't care. My mom really instilled in me that I could express myself however I wanted, so if I wanted to wear black lipstick in first grade, she'd let me. And music and entertaining was my extension of that."
Performing is her comfort zone now more than ever. "I really get my confidence from performing and singing because it's who I am. I do have fears, but singing really gives me the purest high that I could ever ask for, you know?"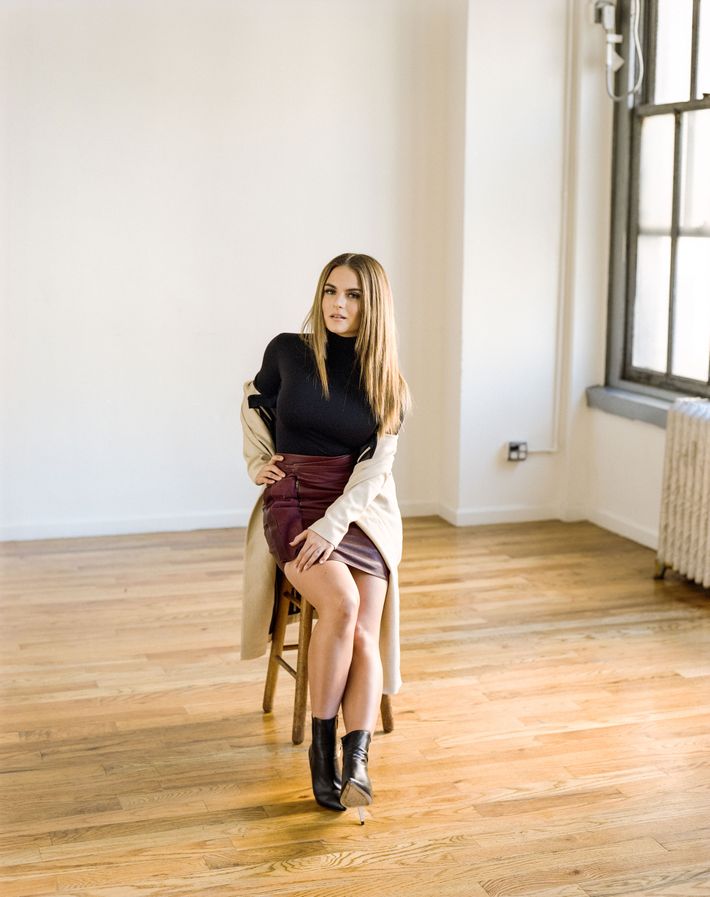 Victoria Beckham Coat, $1,572 at The Outnet; Wolford Bodysuit, $260 at Wolford; Isabel Marant Skirt, $668 at The Outnet; Dear Frances Boots, $660 at Dear Frances.
Even though JoJo is only 25 years old, it feels like she's been around forever — millennials like me can't really remember a time without her. She knows that most people in show business don't get a second chance to do things on their own terms, and she's excited to finally prove herself. "I feel like my mental state is clear and focused. I know more than ever what it takes to navigate through this industry and not to get swept away or bulldozed by certain things."
Those certain things include the way women can get exploited or mistreated by the music industry. "I've had my experiences with being body shamed by male executives, or creepy producers who try to get with me in more than a professional way. But now I'm in a unique place because my whole team is made up of women. Even the head of my label Atlantic Records is a woman."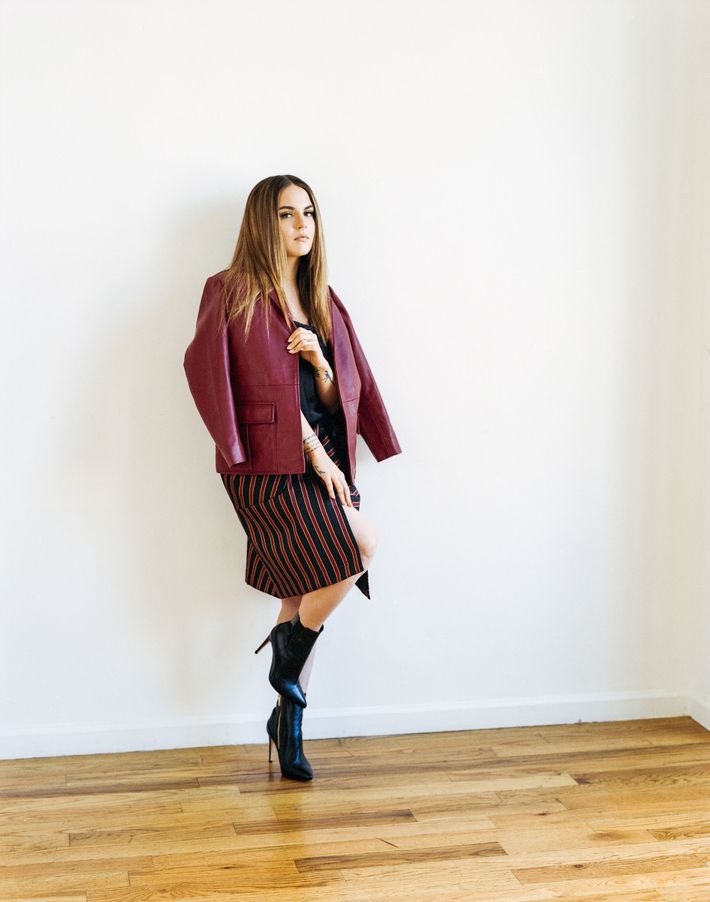 Ganni Jacket, $605 at Net-A-Porter; Fleur du Mal Cami, $87 at Fleur du Mal; Tomas Maier Skirt, $630 at Net-A-Porter; Dear Frances Boots, $660 at Dear Frances.
Mad Love speaks to the unique place that JoJo is in now, with the album not just touching on romance but the ups and downs of coming into womanhood. "It's not just about romantic love because that's not the only thing I think about. It's about self-love, family, friendship, heartbreak, having fun and making mistakes."
The album's standout songs include "FAB," featuring a verse by Remy Ma, and "Music," a song JoJo wrote about the passing of her father last year. "I was on tour when my father passed away. I was wrestling with 'Should I cancel the tour or should I keep going?' And I wanted to be honest with my fans, so if they saw me crying on stage — which only happened once, I think — that they would know I wasn't having a psychotic break. People all around the world deal with loss. And you come together over shared experiences, and it makes you feel like you're not crazy and you're not alone."
The album is both eclectic and cohesive, and by the end of my time with JoJo, she has me pondering my generation's obsession with instant gratification. I like the way she looks at her life as a marathon, one in which she's competing only with herself. "Whether you grew up listening to me or you think I'm a new artist, it's all good."
Lead Photo Credits: Michael Kors Collection Jacket, $1,291 at The Outnet; Veda Leather Pants, $726 at Veda, Veda Tank, $247 at Veda.
Photos by Andre Wagner, Hair by Naivasha Johnson for Exclusive Artists Management using Oribe, Babyliss Pro, Indique Hair, Makeup by
Camille Thompson for Exclusive Artists Management using Bobbi Brown.