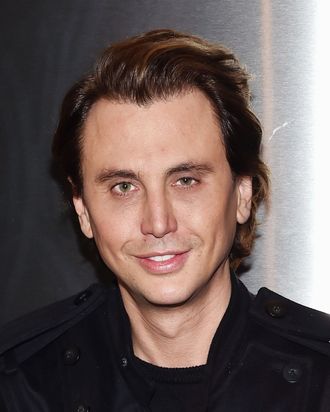 Jonathan Cheban.
Photo: Dimitrios Kambouris/Getty Images for Yeezy Season 3
Jonathan Cheban is sick of everyone assuming that all he does is drive around in Bentleys with Kim Kardashian. To prove us all wrong, the professional sidekick is launching a food-delivery service with products wrapped in packaging inspired by Kardashian's husband, Kanye West.
With Prepped Delivery, you can now enjoy chef-prepared meals, such as gluten-free chicken parm, delivered in vacuum-sealed, Kanye West–esque packages, according to People. "I've been learning a lot by watching [West] talk about branding and packaging. I love his simplicity, but the fact that there is still a strong message," Cheban said.
However, Cheban — who refers to himself as FoodGod on social media – would also like you to recognize he does more than just hang out with the Kardashians while eating a meal. "People always ask me, 'What do you do all day?' Some think I do nothing but drive a Bentley around and hang out with Kim. But I've been working my butt off for 20 years. And I'm still going strong," Cheban said.
Can't wait to see Scott Disick eating a Prepped meal on Instagram. #ad