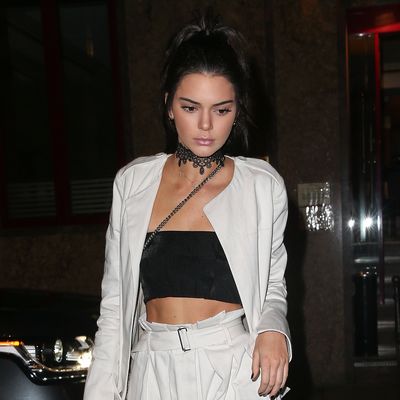 Kendall Jenner.
Photo: Pierre Suu/Getty Images
On Monday, a jury of seven women and five men acquitted a man of stalking Kendall Jenner, but convicted him of trespassing her secluded home in the Hollywood Hills. The case wrapped up after a week of testimony from Jenner and other experts who said that the man, Shavaughn McKenzie, was delusional and desperate to speak with Jenner.
The charges stem from the events of one night in August when Jenner pulled into her driveway and saw a man sitting with his head between his knees. Initially perplexed by the situation, she became alarmed when the man tried talking to her and wouldn't leave the property, according to Page Six. At trial, Jenner also said she recognized the man from two previous instances and thus feared for her safety. "I never got out of my car," Jenner testified, according to E! News. "I was terrified," she added. "I was literally traumatized. I started honking at him and I just wanted to make sure I saw wherever he went." Jenner then called friends for help to detain the man until police arrived.
McKenzie's lawyer, Taylor Shramo, argued that Jenner didn't face any real harm since McKenzie only wanted to speak with her. In the end, the jury agreed there wasn't enough evidence to convict on the stalking charges. Still, Jenner said that the whole incident has left her really shaken up and that she no longer feels safe in her home. "I'm already the kind of person who's on edge," she said.