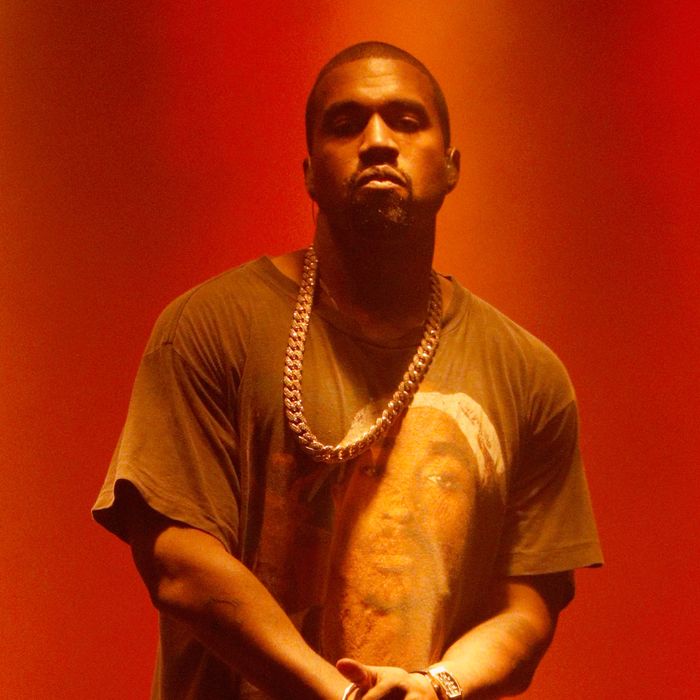 Kanye West.
Photo: Taylor Hill/Getty Images for The Meadows
Kanye West has reportedly been by Kim Kardashian's side ever since she arrived in New York following the horrific armed robbery she endured in Paris. He cut his set short at the Meadows Music and Arts Festival on Sunday night as soon as he found out about the news, telling fans that there was a "family emergency" he had to attend to. Now that West is with Kardashian, he's been able to offer her plenty of support, but he's also left feeling "helpless" and "furious" about the whole ordeal, a source told People.
The source, who is reportedly close to West, said that the rapper said he feels like he's had one of the hardest days of his life, according to People. "This is a guy who isn't used to feeling helpless at all," the source said. "He's usually in control. And now he realizes that he could have lost her, and there wasn't a thing he could do about it." The source added that West is "furious" about it all and wishes he could solve the case, but understands he needs to be by his wife's side.
Kardashian is also reportedly bursting into tears every so often after obviously being shaken up by the robbery where she was bound and gagged. When the robbers left, she ran to her friend and stylist Simone Harouche to jump off the balcony to escape, according to E! News. Harouche, for the curious, is the one who had been in the downstairs apartment and had locked herself in the bathroom upon hearing the commotion with the robbers. After not being able to dial 911, she then texted Kourtney Kardashian and Pascal Duvier, their security guard, to come back after just leaving the hotel, according to E! News.
Following what Kim Kardashian has been through, West said he feels that they need some extra protection after she was "terrorized," the source told People. "It's not just that she was robbed; it's that she was put into a position where she begged for her life, thought she was going to be raped," the source said. "She was brutalized and manhandled."
By the looks of it, West isn't taking any more chances. Once back stateside, Kardashian and West reappeared in New York City on Monday with a 15-car motorcade in tow. So, it's safe to say, they're not cutting back on security anytime soon.