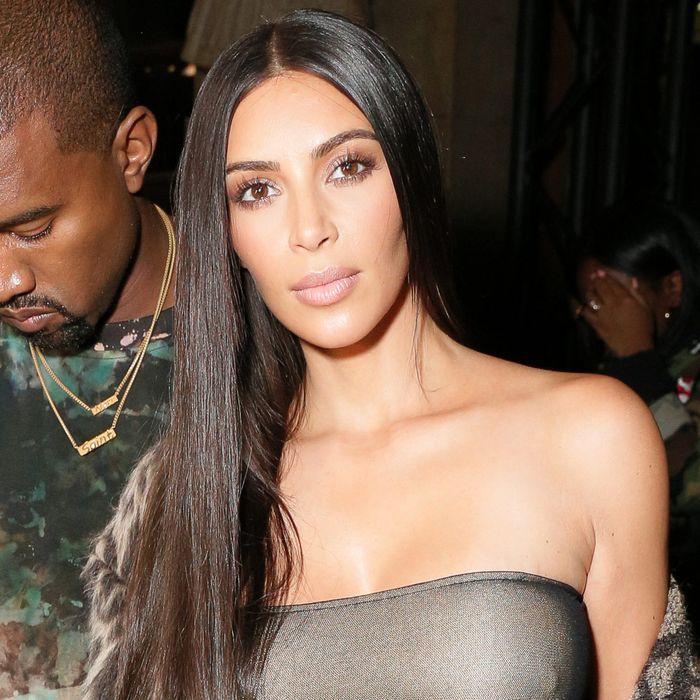 Kim's ring was originally a gift from Kanye.
Photo: Matteo Prandoni/BFA.com
By now, images of Kim Kardashian's $4.5 million diamond ring have been splashed across tabloids everywhere, following its surprising theft in Paris. But even before then, fans had gotten a look at the 20-carat diamond ring in an emerald cut after it was displayed on Kardashian's social-media channels for all to see, something authorities in Paris say likely helped the robbers. Still, aside from knowing that Kanye West gifted the ring to his wife, the full backstory wasn't revealed until late September in an interview that's recently resurfaced. In a talk with Bravo's Andy Cohen on September 27, Kardashian recounted how West woke her in the middle of the night telling her he had a gift for her from Adidas.

Here's what she told Cohen:

"So I was sleeping and [Kanye] woke me up in the middle of the night and said, 'Babe, babe! I got you something from Adidas.' And I said, 'OK, I'll get the shoes in the morning, babe, I'm sleeping.' … And then he put the Lorraine Schwartz box on my pillow … and I woke up! … He said, 'You know I just did that big Adidas deal, so I got you something from Adidas.'"
Fair enough of her to think that West was referring to merely another pair of Yeezys, but he wasn't exactly lying, either, about his gift and Adidas. According to Us Weekly, he also had the ring engraved with "Adidas," on the inside. Who knew?