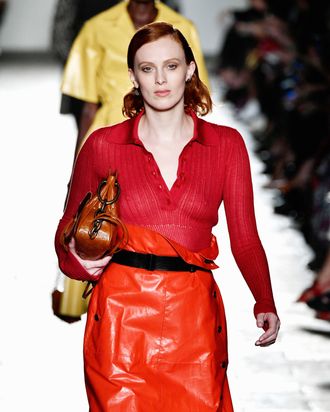 Karen Elson walks Bottega Veneta Spring 2017.
Photo: Pietro D'aprano/Getty Images
Karen Elson made a memorable appearance — one that proved that, yes, redheads can definitely wear red — at this season's Bottega Veneta show, the same one that co-starred Lauren Hutton. And while the 37-year-old Elson is still working regularly, most recently as the face of Jo Malone, that doesn't mean she hasn't faced some casting obstacles of late.
"I'm just going to say this: I was in New York Fashion Week and I got canceled from a fashion show. It was something to do with body stuff," she told Women's Wear Daily today. "I had a real moment of truth. I was like, you know what, I'm too old for this. It's not about me. That's their attitude, not mine. If I don't work for them, I'm not going to torture myself. That's really my attitude right now. I still think fashion has a long way to go as far as diversity, be it racial diversity [or] body type diversity." You can say that again.