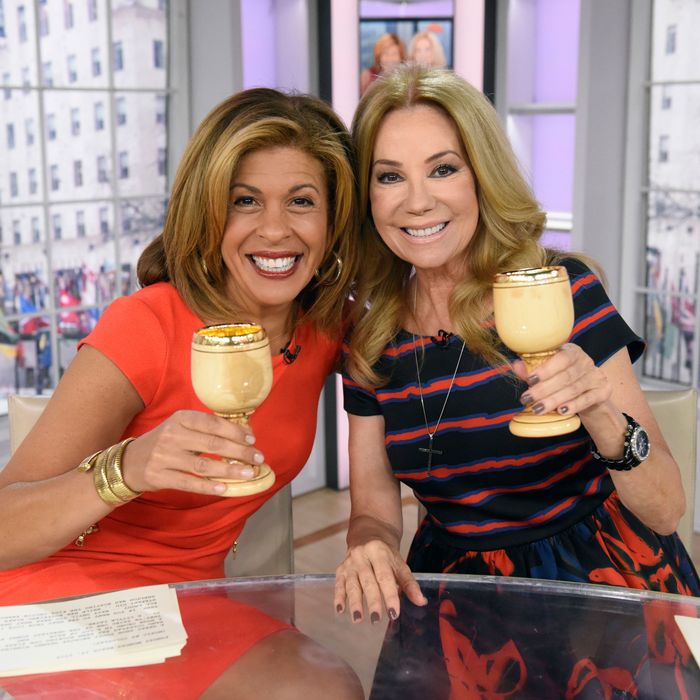 Hoda Kotb, Kathie Lee Gifford, and their other best friend, wine.
Photo: Peter Kramer/NBC
Former Today host Billy Bush lived his life like a candle in the wind of a locker room, and was fired from NBC as a result. On Tuesday morning, Kathie Lee and Hoda honored the memory of the man who has passed on from the network, but is still alive, with a white-wine toast.
An emotional Kathie Lee shared some kind words about Bush in a clip posted by Jezebel. "He has been a joy for us. He only was here about nine weeks, and he was so much fun to be around, a real team player. We're really, really going to miss him. Our thoughts and prayers go to him and his family," Kathie Lee said.
Hoda went on to share some of her fondest memories of ol' Billy. "I loved working with him when he was here and he filled in for Kath. We got a chance to see the Zac Brown Band and party it up and have some fun," she said, adding that she and Kathie Lee wish him nothing but the best.
"He would like that if we did this," Kathie Lee said as she and Hoda hoisted their wine glasses and cheered to Bush's memory, just before enthusiastically introducing Girls star Andrew Rannells as their next guest.
Rest in early retirement, Billy.