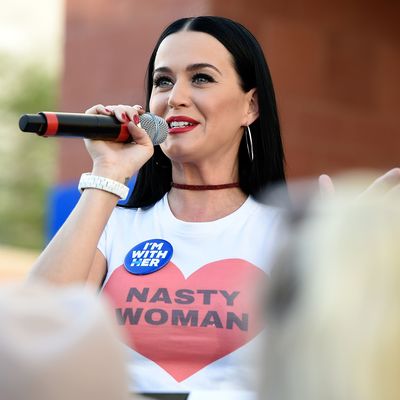 Katy Perry.
Photo: David Becker/Getty Images
Fun fact: Katy Perry and Hillary Clinton are almost birthday twins. Had Perry been born merely a day later (or, if Clinton had been born a day earlier), the two would have shared the same October birthday of either the 25th or 26th. (Though, it should be noted the two would still be Scorpios, so there's that.) To celebrate the two being a year older, Perry gave Clinton — and herself — a little birthday gift in the form of an early vote.
Perry, who has been having fun campaigning for Clinton, shared a video on Instagram of herself decked out in her own version of Uncle Sam and casting an early-voting ballot. She captioned the video with "HBD to me and HRC," and added that she gave herself the best birthday gift. And, lest we forget, she also tagged it #ScorpioSisters. (Seriously, who knew?)
Happy birthdays all around!