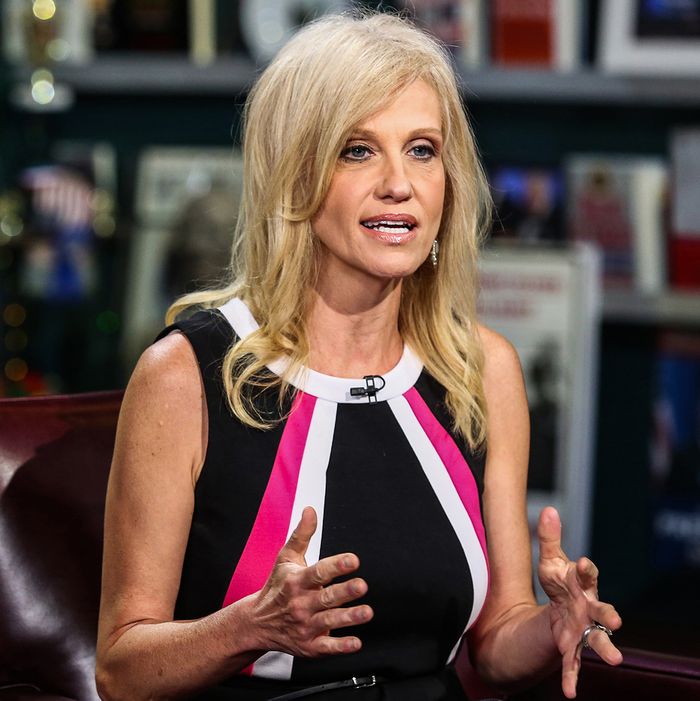 Kellyanne Conway.
Photo: Bloomberg/Bloomberg via Getty Images
Kellyanne Conway, Donald Trump's campaign manager, was making the rounds on cable television after the presidential town-hall debate. She's had a lot of work to do since the 2005 leaked video of Trump surfaced about him boasting of coming on to women and groping them — things that would amount to sexual assault if he ever acted on them. But in an interview with MSNBC's Chris Matthews on Sunday night, she declared that some of the lawmakers who've withdrawn their support of Trump shouldn't pretend to be so high and mighty since they've made unwanted advances toward women.
Here's the exchange:
"I would talk to some of the members of Congress there when I was younger and prettier, them rubbing against girls, sticking their tongues down women's throats who were uninvited, didn't like it," Conway told Matthews, according to Roll Call. "You're saying, 'yeah,' because you know it's true … And some of them, by the way, are on the list of people who won't support Donald Trump because they all ride around on their high horse."
When speaking to Fox's Megyn Kelly, Conway elaborated more on the lawmakers. "There are members of Congress, current and former, who have rubbed up against women and who have put their tongues in their mouths, uninvited," Conway said, according to Roll Call. "Maybe when I was younger and prettier that may have happened to me." She added, "In other words, these people on their high horses are accusing him of being this awful person … And really the words, I think, that were most harmful is when everybody is running around saying, 'He's condoning sexual assault.' No he's not."
Conway also defended Trump's comments by focusing on the language that some media outlets have used to describe the conversation in the 2005 video. Conway said she rejected the phrasing of sexual assault altogether because, as she put it, Trump didn't say those words in particular. "[It's] a very unfortunate phrase, and people really should stop using it," she told CNN's Dana Bash. For the record, as Vox points out, speaking about grabbing a woman without her consent is, indeed, describing sexual assault.