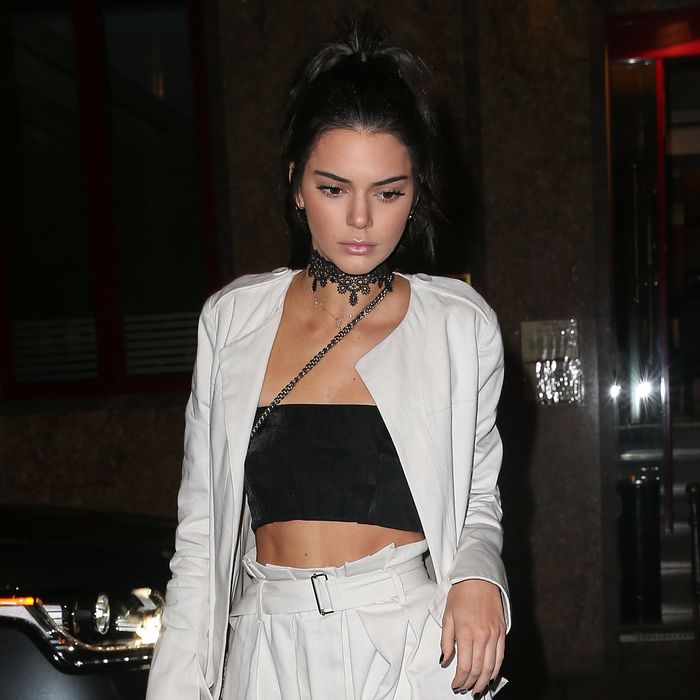 Kendall Jenner.
Photo: Pierre Suu/Getty Images
Kendall Jenner testified on Thursday in Los Angeles County Court against her alleged stalker, who trespassed on her property this summer.
Shavaughn McKenzie is facing one count of misdemeanor stalking and trespassing, and Jenner is the key witness in the criminal case, according to TMZ. Jenner reportedly told the court that on the night of August 14, she drove up to her Hollywood Hills property and found McKenzie sitting in front of her driveway, his head between his knees. She drove around him and the gate closed behind her, and for a moment she felt safe. What she didn't realize is that McKenzie snuck in before the gate closed, until she saw him in her driver's-side mirror.
Jenner told the court that she screamed "Who are you?" at McKenzie, and he just stared at her. She then opened her window six inches and told him to leave, at which point McKenzie "started freaking out, banging on all her windows," TMZ reports. Jenner told the court,"I've never been so scared in my life." Luckily, she was able to pull out of the driveway and call a friend down the street.
The Kardashian-Jenner clan are reportedly amping up their security detail, following sister Kim Kardashian's "traumatic" robbery at gunpoint in Paris. Kylie Jenner also had a scary run-in with a stalker this year.