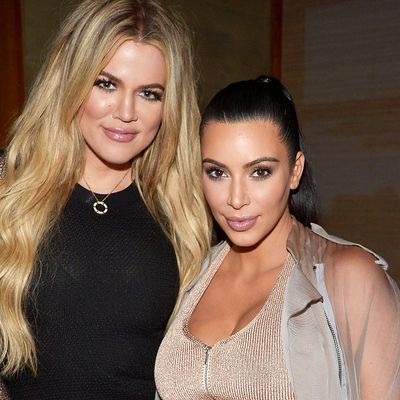 Khloé (left) and Kim Kardashian.
Photo: Charley Gallay/Getty Images for Kardashian/Jenner Apps
Khloé Kardashian called her sister Kim's recent Parisian robbery a "wake-up call," but slammed those who claimed the reality star's social-media presence was to blame for the attack.
Kim reportedly has "zero desire to return to her old life," and is also scaling back her social-media presence. In a Tuesday interview, Khloé told the Associated Press, "Pulling back on social media I think is a personal choice. … No matter what you post or don't post … That shouldn't give someone a reason to feel like they could do anything like that to you. But we definitely are just being more aware and I think just making changes to our lives."
Khloé added that she isn't sure when Kim will make a public appearance. Meanwhile, Kim's husband, Kanye West, reportedly cancelled the lavish party he had been planning for Kim's 36th birthday, The Sun reports. "Kanye is devastated he has to cancel — but his family's security comes first," a source said. "He had gone all out for Kim's birthday and it was going to be an all expenses sparred [sic] event with champagne and canapés."
Instead, Kanye is planning to do something more low-key for Kim's October 21 birthday. Of course, for him, low-key entails buying a $50,000 pair of Lorraine Schwartz earrings as a present for Kim.