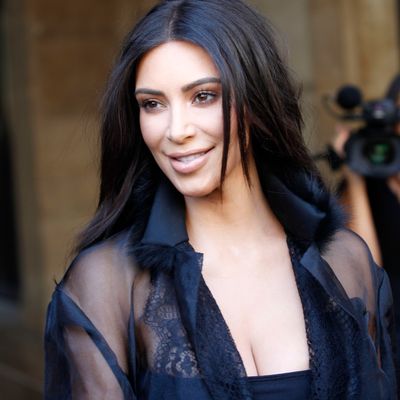 Kim Kardashian.
Photo: Antoine Gyori/Corbis via Getty Images
Kim Kardashian isn't playing games when it comes to her own safety. After being robbed at gunpoint and left tied up and gagged while alone in her Paris residence, Kardashian has amped up her security detail.
The reality star's new security team reportedly includes former members of the Secret Service, who will be "armed," a source told TMZ. Kardashian will be accompanied by at least two body guards at all times, and will be transported in an "armored" car. She also reportedly met with former special force members of the Israeli army and ex-CIA agents, while her husband, Kanye West, met with two major security firms.
Her mother, Kris Jenner, has been "heavily involved" in the security meetings, according to TMZ. Kris is reportedly planning to hire protection teams for daughters Kourtney, Khloé, Kendall, and Kylie as well. Earlier in the year, Kylie Jenner had a stalker, which was addressed on an episode of Keeping Up With the Kardashians.
Meanwhile, Kardashian is taking a month off to recover from the traumatizing event, including scaling back her social-media presence.