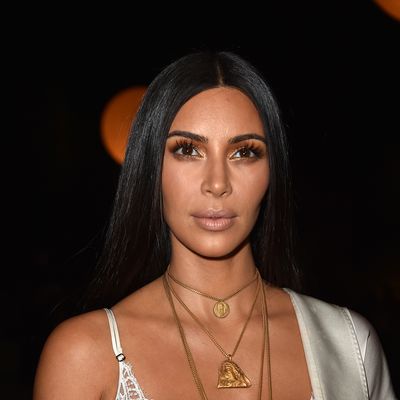 Kim Kardashian.
Photo: Pascal Le Segretain/Getty Images
New details have emerged about Kim Kardashian's horrifying ordeal early Monday morning, in which five men robbed her at gunpoint and left her tied up in a bathroom in Paris before stealing over $10 million worth of jewelry. Kardashian was reportedly in bed at a private residence, wearing only her robe, when she heard two men "pounding" up the stairs of the two-story apartment, TMZ reports.
Kardashian saw two men through a sliding glass door, and immediately rolled off the bed and tried to call her bodyguard Pascal Duvier (who was out protecting her sisters, Kourtney Kardashian and Kendall Jenner) on her cell phone. However, one of them men reportedly grabbed the phone away from her before she could finish dialing.

Kardashian's hands were then zip-tied together and secured with duct tape, and one of the men grabbed her by her ankles. According to TMZ, Kardashian told the police it was at that point that she thought she was going to be raped.
The reality star reportedly told the authorities that the burglars only spoke French, except for the words "ring, ring," which they said over and over. She realized they were looking for the new ring she had recently received from her husband, Kanye West. She told them where the ring was, but as she continued to cry and plead for her safety, they then taped her mouth shut.
Apparently Kardashian's friend Simone had been sleeping in the downstairs bedroom at the time of the attack. She heard what was happening, locked herself in a bathroom and called both the bodyguard and Kourtney to tell them to come back to the apartment. The ordeal took six minutes total, and her bodyguard, Pascal, arrived two minutes after the robbers left.
Perhaps these new details will put to rest some of the insane conspiracy theories flying out around there about the crime.