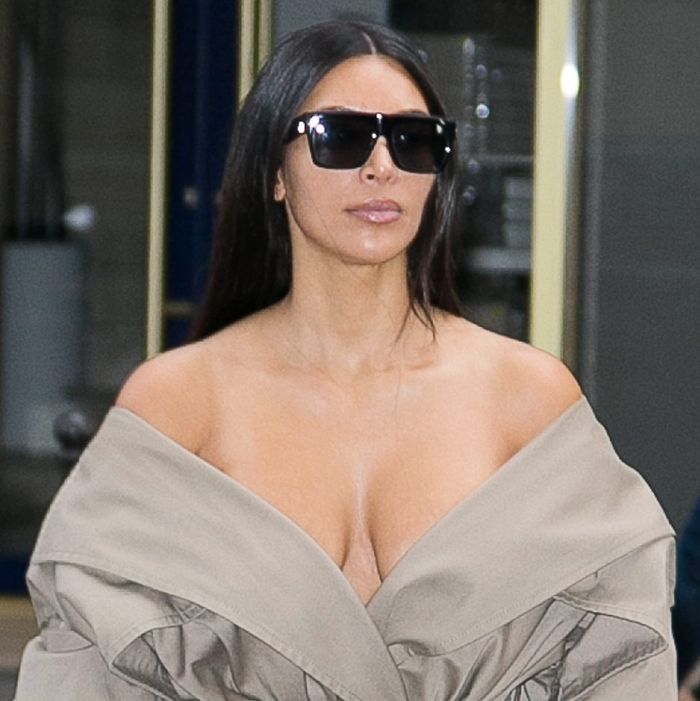 Kim Kardashian.
Photo: Marc Piasecki/GC Images/Getty Images
In the days leading up to her horrific robbery, Kim Kardashian was reportedly followed by two men who tried to blend in with the group of paparazzi assigned to tail her during Paris Fashion Week.
Members of the paparazzi told People that they believe two of the robbers started following her on Thursday evening outside the Balmain show, and followed her to the restaurant Ferdi. "I'm sure of it. There were these two guys. One was in a car and the other on a scooter. They were French, and they were just strange," a paparazzo said. One photographer told People that the same 15 to 17 photographers follow Kardashian and her husband, Kanye West, so the two men stuck out.
"We know each other. We know the bodyguards, they know us. These guys weren't photographers, weren't fans. So when we got to the restaurant we talked to them. One guy told different stories, said he was from the neighborhood. Then he said he was a cop. This was so not right — we pointed them out to Kanye's security," one of the paparazzi told People.
Kardashian was robbed at gunpoint and left tied up and gagged in the bathroom of her Paris residence while masked men dressed as police stole more than $10 million worth of jewelry. The robbers were let into Kardashian's apartment by the building's concierge, who had been handcuffed by the assailants.
The concierge is now a "critical witness" in the investigation into the robbery, sources told TMZ. On Tuesday, Kardashian reportedly participated in an extensive phone interview with Paris police, and she "made a point to cops that the concierge was extremely calm, despite being cuffed and held at gunpoint," according to TMZ.
During the robbery, Kardashian apparently asked the concierge whether he thought they were going to die, and he reportedly calmly responded, "I don't know." After the burglars left Kardashian's apartment, they reportedly took the concierge back to the lobby, where he was left with his hands still in cuffs, TMZ reports.
Meanwhile, People reports that Kardashian is in shock and blaming herself for the ordeal. Her best friend Jonathan Cheban on Tuesday told reporters that "she's not doing so good," according to the Daily Mail, while Caitlyn Jenner posted an Instagram on Tuesday evening saying that she's "thankful" Kardashian is okay after the violent attack.