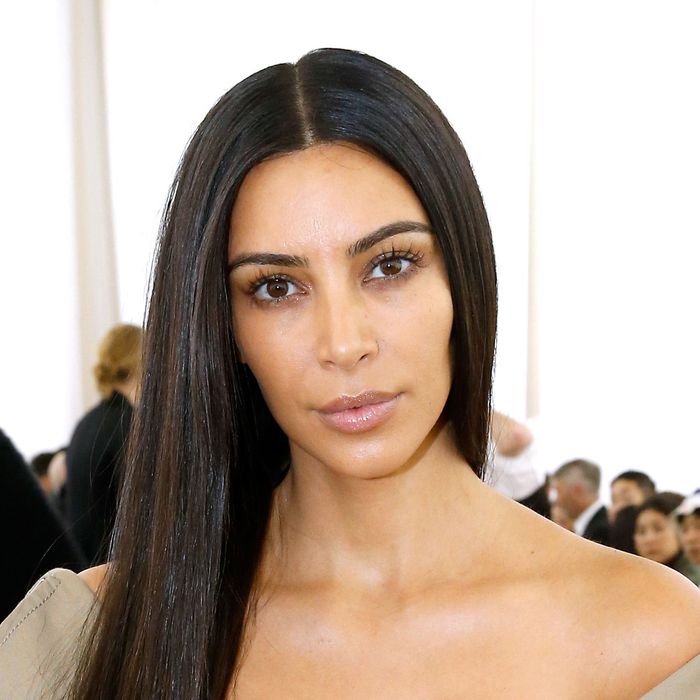 Nude!
Photo: Bertrand Rindoff Petroff/Getty Images
At today's Balenciaga show, Kim Kardashian wore plaid thigh-high boots, a trench coat strategically belted to show off her curves, a super-smooth pelt of hair — and a completely nude face. The woman single-handedly responsible for beauty trends from contouring to highlighting posed for thousands of paparazzi pictures with just moisturizer.
Kardashian's longtime makeup artist Mario Dedivanovic, who probably had an easy day at work today, posted an image of her look on Instagram, captioning it, "No makeup. Moisturized by Mario."
Much like looking at her nude body, looking at Kim's nude face elicits similar reactions of awe and amazement. "That's her skin without makeup? Ugh," one of my friends said, using Instagram's new Zoom tool to great effect. "You mean her lashes are just that long? Where are her dark eye circles?" said another. "There has to be some makeup," another said in disbelief.
The choice to not wear makeup is unusual for Kim, who once said that she would "would wear makeup 24/7 if she could," adding that her husband, Kanye West, prefers her without makeup. While she has gone without makeup before on her Snapchat, this appears to be the first time that she (like Alicia Keys) has gone to a public event completely barefaced.
Whether it's no-makeup makeup, some makeup, lots of makeup, or no makeup, Kim's decision to go nude-faced reiterates that the biggest message of modern beauty is the power of choice — and the freedom to pick and choose what works best for you.