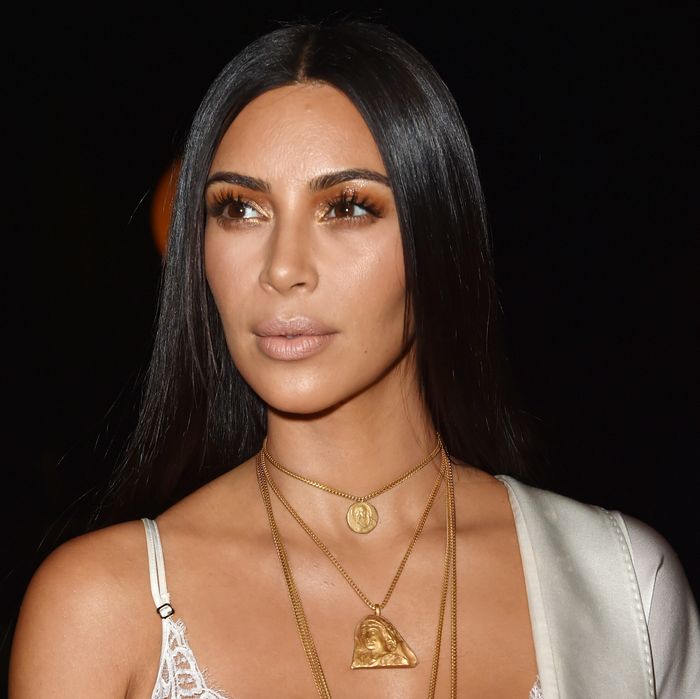 Kim Kardashian at Paris Fashion Week, shortly before the attack.
Photo: Pascal Le Segretain/Getty Images
Kim Kardashian landed in New York City on Monday morning after being tied up and robbed at gunpoint by masked men dressed as police officers at a private residence in Paris. The assailants stole more than $10 million worth of jewelry, and Kardashian left Paris on a private jet after speaking with investigators, Reuters reports. Here's everything we know:
• Around 3 a.m. in Paris, five men in ski masks and police apparel struck the residence where Kardashian had been staying for Paris Fashion Week. The men threatened the residence's concierge with a weapon and handcuffed him, and then forced him to open Kardashian's room. Two of the masked men then entered Kardashian's room, held a gun against the temple of her head, and then tied her up with packing tape and locked her in the bathroom, according to Us Weekly.
• Kardashian reportedly "begged" the robbers to "spare her life, telling them she had babies at home," according to TMZ. She was able to break free of the restraints and call for help after the gunmen left.
• Kardashian was not beaten and no weapons were fired during the robbery, and her publicist said the attack left her "badly shaken but physically unharmed." She allegedly called the robbery "the worst moment in my life," TMZ reports.
• The robbers made off with an estimated $6.7 million worth of jewels, as well as a ring worth $4.5 million, as well as two smartphones. The attackers fled the scene on bicycles. Officials believe the robbery was committed by a "highly organized" gang, who had planned out the crime before the raid, Us Weekly reports.
• Kardashian was "very upset and couldn't wait to leave Paris," a source close to the family told People. "She gave a statement to the police and left right after. She got robbed of her jewelry, but she doesn't care. She is just happy to be alive."
• Kardashian's bodyguard Pascal Duvier was with her sisters, Kourtney Kardashian and Kendall Jenner, as they partied in Paris during the time of the attack. A source told People, "It wouldn't be that strange for Pascal to be dispatched to be with Kourtney or the other family members once Kim was 'safely' in her residence. And he regularly provides security for the whole family – not just Kim."
• When Kardashian arrived back in New York City, she and her husband (who met her at the airport) arrived home with a caravan of 10 vehicles, and 15-20 bodyguards, TMZ reports.
• The robbery took place at the No Address Hotel, a private mansion with luxury apartments, where Kanye West has maintained a residence since at least 2011, according to People. The property is popular with celebrities (Jennifer Lawrence stayed there earlier in the week), yet a source told People that it does not have strong security measures. There's reportedly just a receptionist doorman and a nightman.
• Kardashian had long been worried about her own safety, a source told People. "This was one of Kim's biggest fears. She's always known the threats are out there, but for something to happen, it's almost unimaginable," the source said. "It's going to take her a very long time to feel safe again."
• Police have surrounded the apartment since the crime occurred, and forensic officers are looking for evidence to find the assailants. Us Weekly reports that a photographer who had been following Kardashian around during her time in Paris is currently being questioned by police. The photographer allegedly gained access to a restaurant where Kardashian and her family had been eating earlier this week — dressed as a policeman.
• The mayor of Paris, Anne Hidalgo, condemned the attack against Kardashian in a statement given to the New York Times. "I condemn the attack Kim Kardashian suffered last night in her hotel. She has my support and will always be welcome here in Paris. I have full confidence that the police force, as part of their investigation, will quickly identify and apprehend the perpetrators of these acts," Hidalgo said.
• Kardashian had attended the Balenciaga show just hours before the attack, while her husband, Kanye West, was headlining the Meadows festival in New York City. Around 9:30 p.m. ET, while the rapper was performing "Heartless," he appeared to get news from someone offstage. West then abruptly canceled his concert mid-set, announcing, "I'm sorry, I have a family emergency, I have to stop the show," before exiting the stage.
West's announcement sent social media spinning, with fans wondering what had happened and expressing their support for the rapper.
Shortly afterward, CNN broke the news that Kardashian had been robbed at gunpoint.
• A source close to Kanye West told People that Kim was terrified during the attack, and that she was "hysterical" when she talked to her husband. "He told her that he couldn't care less about the jewelry; he's just thankful that she's okay," the source said.
• Although Kardashian was in Paris with mother Kris Jenner and sister Kourtney Kardashian, the rest of the family stayed in a hotel, People reports. Her supermodel sister, Kendall Jenner, who was also in town for Paris Fashion Week, comforted Kardashian at the private residence around 4:30 a.m. following the crime, according to Us Weekly.
• Kardashian's children, North and Saint, were not involved in the crime, according to People. Immediately before the robbery, around 2:30 a.m. Paris time, Kardashian had been FaceTiming with her brother Rob Kardashian and his fiancée, Blac Chyna, her Snapchat revealed.

• The robbery occurred just days after Kardashian was assaulted in Paris by "prankster" Vitalii Sediuk, who ran up and kissed her left butt cheek in front of a crowd of paparazzi and fans. Sediuk had grabbed and picked up supermodel Gigi Hadid one week prior. After the September 28 assault, Kardashian's legal team reached out to French authorities to file a complaint against Sediuk, who had attacked her more aggressively in 2014.
We will update this post as more information becomes available.