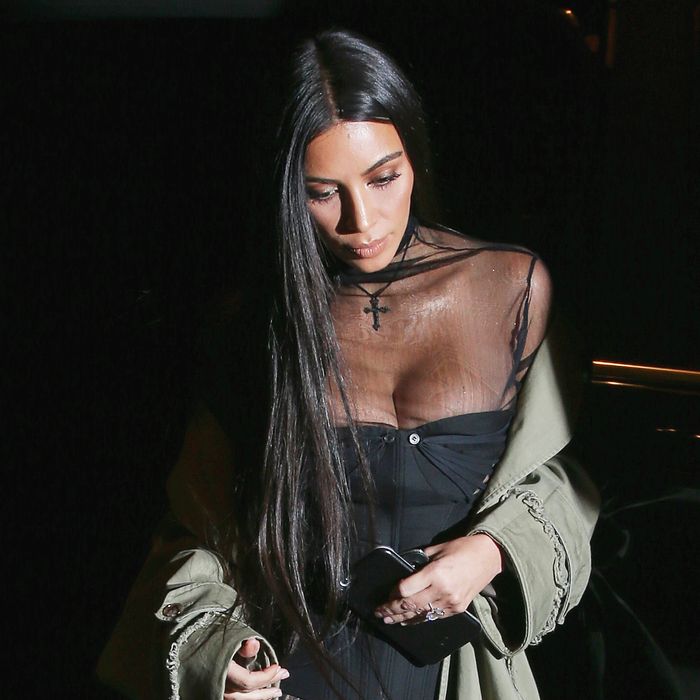 Kim Kardashian, pictured wearing the pendant believed to have been found.
Photo: Pierre Suu/Getty Images
The gang of robbers that held Kim Kardashian up at gunpoint in her Paris residence deliberately dropped a platinum-mounted diamond cross worth $33,180 as they made their getaway, according to Us Weekly. One of the men also pretended to fall off a bicycle during their escape, reportedly in an attempt to con the police into thinking they were amateurs. A source inside the Paris police told Us Weekly:
"They wanted us to believe that they were amateurs, but all the real clues point to them being extremely sophisticated professionals. There is no way a gang like this would drop stuff and fall off bicycles — all that was done for any cameras that might be in the area. It is far more likely that they played around on bikes for a few minutes after stealing the jewels, and when they still had their masks on, before they all got into a van and disappeared."
Earlier in the day, TMZ reported that a passerby found the stolen pendant outside Kardashian's Paris apartment complex the day after the robbery and returned it to police. According to TMZ, Kardashian may have been photographed wearing the Jacob and Co.–designed pendant just two days before the robbery. It is worth substantially less than the stolen $4.5 million diamond ring given to Kardashian by her husband, Kanye West.
Kardashian amped up her security team after the robbery, and is currently recovering from the attack at home in California.
This post has been updated.