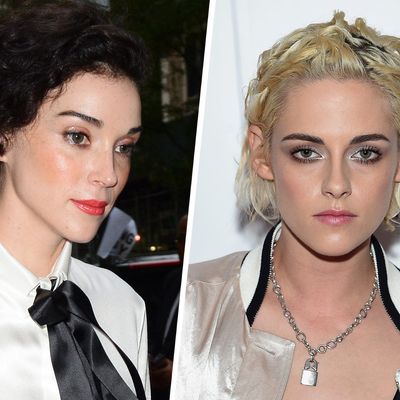 Annie Clark (St. Vincent) and Kristen Stewart
Photo: Getty Images
After igniting rumors with a meaningful soba date in the East Village, DGAF heroine Kristen Stewart and indie-rock icon St. Vincent are officially dating, according to a "source" in Us Weekly. "It's been very romantic," the source says. "Kristen is always whispering closely in her ear and asking her opinion." Oooooh.
Alas, our enthusiasm for this cool couple is tempered by the demise of two other equally cool couples: Cara Delevingne and St. Vincent, who were rumored to have parted ways in September, and Kristen Stewart and Alicia Cargile, who were still very much in love the last we checked (to say nothing of Kristen and Soko, always in our hearts).
But hey, it's fall — the season of new beginnings! Congrats to Kristen and Annie on their chic and mysterious coupling.