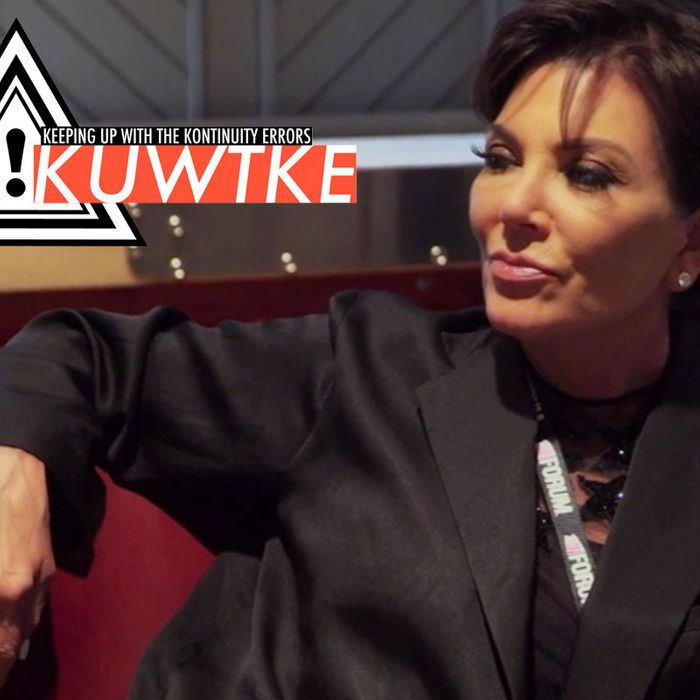 Photo: Courtesy of E! Entertainment
After weeks of being trapped in Satan's most demonic den (titled Rob & Chyna), our terrors have been rewarded with the long-awaited return of Keeping Up With the Kardashians. Back behind the proper gates of Calabasas, we cuddle and cling to the most successful and beautiful of Kris Jenner's offspring. The wait has been long, so I won't keep you from their blessed word any longer.
On this week's KUWTK, our A plot was Khloé's desire for a boob job; our B plot was Kim styling Caitlyn Jenner; and our C plot was Scott trying to find a way to occupy his free time. #LEGGO
Scene 2:
At Los Angeles's Forum, Kanye West calls upon his nearest Kardashian/Jenner family members, music colleagues, and hordes of fans to premiere his music video for "Famous." No one but Kim knows what to expect from the boundary-pushing video and before the tape rolls, the camera pans across Kanye's guests; their faces riddled with excitement. The excitement soon turns to confusion as naked celebrity bodies are shown. Khloé asks Kim if "that's Ray [J]". Still, they act supportive and Kim even gives Caitlyn, video co-star, a call once the premiere is over. Caitlyn knew she would be depicted in the video, so Kim wanted to ask if she'd seen any of the feedback online since this "broke the internet." Caitlyn hasn't seen anything online because she's currently skiing in Aspen. Kim promises to send Caitlyn a screenshot of the video and asks her to zoom in because she looks "so good." While Kim giggles with Caitlyn on the phone, Kris looks on, her face tighter than a child who has just tried their first sour candy. This scene was filmed on June 24, 2016.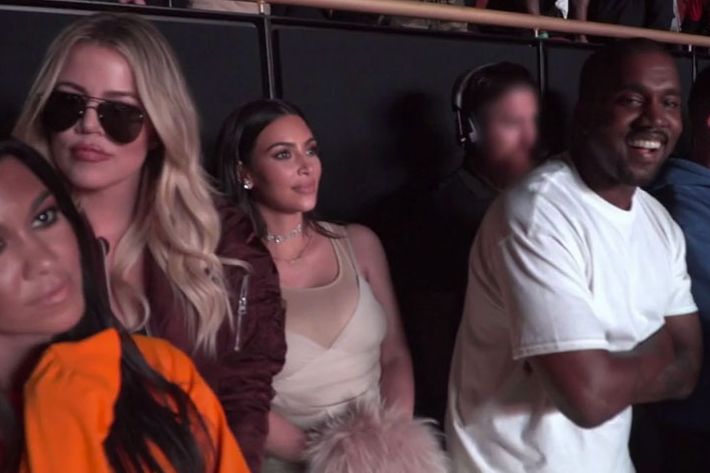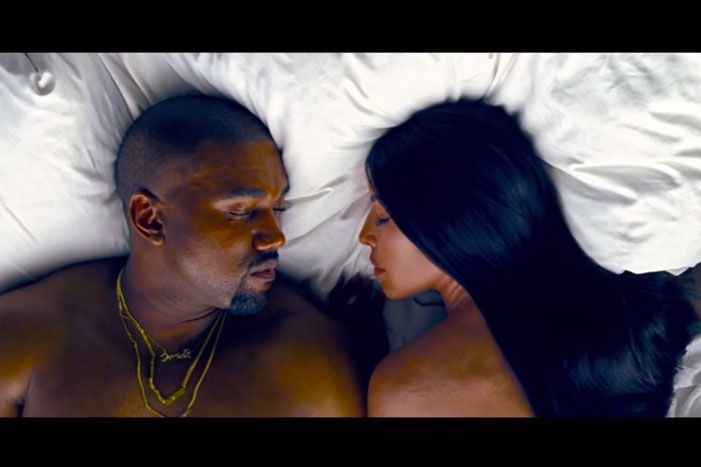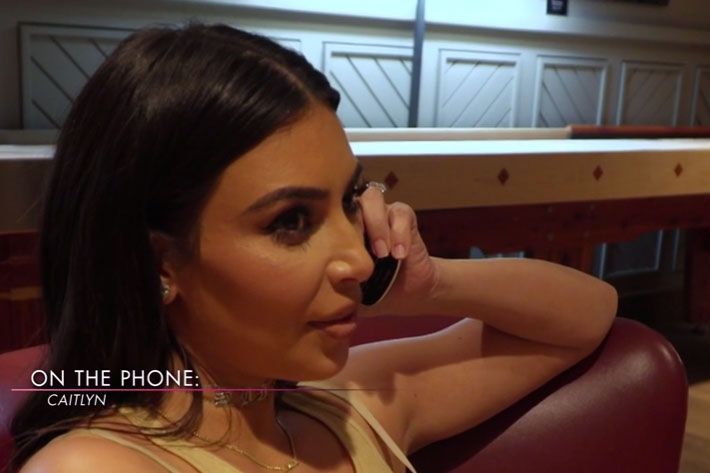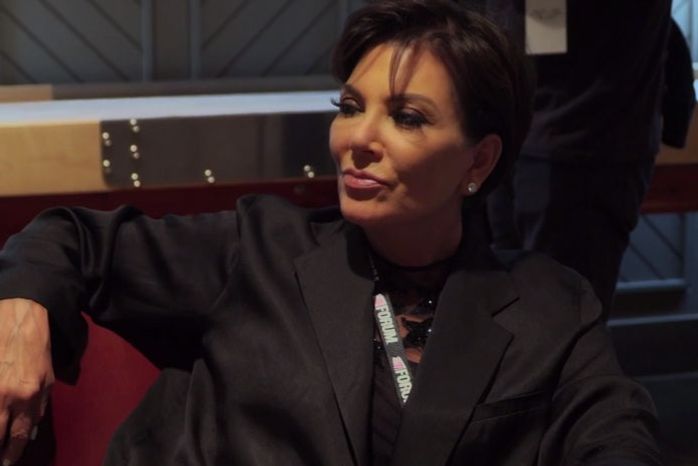 Scene 3:
Days after the "Famous" video release, Kris and Kim visit Khloé. Kris has some questions about the video, particularly Caitlyn's role. She's struggling with why Caitlyn was featured and wants to know how Kanye picked that particular lineup of people. Kim and Khloé explain that Kanye wanted to depict the most famous influencers and fixtures in his life, plus, he's obsessed with Caitlyn's authenticity. Kris still isn't keen on Caitlyn's chumminess with the Wests, but doesn't push much further. After Kris's line of Caitlyn questioning, the scene takes a foreshadowing turn when Kim tells Khloé to never do a handgun motion toward her again, since she hates real guns. This scene was filmed on July 11, 2016.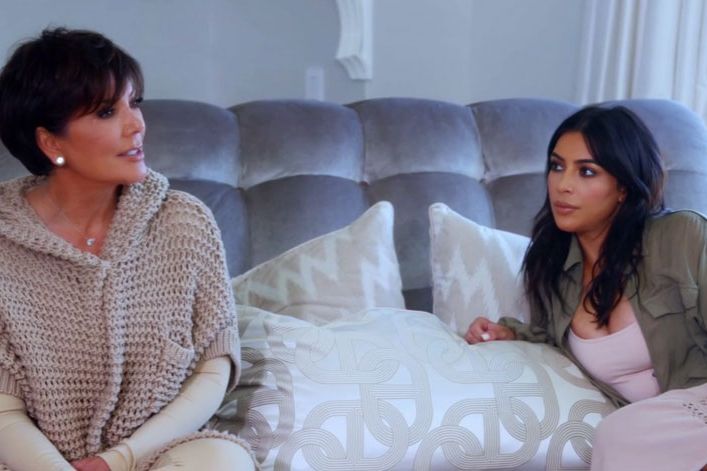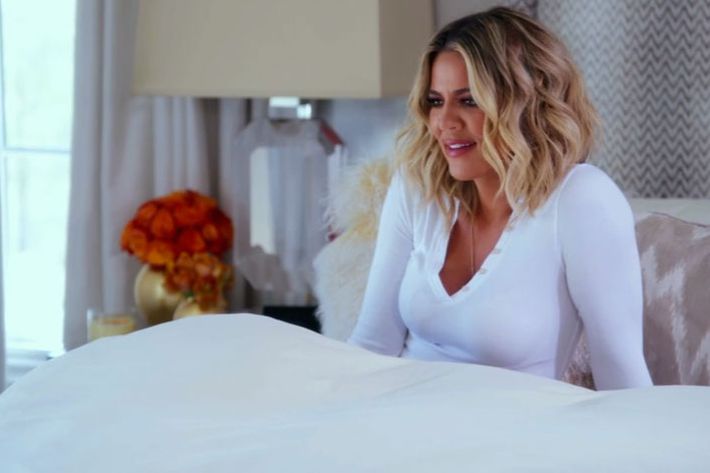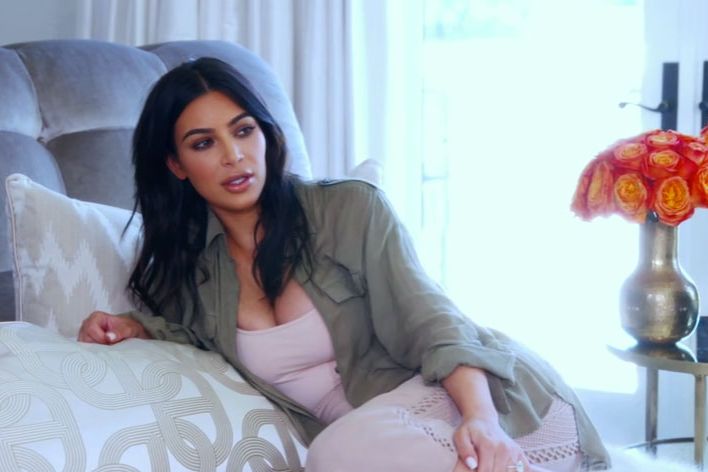 Scene 4:
Though she's busy babysitting Jonathan Cheban, Kimberly West takes some time to enjoy lunch with her mother, Kris Jenner, and sister, Khloé Kardashian. Khloé comments on how obsessed she is with Kim's current glam, and details how jealous she is of Kim's hourglass figure. At the moment, Khloé's dissatisfied with only her bottom half being curvy and wants to enhance her chest to make her waist look smaller. Khloé also longs for the days when she was the skinny-and-hot sister while Kim was pregnant for 2.5 years. Kim tries not to be flattered and does her best facial contortions to help Khloé feel better about her own looks. This lunch was filmed on July 26, 2016.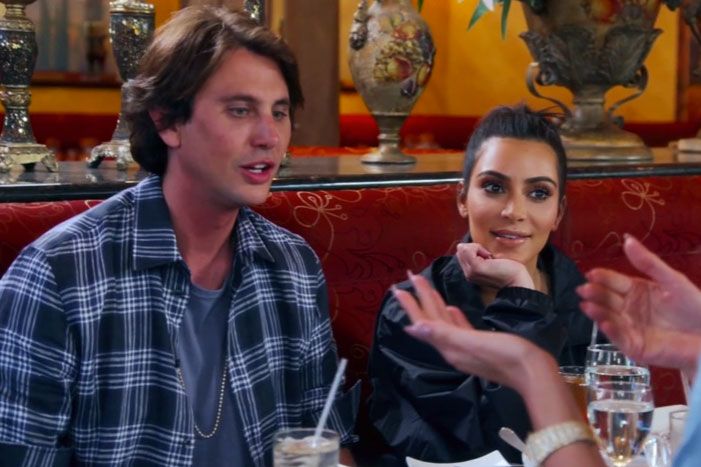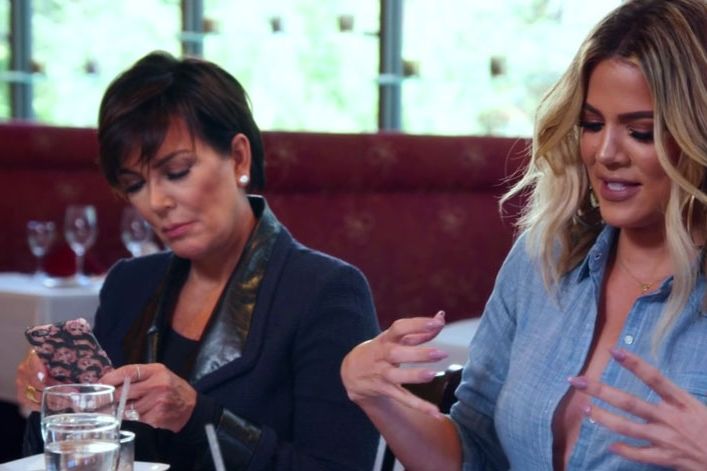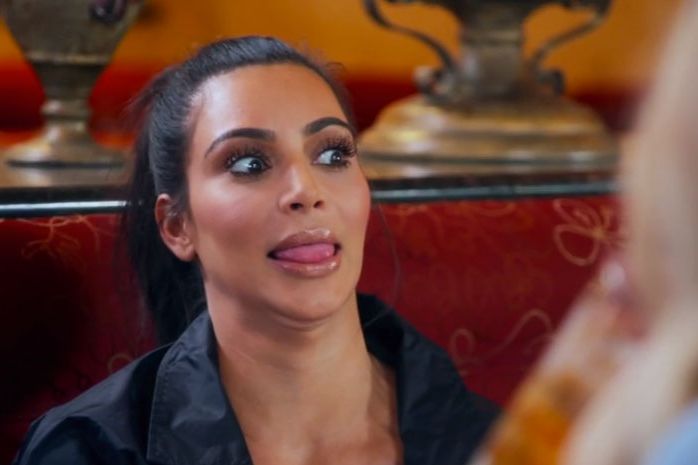 Scene 7:
While in a fitting for an upcoming event, Khloé still has boobs on her brain. She has her stylist bring various implants and chicken cutlets for her to try on. While she plays around with loose silicone, both Kim and Scott drop in. Kim thinks that Khloé is fine as is and that her boobs suit her figure. Scott, on the other hand, thinks that a breast enhancement could balance out her body. As Scott watches Khloé try out implants in her bra, he slaps around the ones that aren't in use. Thankfully, Kim acknowledges just how truly awkward and nasty it is for Scott to share in this intimate moment with Khloé. But since he and Khloé aren't fazed by it, Kim waits patiently for her workday to end. This scene was filmed on August 15, 2016.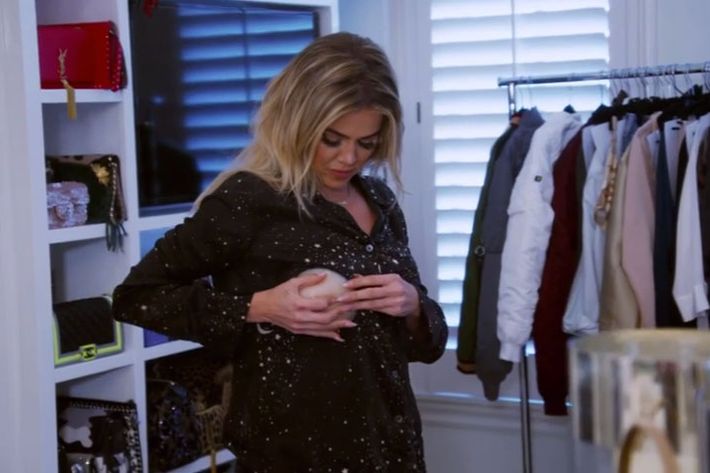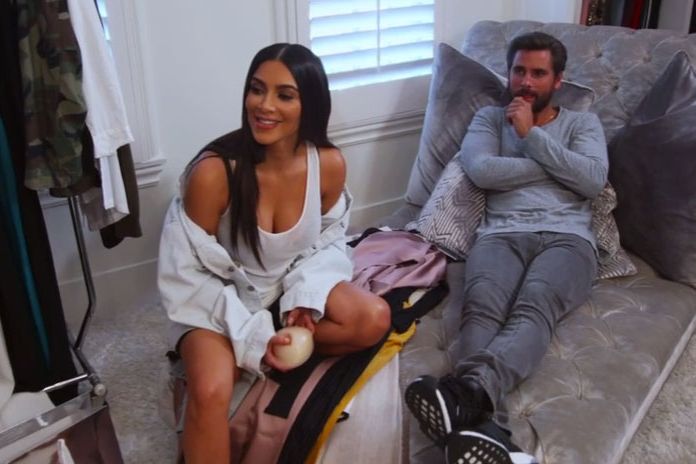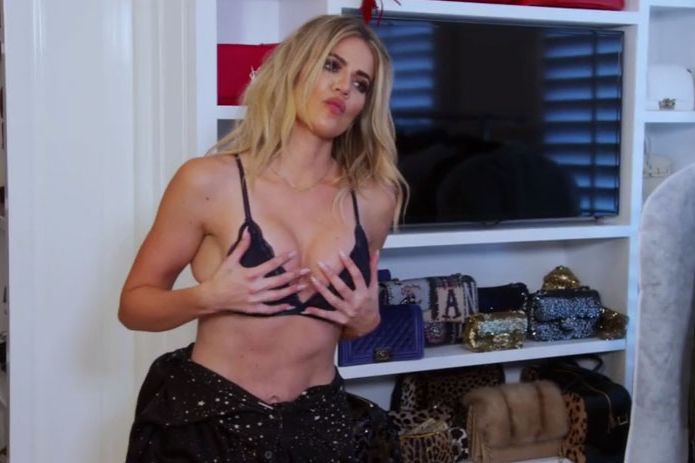 Scene 10:
Scott visits Khloé's house once again, where instead of boobs the conversation takes a southern turn toward vaginas. The common-law in-laws ask Siri the difference between hairless peaches and nectarines, leading to obvious and awkward comparisons. Once they move on, Khloé asks Scott about what he plans to do this summer once Kourtney takes their kids on vacation for a month. Scott hasn't planned too far in advance, but he's nervous about having so much free time. He's thought about trying to host some parties in Vegas, but Khloé thinks that's a dangerous idea. She advises him to get back into flipping houses. Scott agrees to think about it. This anatomy lesson and job consultation was filmed on July 25, 2016.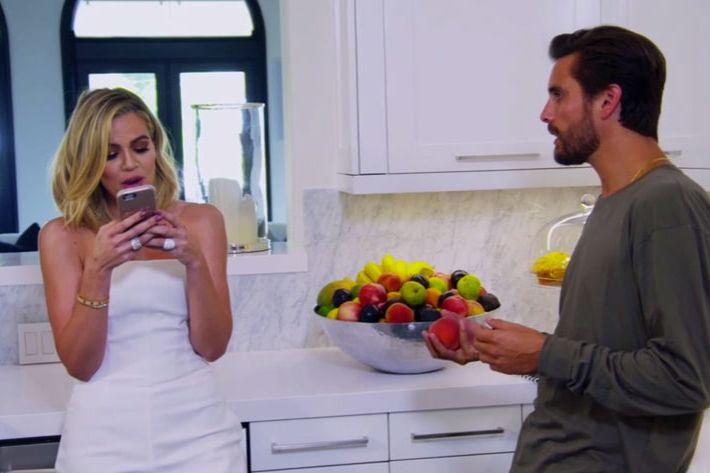 Scene 13:
In Malibu, Kim helps former reality-show star Caitlyn Jenner prepare for the ESPY Awards. Even though she has a houseful of glam professionals, Caitlyn has called upon her stepdaughter for styling. Kim advises Caitlyn to wear a white cape-dress — which Caitlyn agrees to — but fights with Caitlyn over what heels to wear. Caitlyn seeks comfort with her footwear, whereas Kim seeks fashion. Kim calls Caitlyn's pick something that would belong on Dancing With the Stars and reminds her that she loves her whole look, except for the shoes. Kim essentially threatens Cait to not tell a soul she okayed the footwear. This fashion segment was filmed on July 13, 2016.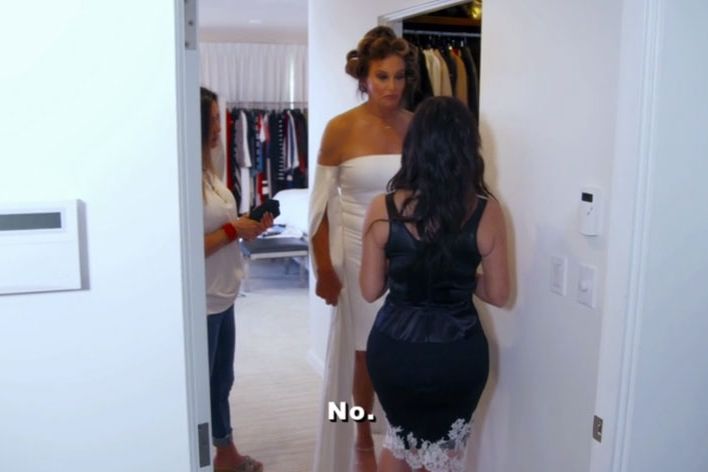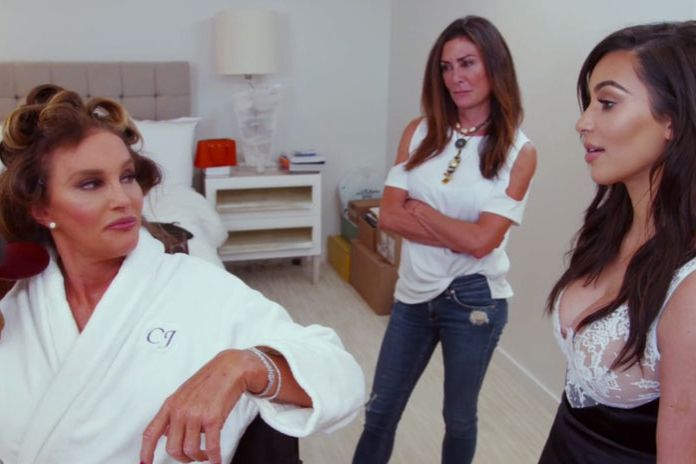 Scene 14:
Khloé drags Everybody's Favorite Best Friend (EFBF), Malika, to the dentist with her. While in the dental chair, Khloé gets some text messages from Kris Jenner, who is fuming over Kim and Caitlyn's fashion collaboration. Khloé is confused about her mom's actual level of anger since her texts include various hashtags that she's reading as sarcastic. EFBF thinks Kris's anger is sincere due to the amount of question marks present in the text. Khloé agrees and promises to show this correspondence to Kim. This very important dental and text-decoding session was filmed on July 14, 2016.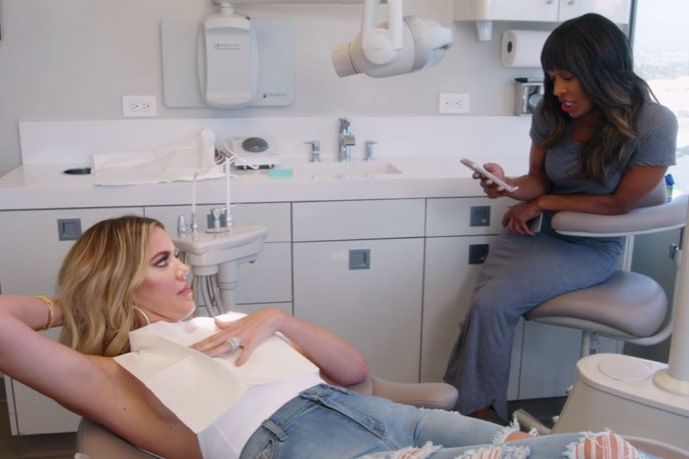 Scene 15:
Khloé invites Kim and professional follower Jonathan Cheban over to her house to present Kris Jenner's text messages. Kim doesn't believe that Kris could be legitimately upset over her helpfulness, so they get her on the phone. When Kris thinks she's speaking with just Khloé, she says that "nothing is wrong," but once she hears Kim's voice, she calls her a "fucking traitor" for having the nerve to help Caitlyn pick out a gown. Kris says she feels abandoned, and her emotions continue to decline as she yells at Kim about not wanting her to be "neutral" in the situation. She then starts to cry and warns Kim that she's "not fucking playing this game anymore," and says she would "lay herself in front of a bullet" for any one of her kids — she doesn't deserve their disloyalty. Kim and Khloé are truly shaken by their mother's rage, since both of them thought that Kris's emotions toward Caitlyn had settled. Kris's breakdown was filmed on July 13, 2016, the day before Khloé showed the texts to Malika in Scene 14.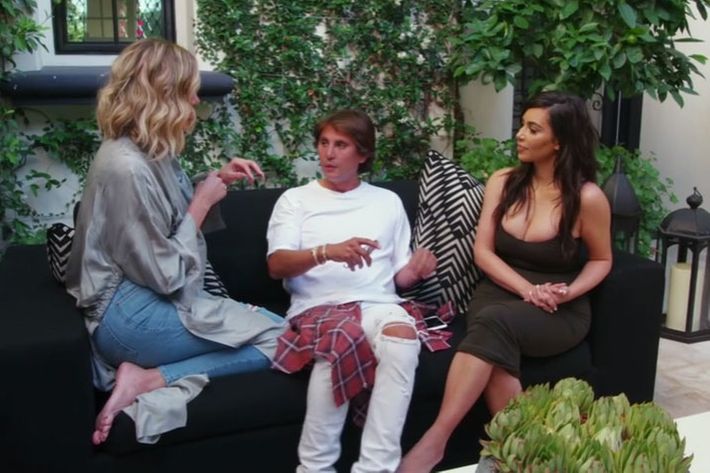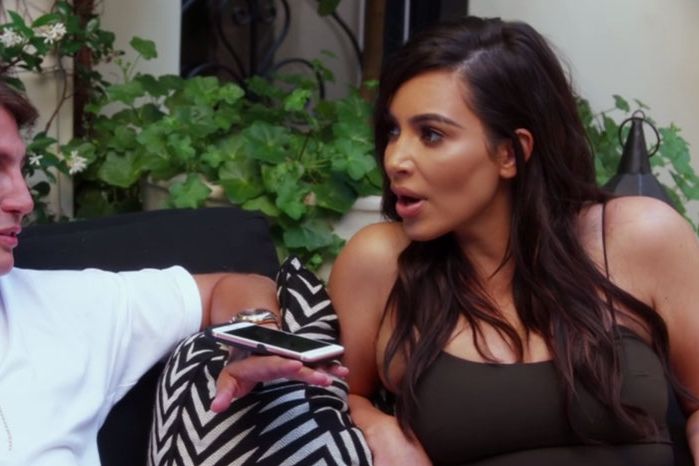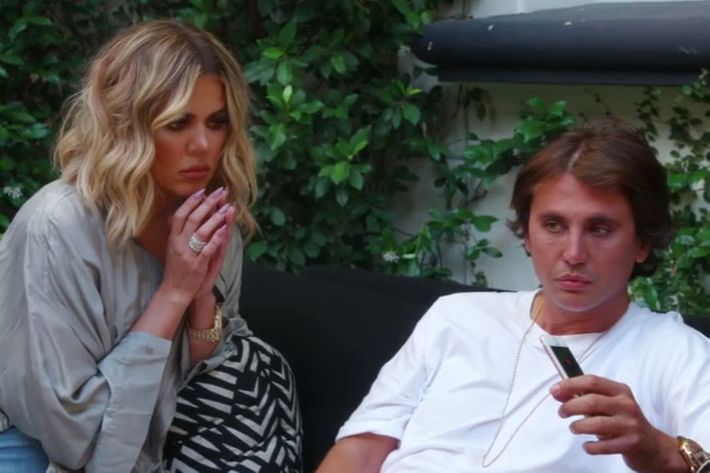 Scene 17:
Since Khloé can't stop thinking about what her life would be like with bigger boobs, she drags Kim to a plastic surgeon's office for a consultation. Khloé explains that she wants her boobs to look as real and as round as possible. Her doctor says he could achieve that look, but warns of possible chest hardness post-surgery and the required monthlong downtime. Khloé's unsure she wants to take that risk just yet, so she decides to hold off on the surgery. This scene was filmed on August 1, 2016, two weeks before she tried out implants in front of Scott and Kim in Scene 7.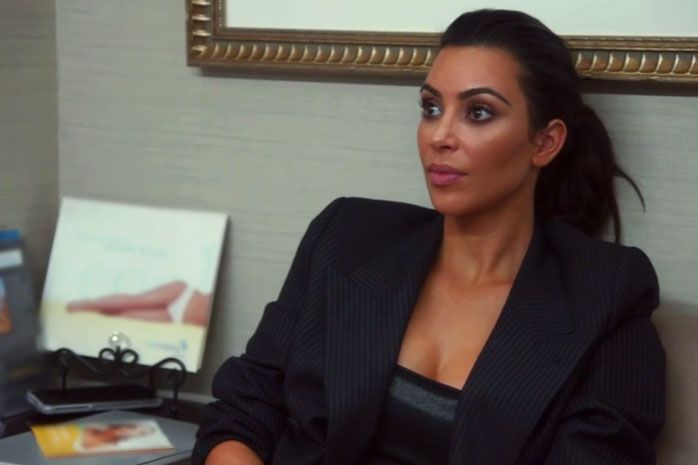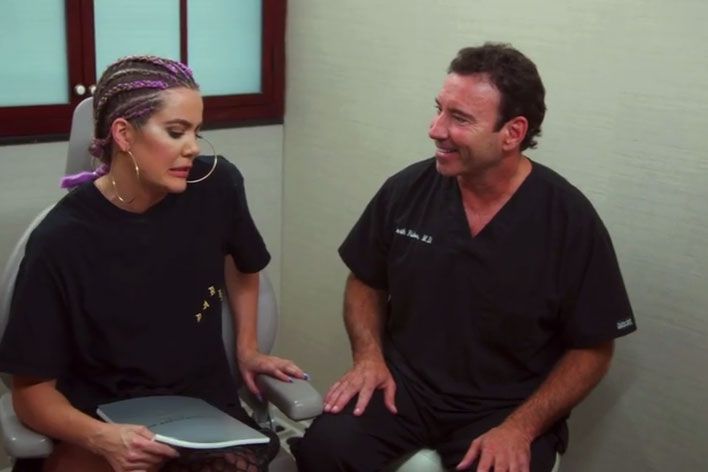 Scene 19:
Kim and Khloé feel terrible about angering their mom so much over the whole Caitlyn situation, so they treat her to a full day of Pretty Woman shenanigans. Kim rents out the Beverly Wilshire suite where some of the movie was filmed, and Kris apologizes for getting so worked up. Kris admits that she sometimes bottles up her emotions toward Caitlyn, since she has no one to talk to who can relate to her situation. Kim and Khloé are understanding, and after they finish their Veuve and Diet Cokes they take Kris for a shopping spree at Fendi. At the end of the day, Kris is satisfied. This scene was filmed on July 29, 2016.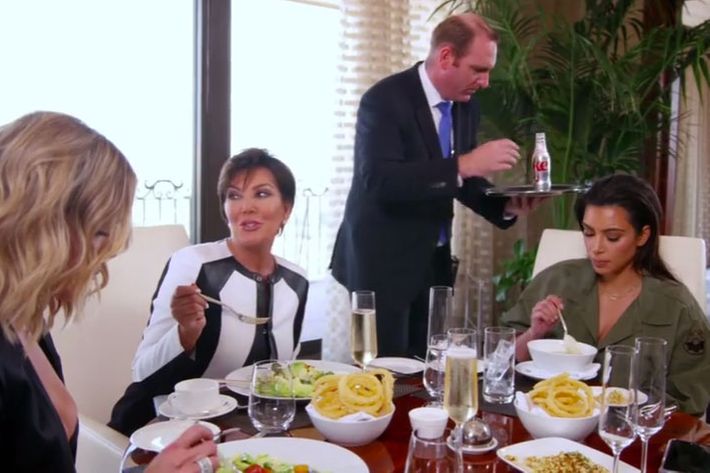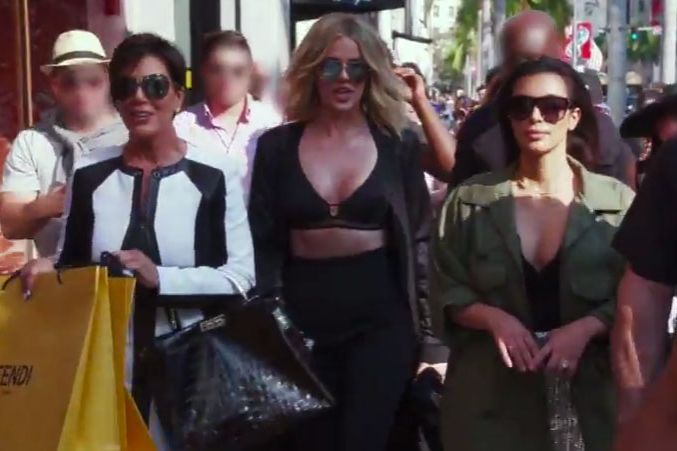 Well, Dolls, this midseason premiere was all boobs and bickering, more of which we can look forward to in the rest of the season. Remember to join me next week for another Keeping Up With Kris Jenner's Enemies recap on Keeping Up With the Kontinuity Errors. #FuzzyPeach