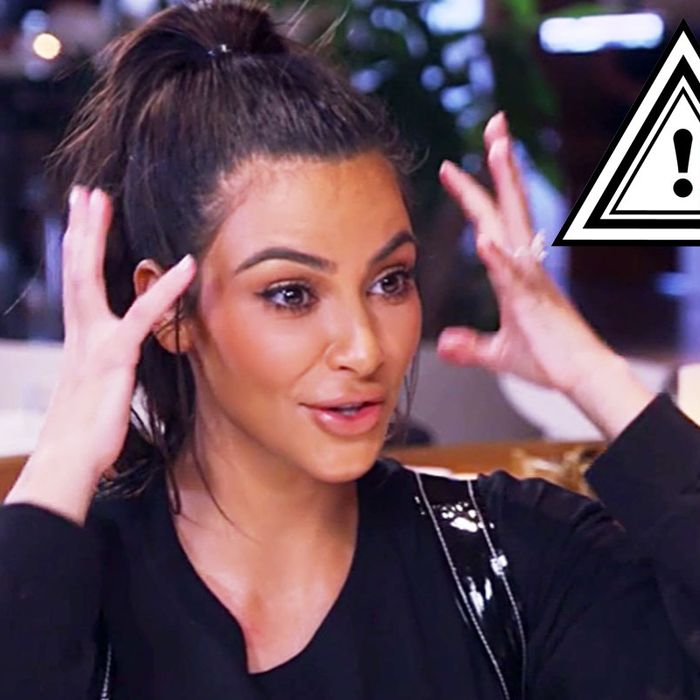 Photo: Courtesy of E! Entertainment
On this week's episode of Keeping Up With the Kardashians, our A plot was Kris Jenner's mom's birthday party; our B plot was Kim Kardashian's hairstyling skills; and our C plot was Scott Disick rediscovering his Lord persona. You know what we have to do — #LEGGO.
Scene 2:
North West visits Kris Jenner's home with her mother, Kim. Her Aunt Khloé and Uncle Rob are also there and North is in great spirits until her eyes lock with Rob's. Upon her initial gaze, North's joy melts and turns to contempt as she stares at him like she's seen him just a few times over the course of her young life. Khloé tells Rob that's the response he deserves for being a shut-in for three years. After being shaded by a toddler, Rob assures his mom and sisters that things with him and Chyna are good. Kris is especially excited by this news because she wants the whole family, including Chyna and Rob, to come celebrate the birthday of her mom, MJ, in San Diego. Rob doesn't contest, and Kim's excited since she can bring her kids. Thinking about her mom aging brings Kris to a more introspective and personal moment. Kris admits to having a bowl of marbles wherein each marble represents how many weekends she thinks she has left. Kris predicts she'll make it to around 80 years old (or 1,040 more weekends). This scene was filmed on July 14, 2016.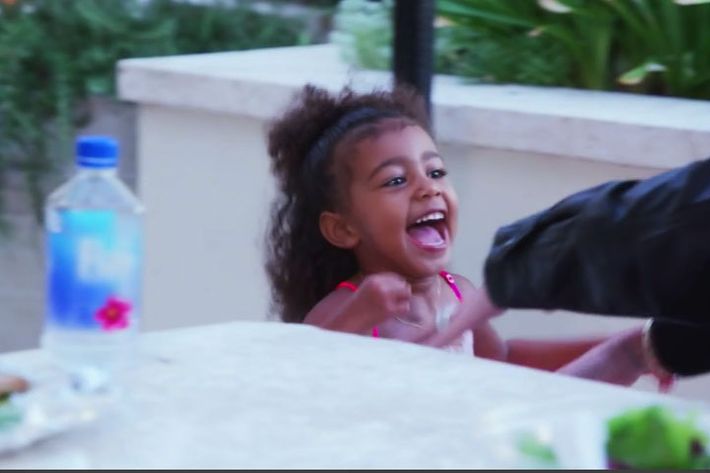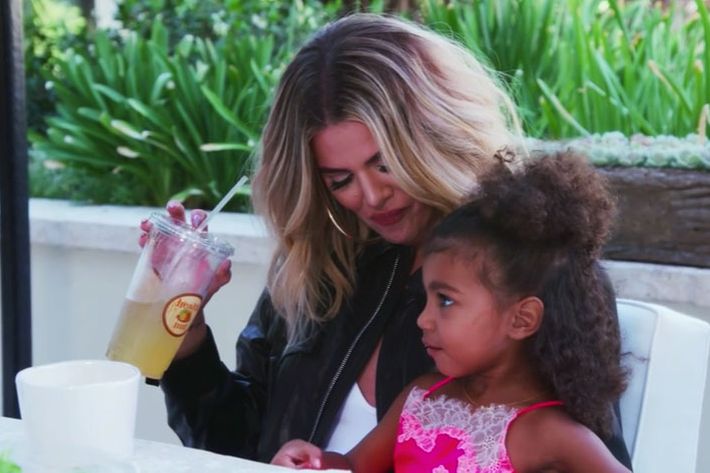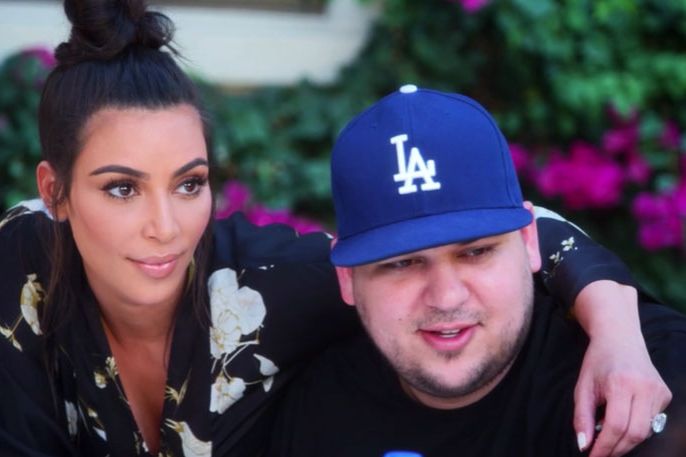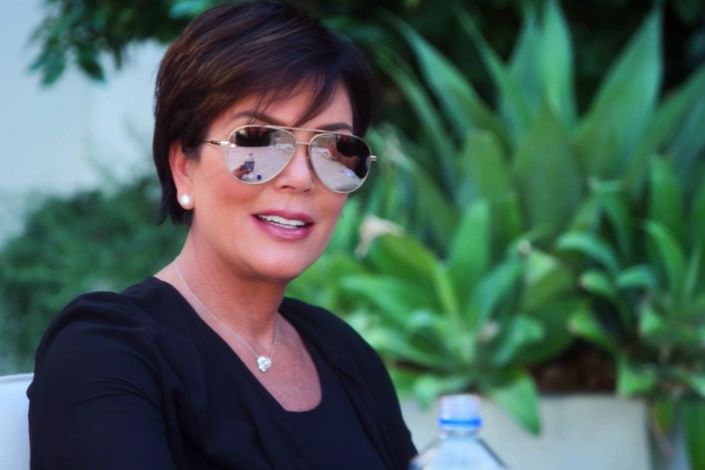 Scene 4:
Kim, Khloé, and Rob are still at Kris Jenner's house. They kick off their kitchen-island discussion about each other's personal styles. Kris thinks that Kim is into kimonos and Kim thinks that Kris needs to be into shutting up because she bites her style all the time. Plus, Kim says she was only wearing a kimono earlier because she was in a rush. After their style chat, the group talks about Scott. With Kourtney gone on an extended vacation with her kids, the family is worried about him. They think he's lost his fun and flair and want to bring back his alter ego, Lord Disick. While reminiscing on his more fun and outgoing days, they decide to force his old persona on him. It's unclear if any of them remember that as Lord Disick, Scott was in the deepest depths of his various addictions. Like Scene 2, this scene was filmed on on July 14, 2016.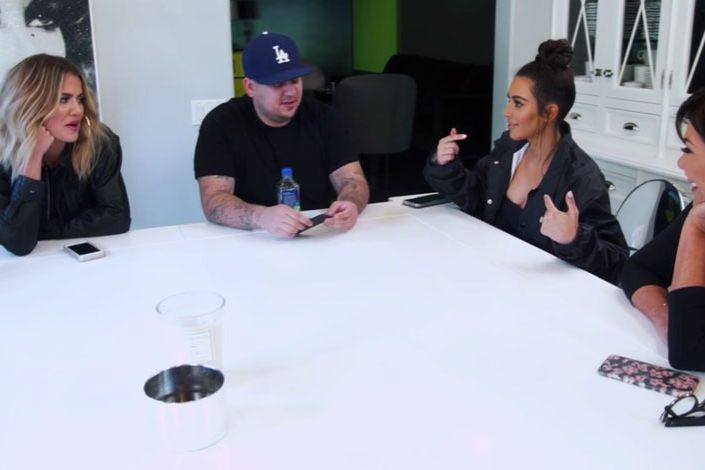 Scene 5:
Kim Kardashian West enjoys lunch with Larsa Pippen, Scottie Pippen's wife and Future's ex-girlfriend. Kim brags to Larsa that North's violin teacher thinks that North will be able to read music before she can read the alphabet. Something Kim is less proud of, though, is her inability to do North's "curly" hair. Poor Kim says she can only put her daughter's hair in a bun or ponytail when North really wants Elsa braids or more elaborate styles. Kim insists it's just because North's hair is "curly" that she's having trouble (it's absolutely, definitely not and don't you dare ever say it's because North has black hair, it's just curly). Kim's frustration was filmed on July 21, 2016.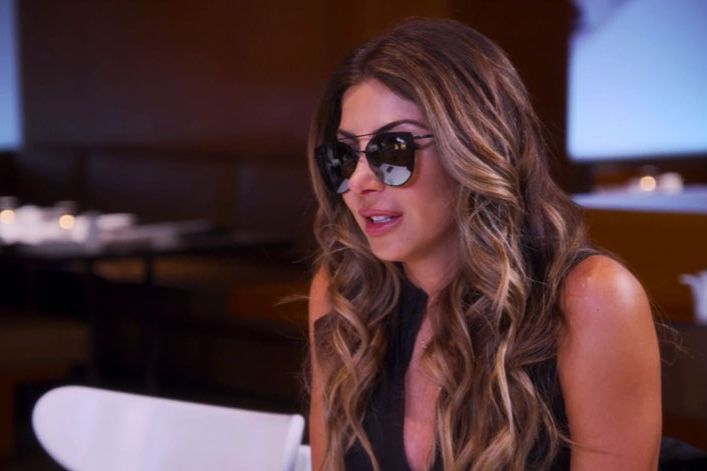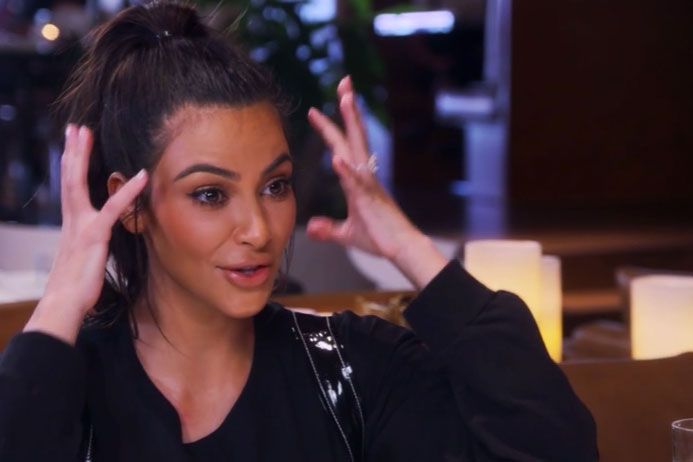 Scene 6:
Scott and Khloé hang out at Calabasas hot spot Kris Jenner's house. Kris, who is super serious about the Lord's return, has dug into the depths of her storage unit to find some of Scott's old Lord paraphernalia. He's impressed that she's held on to his belongings for so long* and also impressed that she's so insistent on bringing back the worst part of his personality, since he was "just flying all over the world getting into a lot of trouble," but he doesn't protest. Scott's reintroduction to his Lordship was filmed on August 4, 2016.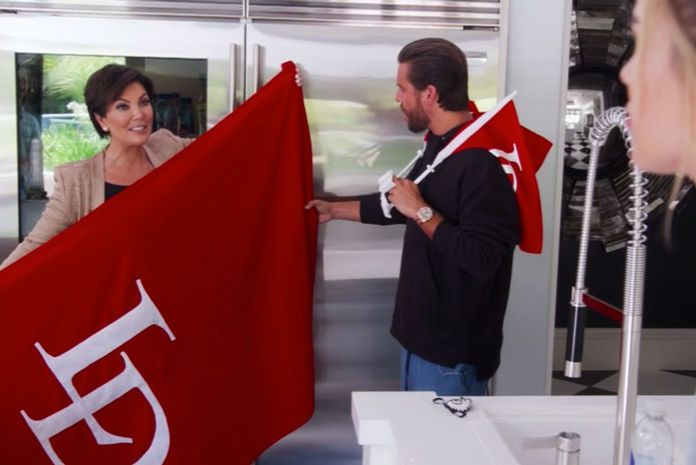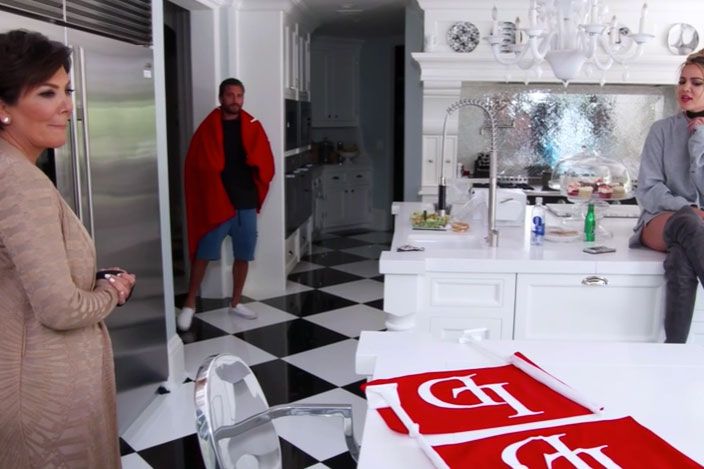 *Made a phone call to have someone find something with "LD" on it.
Scene 10:
Kimberly West heads to a hair shop with Khadijah, twin sister of Everybody's Favorite Best Friend, Malika. Kim brought Khadijah along because she too does not know how to do her daughter's hair, and since Khadijah is black it's normal, okay?! The two have sought out celebrity hairstylist Kim Kimble to teach them how to French-braid. Kim does not do well at all and has trouble adhering the braid to her mannequin's head. The KUWTK editors don't really care about Khadijah so I'm not sure how well she did. Kim Kimble allows Kim Kardashian to take her mannequin head home for practice, and for this Kim Kardashian is grateful. This scene was filmed on July 22, 2016.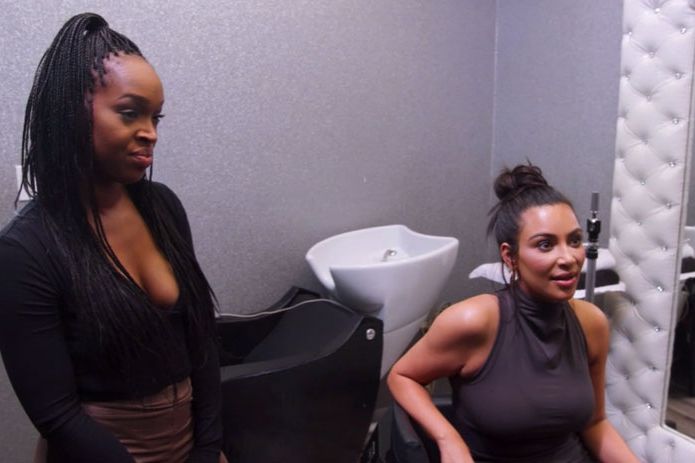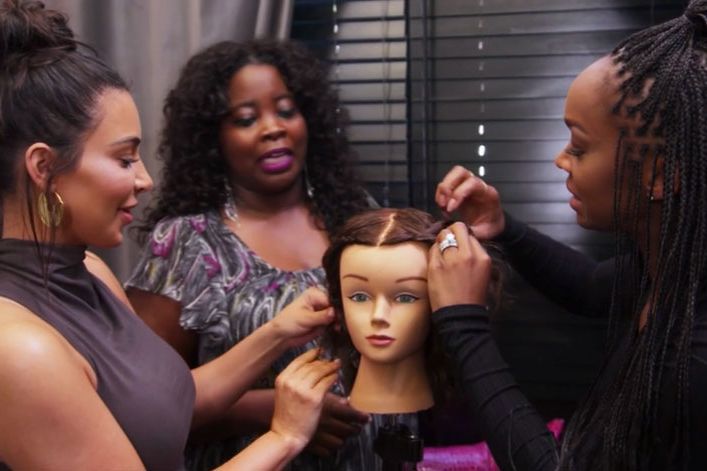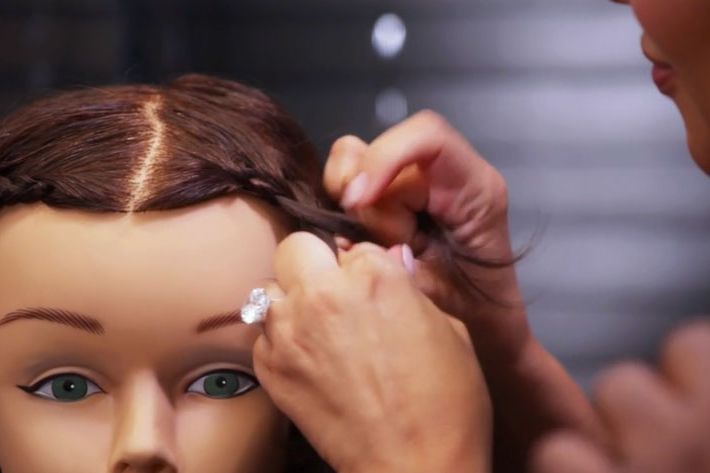 Scene 14:
Post-glam session, Kim Kardashian West accepts a visit from close family friend Scott Disick. Scott was roaming around her gated community and decided to pop in. Kim's grateful for his company, as she has some Rob-bashing she needs to get off her chest. Before she gets to Rob, Kim tells Scott about how mad she is that Saint has learned to say "Dada" before "Mama." After getting this out of the way, Kim explains to Scott that Rob will most likely not be joining them in San Diego because he has no clothes to wear and he's in a blowout fight with Chyna. This fight has gotten massive media attention because he erased her from his online life. Kim calls Rob for an explanation but the call goes straight to voice-mail. So, Kim calls Chyna, who picks up right away. Kim asks Chyna what's going on and Chyna seems to think that Rob is heightening his response to their fight so that his absence at MJ's birthday party can be blamed on her. Kim seems to agree, and they decide to just wait this Rob moment out, much like they have in the past. This, like Scene 5, was filmed on July 21, 2016.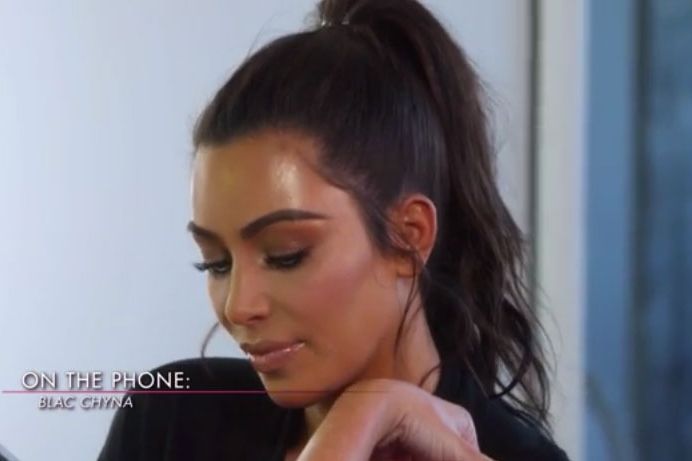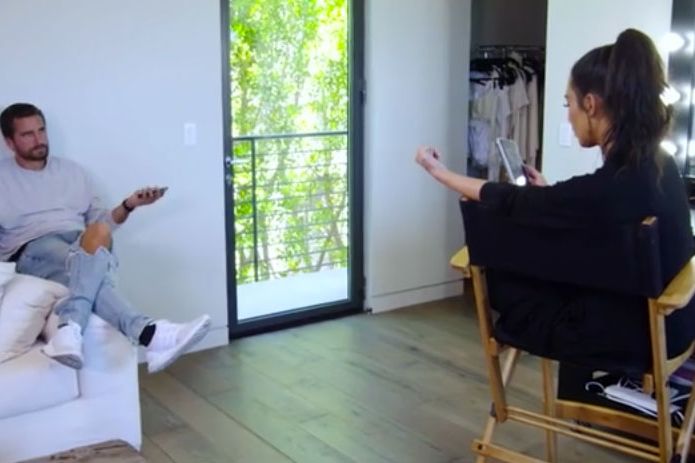 Scene 18:
In San Diego, Kris Jenner, Kourtney Kardashian, Kim Kardashian, Khloé Kardashian, Scott Disick, Corey Gamble, Mason Disick, Penelope Disick, North West, and Reign Disick celebrate MJ's 82nd birthday. After her granddaughters take some very important selfies, MJ asks about Rob. Kris lets her mother down by saying Rob won't be able to make it, but his baby's ride, Chyna, will. MJ's skeptical about the reason Chyna is coming alone, but doesn't push the matter too hard. When Chyna does show up, the reception isn't the warmest and she dives right into talking about Rob blocking everyone's phone number. This footage is nearly identical to what we saw just a few weeks ago on Rob & Chyna. This scene was filmed on July 26, 2016.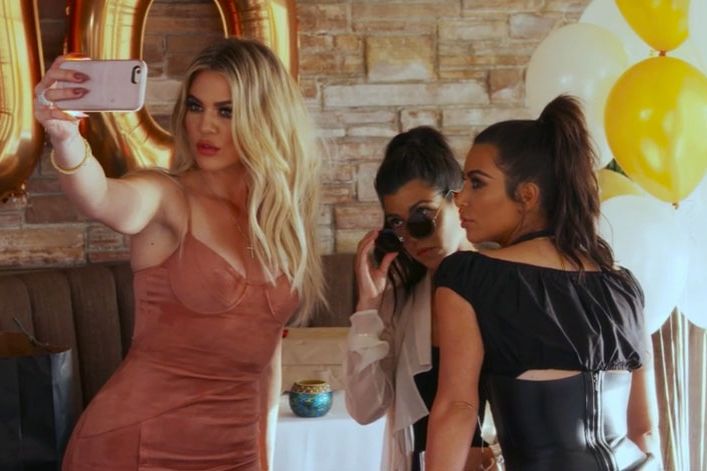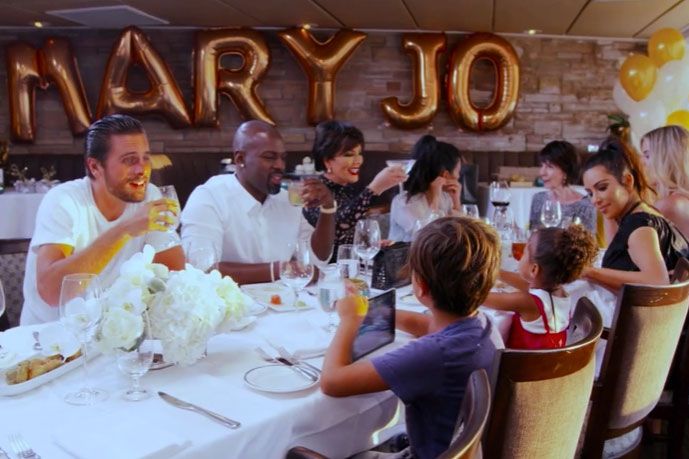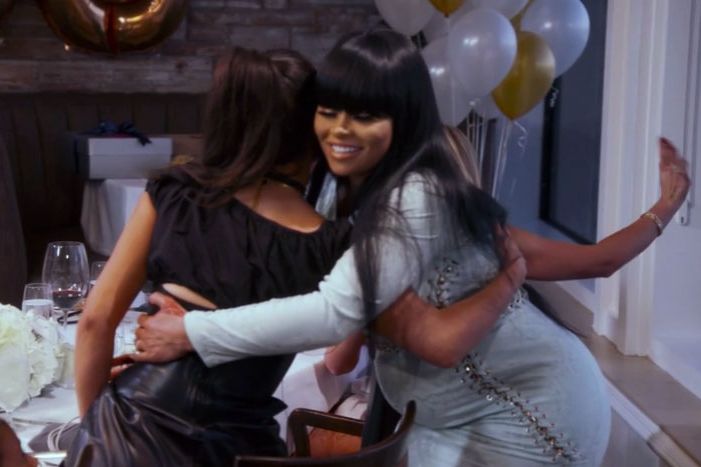 Scene 19:
After dinner, Scott goes to see Kim and Khloé in their hotel room. The sisters wanted to speak to Scott about his new turn as the Lord. They think he's been a bit too extravagant by shopping for airplanes and flying to San Diego instead of driving, so they want to remedy their creation. In an effort for him start with a clean slate, they've had him instated as a duke, a title higher than lord. Scott's not vibing with the idea of being Duke Disick, or "Dukey Disick" as Kim calls him, but he appreciates their concern. They joke about him being called Dukey and Double D, before quietly ending the scene, which, like Scene 18, was filmed on July 26, 2016.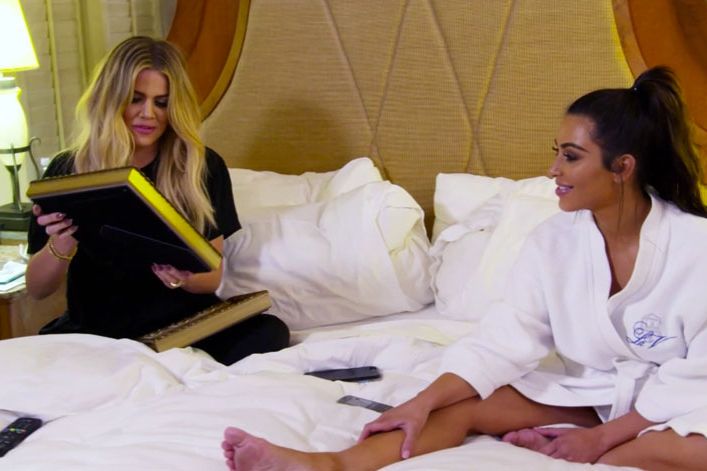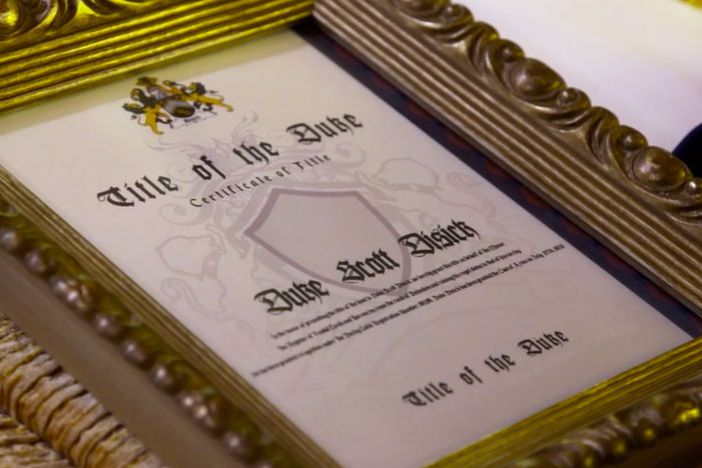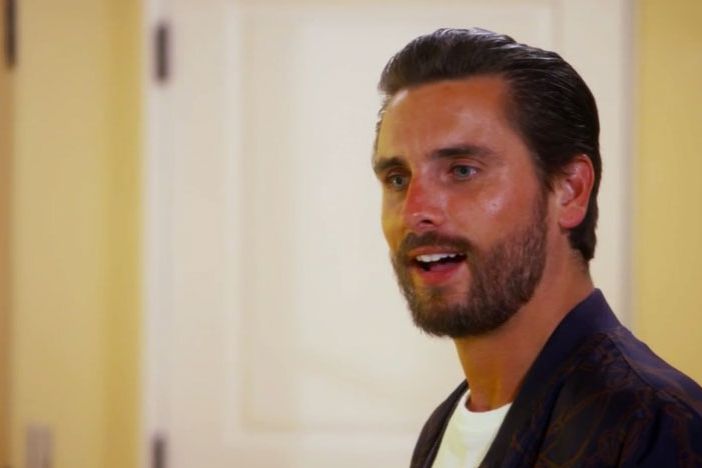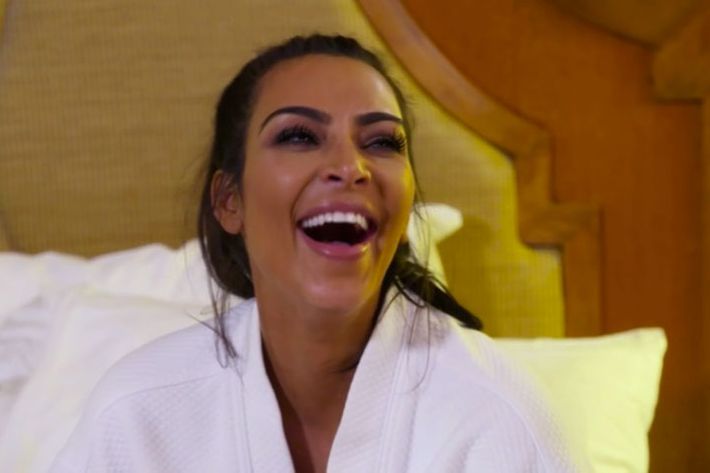 Scene 20:
The following morning, Kourtney talks to her sisters, Kim and Khloé, about Rob's absence. Khloé is completely fed up with Rob now: She maintains they wouldn't allow this behavior from a man they were dating or expecting a child with. She says it doesn't matter if he's their brother or not because it's "fucked" he left Chyna in the dust and disappeared on her, and that they have to "call facts facts." The sisters agree and decide to talk some sense into Rob for the sake of Chyna and his gestating baby. What they don't agree on is Kourtney's admission that she prefers a more "natural" look, while sitting there in full glam and a tan that rivals one of someone who was born with more melanin and has a severe sunburn. This scene was filmed on July 27, 2016.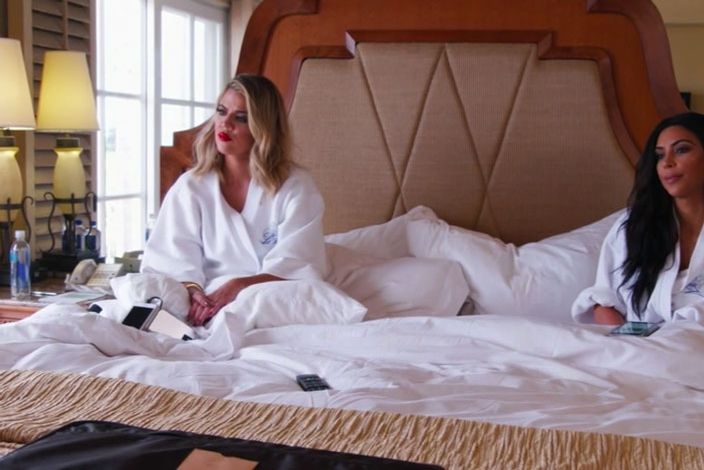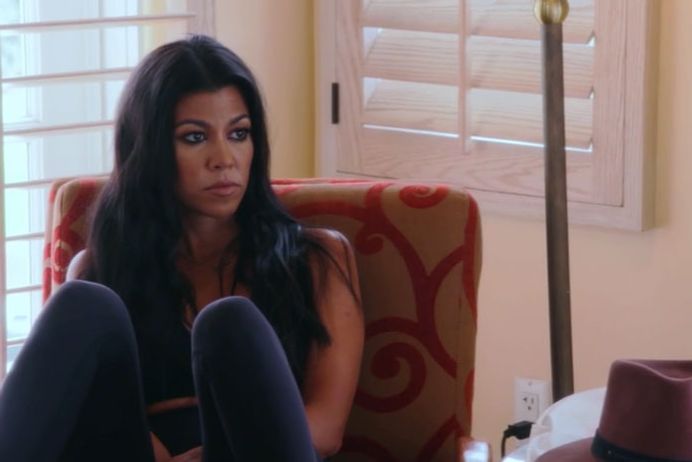 Scene 21:
Later that morning, Kimberly proudly shows off North's braids to Khloé and Kendall. Both Kendall and Khloé are shocked that Kim did North's hair all on her own. This makes Kim even prouder. Go, Kim. You put two braids in your child's hair. Hooray! Like Scene 20, this scene was filmed on July 27, 2016.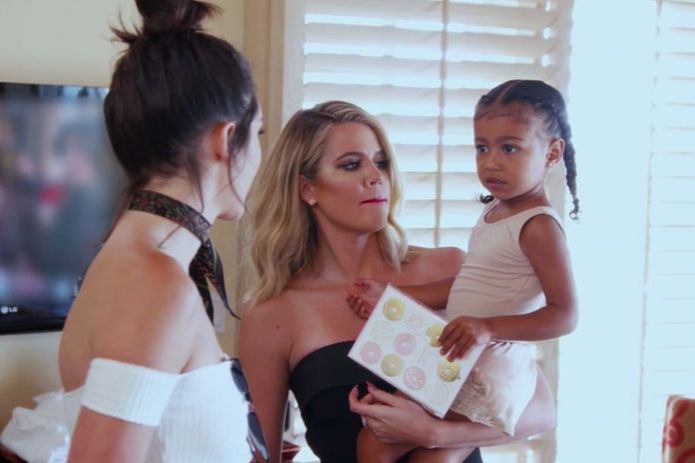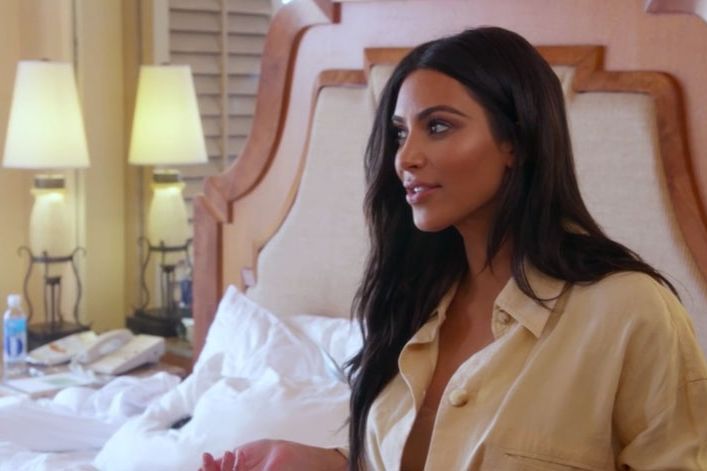 Scene 22:
The whole family gathers at a San Diego horse-racing track to continue birthday celebrations for MJ. Scott is dressed to preppy perfection in Lord attire, and Kendall looks like a model who is doing her family a favor. Scott thanks his family again for their concern over his lost and now regained lordship. He's decided to keep the title instead of becoming a duke, but will refine his actions so they better reflect his personal growth. Like Scenes 20 and 21, this scene was filmed on July 26, 2016. Sadly, this was filmed over a week before Kris and Khloé reunited Scott with his Lord accessories in Scene 6, which means all three of them suffered through a previously unreported group head injury resulting in short-term amnesia causing them to forget this entire interaction. All donations to find a cure can be made through my official KUWTKE Venmo account.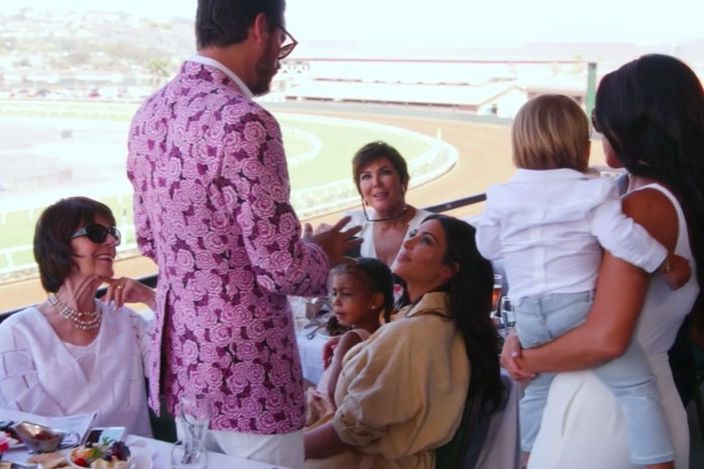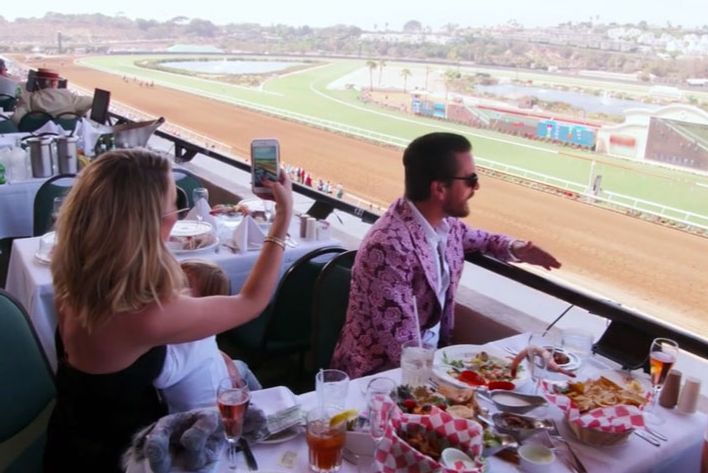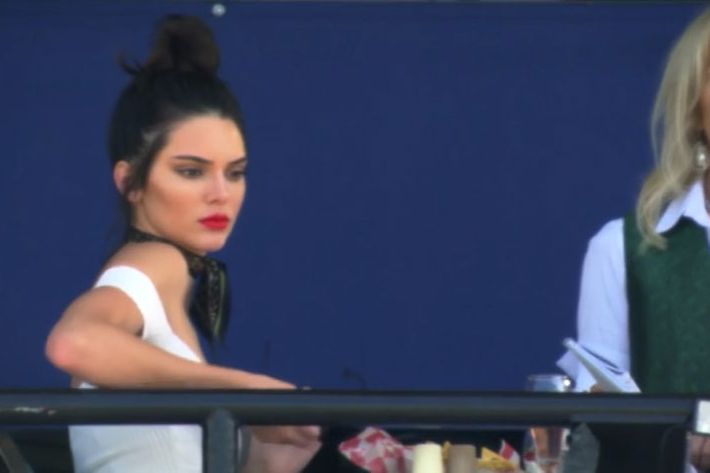 Scene 23:
Back in Calabasas, the Kardashian sisters invite Rob to Kourtney's house so they can properly tell him about himself. They ask him why he decided not to go to San Diego and if he really thinks his disappearing acts are beneficial to anyone. Rob stays pretty silent, but finally confesses that when he gets in those moods he doesn't want to hear anyone talking to him so he shuts everyone out. Plus, on this particular occasion, some of his friends were going to Vegas, so he went with them. Rob also thinks that if he ever told his sisters he wanted some time alone, they'd act overly dramatic and invade his space. His logic has some kinks in it, though, because general concern is 100 percent less dramatic than vanishing and blocking people's phone numbers. Like every conversation with Rob, nothing comes from it. The three sisters agree to give him his space and Rob agrees to be more aware of his actions. When Khloé walks Rob to the door, a devastating combination of Khloé lifting her arm and Rob putting his arm around her waist results in her behind being exposed. Khloé walks to and from the door, unaware that her rear is in full view of her sisters and their production crew. Thankfully, Khloé isn't bothered since she knows she has a great ass. This scene was filmed on August 9, 2016.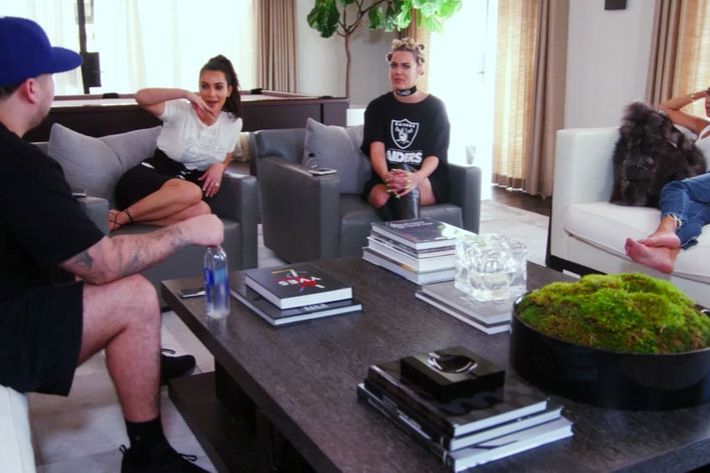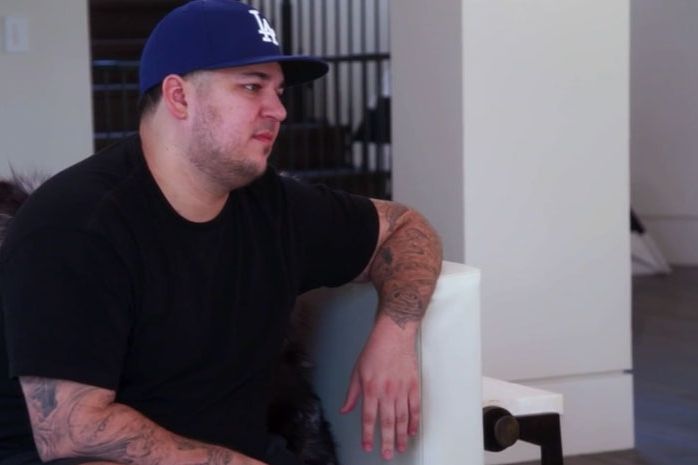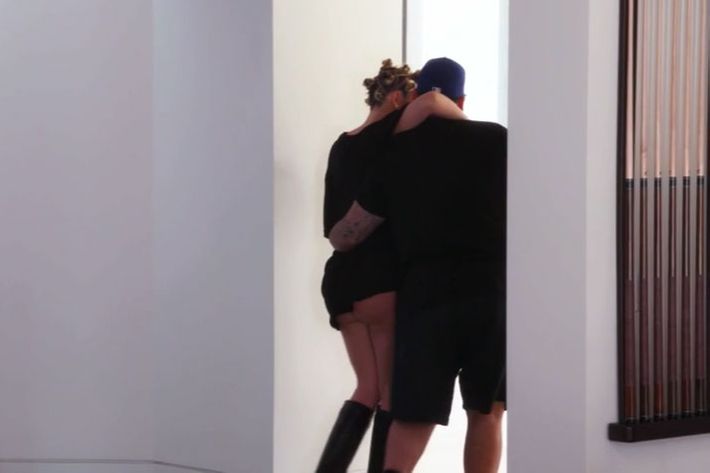 Well, Dolls, that's all for this week. Before you go, make sure to set a reminder on your phone to check in on your girl next week for another Keeping Up With North's Braids recap on Keeping Up With the Kontinuity Errors. #WhyLord