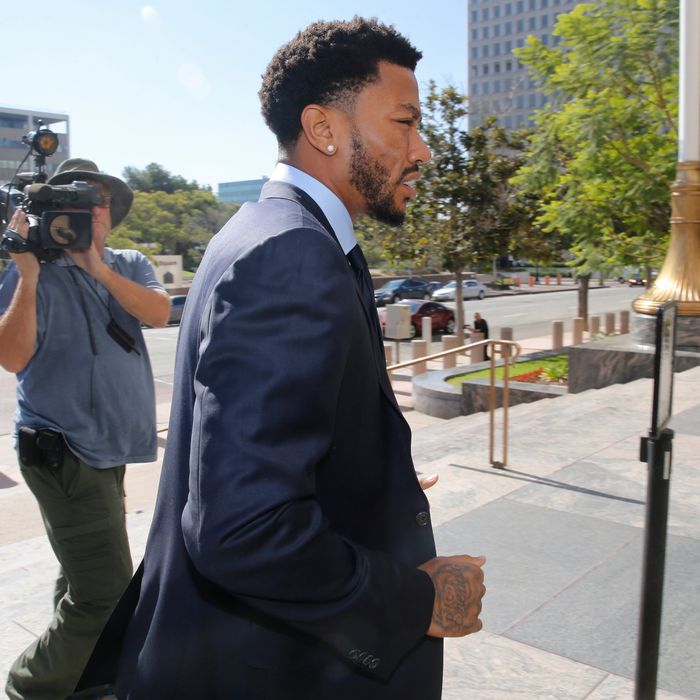 Derrick Rose.
Photo: Damian Dovarganes/AP
In August 2015, Derrick Rose's ex-girlfriend accused the NBA player of drugging and gang-raping her along with two of his friends. Shortly before the October 4, 2016, start date of the civil trial, the LAPD confirmed they were also undertaking a criminal investigation against Rose due to the rape allegations. As of Tuesday afternoon, one of the LAPD detectives investigating the case was found dead.

Forty-four-year-old Nadine Hernandez was found with a single gunshot wound in a house in Whittier, California, after local police were called with a report of an attempted suicide. She was taken to the hospital, where she died shortly afterward; according to what Whittier lieutenant Steve Dean told the Los Angeles Times, "it was unclear whether the death was a suicide or a homicide."

Hernandez was, according to authorities, "frequently was involved in high-profile sex crime cases."

U.S. district judge Michael Fitzgerald recently ruled against keeping the plaintiff's identity secret in the civil trial, though Hernandez had promised to do so in the criminal investigation. Upon learning of the criminal investigation, the plaintiff's lawyer, Brandon Anand, has attempted to get Fitzgerald to change his original decision, even using a letter from Hernandez in which she refers to anonymity as "an invaluable investigative aid to investigators."

Whittier police are currently investigating Hernandez's death.