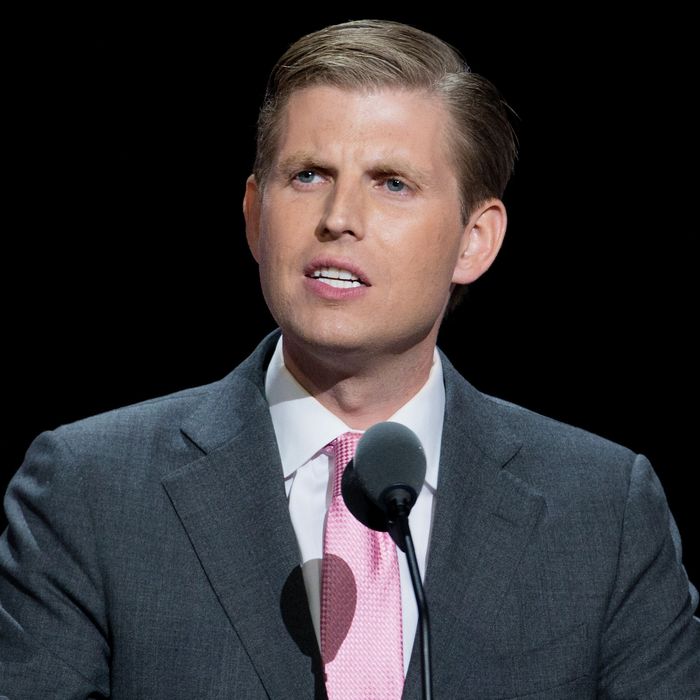 Eric Trump.
Photo: Tasos Katopodis/WireImage/Getty Images
When sisters Annie and Ceci Cardelle heard that Eric Trump was stopping by their hometown to campaign for his dad on Friday, they decided to do something about it.
Annie, 23, and Ceci, 17, are second-generation Americans of Cuban descent living in Salisbury, North Carolina, BuzzFeed News reports. The sisters are both Hillary Clinton supporters, and they decided to attend Eric Trump's campaign stop in a subtle form of protest.
Annie took a white shirt and a black Sharpie and wrote the words "Latina contra Trump," which in English translates to "Latina against Trump," and wore it to the event. Luckily, it appears no one from the Trump campaign understood what her shirt said, since contra is a Spanish phrase. After Eric Trump gave a speech, the sisters were even able to take a picture with him and his wife, Lara. Annie told BuzzFeed News:
"We weren't protesting the fact that he's a conservative or a Republican. We were protesting their particular treatment of Hispanics and Latino immigrants in this country. It's been almost two years of Trump continuously putting down Latinos, making us feel like we don't belong. So, my whole thing was to go there and say, 'I'm Latina and we're against you because of what you say about our race.'"
Ceci added that the sisters are in "disbelief" that no one from the Trump campaign noticed the shirt. "It really goes to show the lack of diversity on their team," she said.