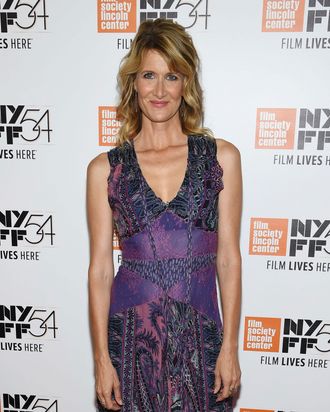 Laura Dern at the Certain Women premiere at Film Society of Lincoln Center's New York Film Festival.
Photo: Dimitrios Kambouris/Getty Images
One of the crown jewels of the New York Film Festival is Kelly Reichardt's Certain Women, a thoughtful, beautifully shot film that stars Kristen Stewart, Michelle Williams, and Laura Dern as women navigating small-town life in Montana. Dern's arc in particular — she plays a lawyer with a particularly difficult, and it turns out dangerous, client — will resonate with any woman who has suffered through the indignities of being talked over, ignored, or otherwise discounted because of her gender.
After a quick stop at the Dakota Bar pre-party, presented by Ruffino, Dern and her co-stars walked the red carpet at Lincoln Center's Alice Tully Hall before the film's New York premiere. Dern, who has made a career out of playing interesting, sometimes-difficult women, said her character Laura isn't the only one who experiences constant microaggressions.
"I think all women do. I mean, my daughter does," she told the Cut. "We see it every day. We see it in the current battle for the presidency and the commentaries that are made everywhere you turn, and in the world of film, the world of business, publishing — everywhere." Dern praised director Kelly Reichardt, who adapted the screenplay based on short stories by Maile Meloy. "As an actor I feel very privileged when it's explored with all its broken mess, and unapologetically, like Kelly does."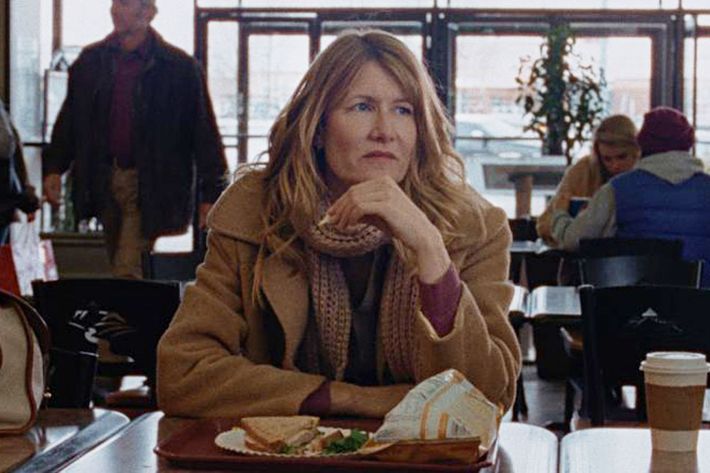 Dern's character in the movie is aware of the sexism she faces — she has a very Men Explain Things to Me moment when she wishes aloud that her advice would be taken as seriously as a male lawyer's — and makes small, defiant gestures against the status quo. Sticking up for ourselves as women is possible, and it's important. Dern said she hoped and thought it was possible. "I sure hope so. I'm certainly raising my daughter to believe that, and I was raised by a woman who believes that, and so if we keep telling each other and ourselves the stories, then it keeps changing every day," she said.
Dern's career is full of these "certain women," who are difficult and strange and sometimes downright unlikable, from Wild at Heart's Lula Fortune to the eponymous heroine of Citizen Ruth and the beloved Amy Jellicoe of HBO's short-lived series Enlightened. A woman who bucks against the status quo is seen as unlikable at best — pick any adjective lobbed at Hillary Clinton, and Dern has played someone who fits a similar description. "It's 1 million percent everything we're seeing in our country right now," she said. Confidence "is considered a label of strength in a man, and the label is weakness in a woman. And I've certainly seen it as an actor, but I've also seen it change, even in a few years."
"Only a couple years ago, we're like, 'Ugh, [Amy in Enlightened] is so angry! She's so … ugh.' And now, people come up to [me] and go, 'I love Enlightened! I'm so Amy! I so relate to that.' And so I think that it's exciting to consider that the mess is being embraced more and more, and people are complicated. That's the interesting story."