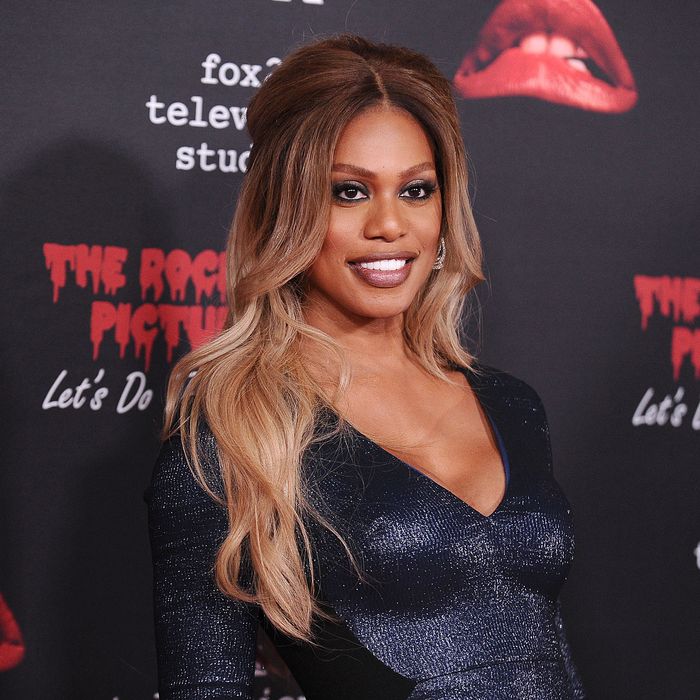 Photo: Jason LaVeris/FilmMagic
Only one detail gave Laverne Cox pause when it came to taking on the iconic role of Dr. Frank-N-Furter in the TV remake of The Rocky Horror Picture Show, and it wasn't just that she has to top Tim Curry's legendary performance. One of the most famous songs in the gender-bending midnight movie is "Sweet Transvestite," as performed by the louche doctor. The terms "transvestite" and "transsexual" are used throughout the song, but both are commonly seen as transphobic, or outdated at best.
"That was the only apprehension I really had about doing the film was the term transvestite," Cox told reporters at the Variety's Power of Women Luncheon. "I've been telling people, 'Please do not go up to a transgender person in 2016 and call them a transvestite, that is an antiquated term.' But in 1975 when Rocky Horror Picture Show came out transvestite meant a very different thing." She added, "We don't use that term anymore, but in the historical context of Rocky Horror it's appropriate you don't change the words to an iconic song."
Check out an audio snippet of Cox's rendition below. Rocky Horror Picture Show: Let's Do the Time Warp Again premieres this Thursday at 8 p.m. EST on Fox.