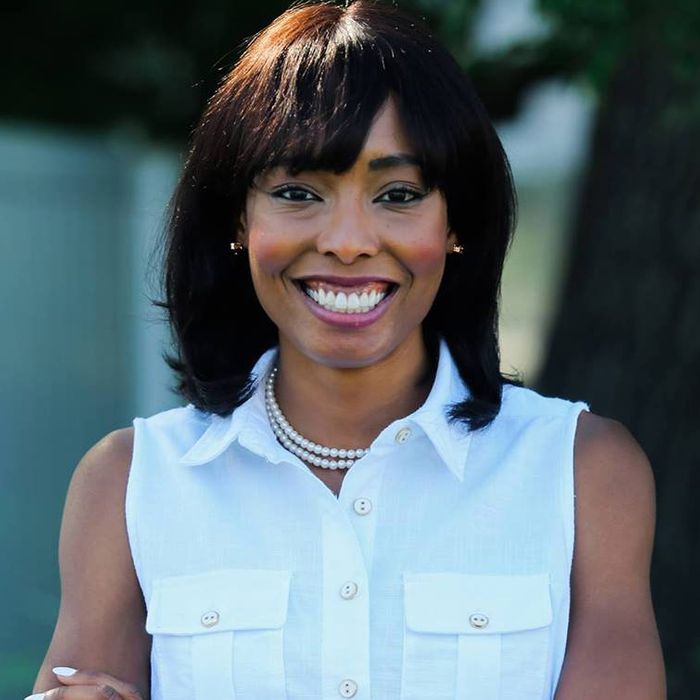 Cora Faith Walker says she's not the first woman to accuse Steven Roberts Jr. of sexual assault.
Photo: Cora Faith Walker for State Representative/Facebook
In August, incoming Missouri lawmakers Cora Faith Walker and Steven Roberts Jr. allegedly met at a St. Louis apartment for drinks. The two shared a lot in common: Both are running unopposed for seats in the Missouri House this November. Both are Democrats and would be the only black lawyers in a predominantly Republican, white legislature. They planned to discuss how they might work together.
Walker, who has now accused Roberts of rape, told the St. Louis Post-Dispatch she recalls nothing after her second glass of wine that night. She said she woke up in a bed in the apartment the next morning, returned home, and told her husband what happened. The couple waited several weeks before Walker went to the police. Last Friday, in a letter to Missouri House Speaker Todd Richardson and two House leaders, she accused Roberts of rape and asked that they prohibit Roberts from taking his uncontested seat until police finish the investigation:
"I specifically authorize you to name me and to tell people about this letter," she wrote. "As you are aware, I am not the first woman to accuse Mr. Roberts of sexual assault."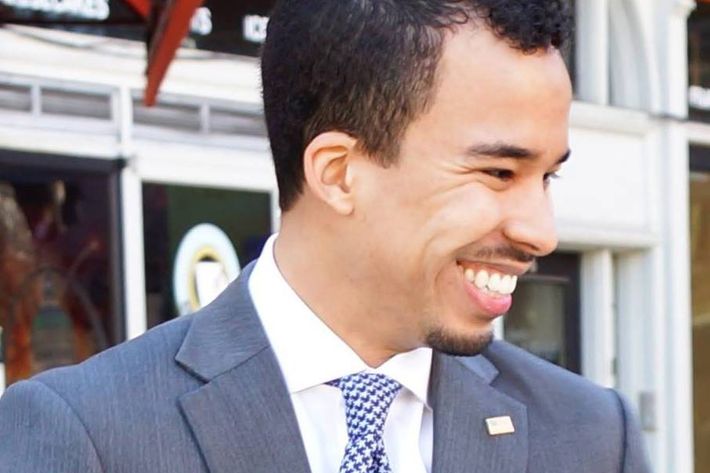 In April 2015, Roberts was reportedly arrested on suspicion of second-degree sodomy involving a female college student at a bar. He was never charged. Month later, he was fired from his position with the St. Louis Circuit Attorney's office. In Walker's case, Roberts hasn't been arrested or charged. Roberts's attorney and two police sources confirmed an investigation is under way, though Roberts's attorney said the accusation is "unfounded."
"I think that we will be able to basically undermine those allegations pretty quickly," Scott Rosenblum, Roberts's attorney, said. "Whatever happened between these individuals was absolutely consensual and I think we have what I would call objective evidence to support that."
In a statement released by Rosenblum, Roberts called the accusation "completely and unequivocally false."
Mrs. Walker's letter to legislative leaders a few days ago makes an unbelievable statement that she, an attorney and married woman, went to another man's apartment at 9:30 pm on a Friday night for strictly a business meeting. We actually arrived together to my apartment closer to 11:00 pm. While I am not proud of this situation, it was entirely consensual and I did nothing illegal.
In a statement, House Speaker Richardson called Walker's allegation "extremely serious and disturbing," saying it wouldn't be tolerated: "While the House has no jurisdiction over non-members, we will monitor the criminal investigation closely and continue to have a zero tolerance policy for sexual assault, misconduct and harassment." Walker said he called her to confirm he's taking her letter seriously.
The speaker's support comes after two sexual-harassment scandals involving interns in the Missouri legislature in the past few years. This year, after Richardson promised to improve the Capitol's sexist culture, a representative admitted to an affair and resigned. Walker acknowledged this culture in her letter, describing "systemic changes … toward improving the culture in the Capitol so that women can work safely."
Walker, who lives in Ferguson, told the Washington Post she decided to run for office partly to help amend the criminal-justice system and community policing. Roberts, a lawyer and former prosecutor, reportedly once helped victims of sexual assault in law school.
"The odds are against me," Walker told the St. Louis Post-Dispatch. "But I know what happened to me. And I know I don't want it to happen to anybody else. I don't know what's going to happen. But it's OK to speak up. It's OK to be afraid."