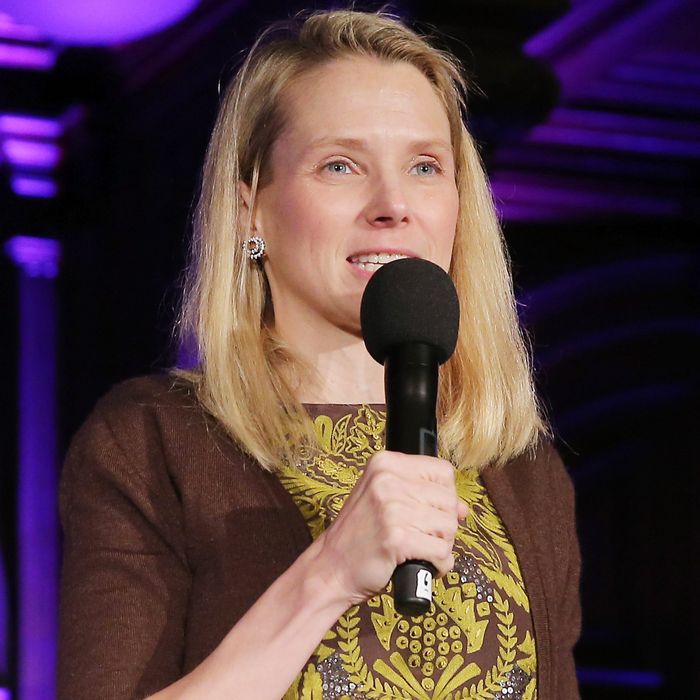 Photo: J. Countess/Getty Images for Advertising Week
As if Marissa Mayer, the beleaguered CEO of Yahoo, hasn't trod through enough muddy water since she took the helm of the media company in 2012, a new prickly lawsuit has been filed against her. What's the problem this time? According to the suit, Mayer led a secret campaign to purge the company of male employees. Hm.
Scott Ard, a media executive who was fired last year from the company, claims in the suit that "Mayer encouraged and fostered the use of (an employee performance-rating system) to accommodate management's subjective biases and personal opinions, to the detriment of Yahoo's male employees." The biases that Ard is talking about were apparently against men, of all people. The Mercury News reports:
In addition to Mayer, two other female executives — Kathy Savitt, former chief marketing officer, and Megan Liberman, editor-in-chief of Yahoo News, identified in the lawsuit as Yahoo's vice president of news at the time — are accused in the lawsuit of discriminating on the basis of gender.

"When Savitt began at Yahoo the top managers reporting to her … including the chief editors of the verticals and magazines, were less than 20 percent female. Within a year and a half those top managers were more than 80 percent female," the lawsuit said. "Savitt has publicly expressed support for increasing the number of women in media and has intentionally hired and promoted women because of their gender, while terminating, demoting or laying off male employees because of their gender.

Ard began at Yahoo in 2011 and despite an alleged positive performance review in 2014, he claims in 2015, Liberman told him over the phone that he was fired effective the same day due to unsatisfactory performance. Ard filed his suit in San Jose federal district court this week.
A spokeswoman (hmmmmm) for Yahoo told The Mercury News that the company's performance-review process "was developed to allow employees at all levels of the company to receive meaningful, regular and actionable feedback from others" and that the process "allows our team to develop and do their best work."