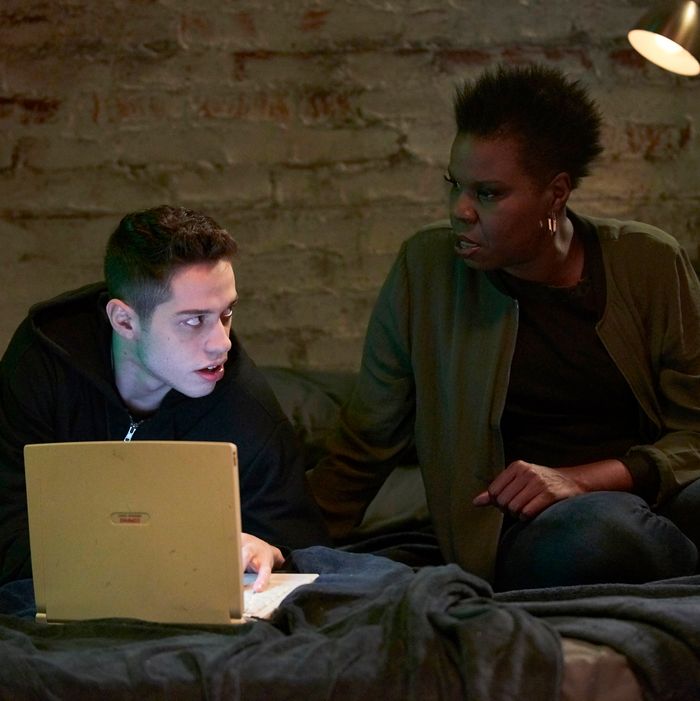 Photo: NBC/NBCU Photo Bank via Getty Images
The gross online harassment Leslie Jones suffered over the past few months is no laughing matter, but the season premiere of Saturday Night Live managed to take a serious matter and make it funny. Jones was first attacked on Twitter by a seemingly endless parade of racist, misogynist sock puppets after Ghostbusters hit theaters, and in August her website was hacked. The perp posted identifying information about Jones, in addition to personal pictures.
SNL producer Lorne Michaels didn't have much to say about the Twitter abuse Jones endured, but the writers and cast threw their support behind Jones with a funny sketch tweaking USA's Mr. Robot. Jones posted a selfie with Mr. Robot star and Internet Boyfriend Rami Malek at the Emmys, but apparently he was no help.

In the sketch, Pete Davidson fills in for Malek as the anxious, underslept hacker whom Jones enlists to find out "who hacked my pics, who got all my little nasties," as she puts it. There is a minor spoiler for anyone who hasn't watched the entire first season of the show, but those are the breaks.
Come for the tech jokes, stay for the inevitable Ghostbusters reference.