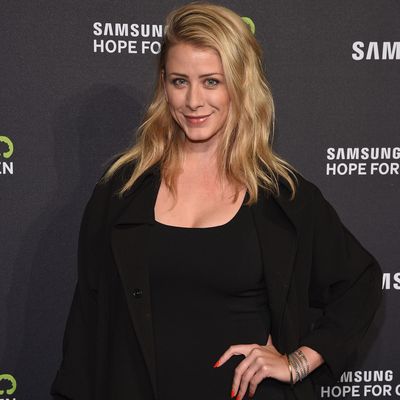 Lo Bosworth.
Photo: Bryan Bedder/Getty Images for Samsung
Since her star turn as the resident "best friend" on the MTV reality hits Laguna Beach and The Hills, Lauren "Lo" Bosworth has tried her hand at a number of ventures. She launched a party-planning company (that ultimately failed), went to culinary school (for fun!), and produced a lifestyle website and a podcast. On Thursday, Bosworth announced her most ambitious and puzzling enterprise yet: a line of feminine hygiene products designed to tackle "tricky infections and irritations" down below. The Lo Bosworth of 2016 wants to be the best friend to your vagina.
"This is something that was created out of necessity for myself and my friends, women that I know," Bosworth told me Thursday night, during a small press gathering at her massive, immaculate Tribeca apartment. She was wearing a cozy taupe sweater and a slightly darker hair color than she did during her bleach-blonde reality-show days.
"I think that everybody has had a 'lady problem' that has been difficult to deal with," she continued, gesturing around her cream-colored, high-ceilinged living room. "You go to the doctor, the prescription doesn't work. You go to the drugstore, what they have there doesn't work. And I've found over the years that natural products really are the answer."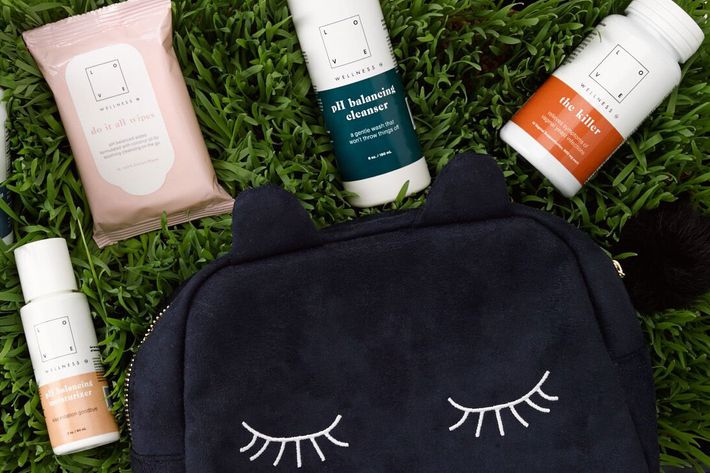 Bosworth's product line, called "Love Wellness," is allegedly "100 percent natural" and definitely extensive. In addition to boric-acid suppositories designed to treat yeast infections and wipes, cleansers, and moisturizers designed to balance pH levels, she is selling probiotic pills, vitamins, and a powdered substance called "Blue Tea," which "guarantees clean energy and excellent health." The products are packaged in soft shades of blue, orange, and the ever-popular millennial pink; prices range from $8 for the pH-balancing "Do It All" wipes, to $28 for the "Good Girl Probiotics" pills. Everything fits inside a blue velour "Pia Pussy Cat Beauty Bag," which costs an additional $49.
Women should use all of the products together, Bosworth told me. "There's no reason why you should have 15 products for your face and zero products for your vagina."
Gynecologists, however, don't tend to agree with that logic. Dr. Jen Gunter, an ob-gyn and the director of pelvic pain and vulvovaginal disorders at Kaiser Permanente in San Francisco, told me simply, "Nothing [Bosworth's] recommending has been supported by science."
Gunter and many other gynecologists profess that warm water is the only thing you need to clean the vagina. Specially formulated wipes and cleansers are unnecessary at best and irritating and harmful at worst. As Gunter explained, "Your vagina is a self-cleaning oven. So you don't ever need to put anything in there."
When I asked Bosworth about the necessity of her "pH-balancing" cleanser ($24) and wipes ($8), she assured me that "there is actually no clear literature that talks about eliminating soap from your hygiene routine. The issue is that most soaps have a pH between 9 and 10, and your vagina has a pH between 3.8 and 4.5. So using a product that is specifically formulated to match the pH of your vagina is what I think is really important, and using one that's full of natural products instead of chemicals that can cause skin irritation and infections on their own."
Bosworth's "flagship product" is "The Killer" ($24). "It's a boric-acid suppository, and it is hands down the best reliever of any weird infection, a yeast infection or BV [bacterial vaginosis]," she explained, excitedly. "Gynecologists use it to spot-treat women when they're just a little off down there, and it's incredible. A gynecologist prescribed it to me years ago, but you have to go to a compounding pharmacy and have it made for you, and it's really expensive … So we thought, well, we can make this ourselves. We work with an excellent manufacturer who makes the highest-quality products."
"Do not use that," Gunter told me, when I asked her about the suppository. "There's this whole trend toward using boric acid, which I've seen with a lot of patients. Boric acid has two very, very specific indications and none of them are for preventative therapy. You can easily damage the mucus in the vagina, if you use it chronically. I would strongly advise against using boric acid, unless it is a specific regimen recommended by your doctor."
Gunter is concerned that Bosworth's "natural products" are just another potentially harmful trend. "Six months ago it was all marijuana in the vagina, right?" she explained. "Six months before that, it was these gross herb balls that people could find on Etsy. And six months before that it was Gwyneth Paltrow and her medically impossible vagina steaming. So things like that, every six months, we're going through … how can we make money off the vagina? At the detriment of women."
Medical advice aside, Bosworth insisted that her true product was body positivity. "We're trying to eliminate the shame of having a vagina!" she told me, giggling, before I left. "I think lots of women are feeling that right now with Donald Trump running for president and what's going on in the media every day. So we are proud to be women and proud to take care of ourselves in an appropriate way."