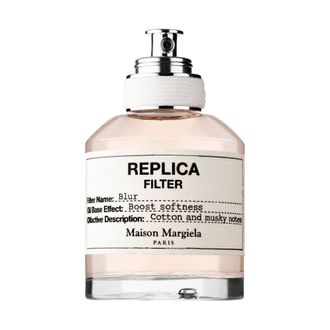 Last week's debate showed that its true star was enthusiastic town-hall attendee Ken Bone and his well-fitted red sweater. Cozy, soft, and distinguished, Maison Margiela's new Blur perfume is the scent equivalent of the internet's new boyfriend and the knitwear that made him famous. Blur and Glow make up Margiela's new Filter line, a range of scents that act as boosters or mixers for other perfumes — add them on top of or underneath any scent. In the case of Blur, adding it to any fragrance gives it an addition of musky cashmere softness. I even like Blur on its own, although the sillage isn't very long when worn this way. Fans of Lazy Sunday Mornings or lazy Sundays in general will appreciate how it adds similar lived-in-laundry-like notes to other perfumes, transforming them into a warmer, enveloping fragrance you'd likely find in sweater collars and neck crooks. And yes, it can work for boning, too, with its notes of white musk, cotton, and gray amber accords, which can't help but remind you of bed.
Maison Margiela Fragrance, Replica Blur Filter, $55
If you buy something through our links, New York may earn an affiliate commission.