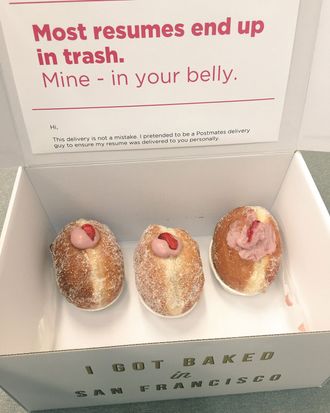 Photo: Courtesy of Twitter/jessicascorpio
Despite history's efforts to school them, men have yet to learn about taking no for an answer. This week's man trying to bend the rules to his liking is Lukas Yla, a "marketing professional," who posed as a doughnut delivery man to get his résumé to prospective employers. Enterprising — or just very, very annoying?
According to Adweek, Yla "was able to get his literal foot in the door at 10 of the Bay Area's top ad agencies and 30 tech companies," simply by posing as a Postmates delivery guy, toting free doughnuts.
Little did his likely thankful and hungry targets know that when the doughnut boxes were open, Yla's résumé would be awaiting them. Since he began his ruse, he's delivered 40 boxes of doughnuts to as many companies, and has yielded ten interviews as a result. Imagine working your ass off to get your dream job and then learning that the guy next to you just delivered some dang doughnuts.