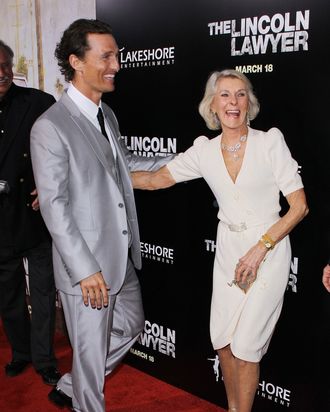 Matthew and Kay McConaughey
Photo: Michael Tran/FilmMagic/Getty
In a new Esquire profile of the sentient Life Is Good T-shirt known as Matthew McConaughey, the actor's Lincoln commercials, the first time he met his wife (he was wearing flip-flops and making his own margaritas in a nightclub), and, yes, his infamous 1999 naked bongo-playing arrest are all covered. And, most illuminating of all, the reader is offered a glimpse at the woman who gave birth to him: Kay McConaughey, best known as K-Mac. And K-Mac sounds great.

Take her love of Fleetwood Mac and wine (Mom 101):

Tonight, he's taking K-Mac to see Fleetwood Mac. McConaughey's eighty-one-year-old mom likes to rock, and then some. "I do not remember the last time when we partied when she didn't go to bed after me and get up before me," he says. "She's gonna want to jam on some Kendall-Jackson [wine] tonight."
But it's not all Zinfandel in plastic cups and grooving to "Little Lies" with her eyes closed. McConaughey also describes K-Mac's dramatic and tumultuous relationship with McConaughey's father, Big Jim:

"They were wild, man," McConaughey says. "They fought. My mom broke her middle finger four times from banging my dad in the head. I've seen her stick a water hose in his car and fill it up with water…" More than a few times, McConaughey and his two brothers listened as K-Mac and Big Jim would go at each other in the kitchen and then make up—as in make love right there on the kitchen floor.
A water hose in the car! K-Mac! Let's hang.