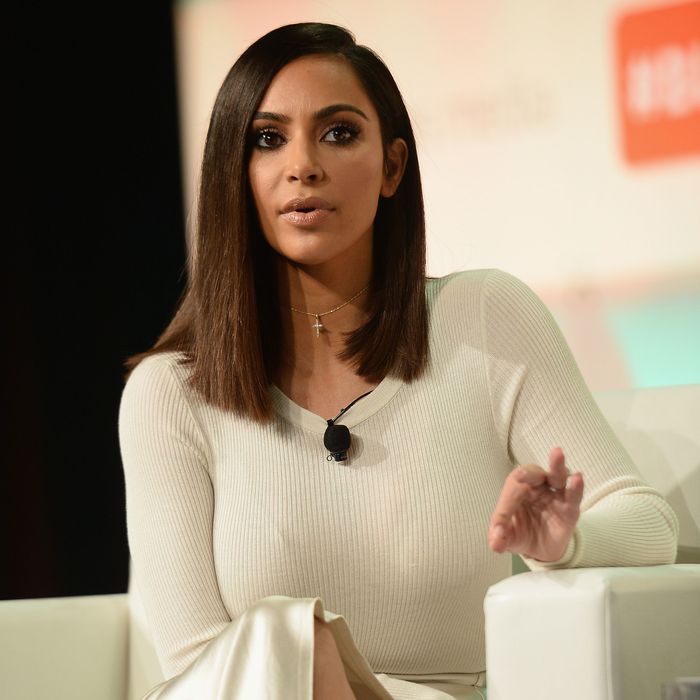 Photo: Matt Winkelmeyer/Getty Images
Lots of people were snarking on Kim Kardashian after the celebrity was bound, gagged, and robbed at gunpoint in Paris, but gossip site MediaTakeOut went one step further by implying Kardashian faked the attack. The site posted three separate stories with slightly different spins on the theory, all of which have been taken off the site. Kardashian filed a libel lawsuit against the site on Tuesday.
Yesterday, MediaTakeOut founder Fred Mwangaguhunga spoke to CNN Money and said words that sound like an actual apology.
Our number one goal is to produce the most accurate information as quickly as possible and we did that… But now, looking back at it, you have a chance often times to look back and reflect on what it is that happened. It's now clear that she was robbed. It's clear that the reporting that we did hurt her, and we certainly don't want that to be what we do.
He added,
It's a bigger issue than just someone telling you to take it down. Sometimes you take it down because there's something on there that's not right and your readers are being misled by the information on it.
Mwangaguhunga generously allowed, "Kim Kardashian is not just a celebrity, she is a human being. She is a mother, she is a wife and she was a victim of a violent crime. She definitely did not deserve it and she deserved to be believed."